The Minute After: Duke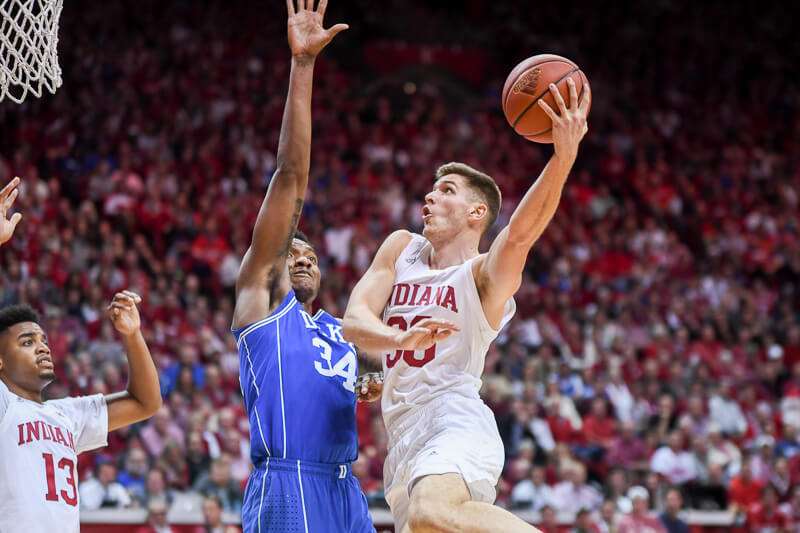 Thoughts on a 91-81 loss to the Blue Devils:
They turned the entrance of Simon Skjodt Assembly Hall into a big movie screen tonight. Inside the Hoosiers and Blue Devils battled in an epic blockbuster, trading baskets and playing at a high level in one hell of an entertaining contest.
The audience had their popcorn ready, their cheers and boos and shouts and taunts as loud as ever raining down on Branch McCracken Court.
The No. 1 team in the nation came to Bloomington tonight and the Hoosiers did what they've done in recent history at home against highly-ranked opponents: Brought high effort, intensity and energy, fed off the crowd and put themselves in position to win in the closing minutes of the contest.
But Duke had a little more gas left in the tank during winning time. And so with it, despite multiple leads by the Hoosiers in the second half, went the shot at the upset.
Indiana got a number of strong individual performances in this one. Duke freshmen twin towers Marvin Bagley III and Wendell Carter got a lot of hype going into the game and rightfully so. Bagley was an absolute force at times this evening (23 points, 10 rebounds) as was Carter (18 points, 12 rebounds). They were a lot for the Hoosiers to handle. But after emerging from a foul-trouble-ridden first half, De'Ron Davis (16 points, five rebounds) showed for a stretch in the second half he can tussle with the big boys, too. When the Hoosiers went to Davis, he put in some serious work on the block for buckets against whomever Duke threw at him. Some late missed free throws down the stretch from Davis hurt Indiana's ability to keep it a little closer, but it was still a strong performance from the sophomore.
Robert Johnson brought it on both ends tonight. He was tasked with guarding Grayson Allen for the majority of the contest. And while Allen did drop in 21 points, it did not come easy, as Johnson really made him work for most of what he got. Johnson also looked poised and aggressive for most of the game on offense, finding his way to the basket for scores on a number of occasions en route to a team-high 17 points. Juwan Morgan continues to stuff the stat sheet (14 points, six rebounds, two blocks, two steals). Collin Hartman's minutes went up as he continues to work back into game shape following his groin injury. He delivered 11 points, three rebounds and an assist in 16 minutes of action.
Offensively, the Hoosiers did a great job of attacking the basket and moving Duke's players around against the Blue Devils' man-to-man defense. Duke's defense isn't super elite as it sits just inside KenPom's Top 50, but Indiana's 1.18 points per possession despite just a 5-of-21 mark from 3-point range and 16-of-26 mark from the line was still solid. And the turnovers continue to be a huge improvement over a season ago. Indiana's now turned the ball over 10 or fewer times in its last three games. According to an IU spokesperson after the game, its the first time since at least the 1996-1997 season that's happened.
It's not a win. And it's a little tough to swallow the closing run the Blue Devils went on after Indiana looked to have a serious shot to pull this one out for a large chunk of the second half.
Still, from the shaky start of things a few weeks ago to giving Duke a serious run for its money tonight? Indiana fans should be happy with the progress as Big Ten season arrives early on Saturday.
Filed to: Duke Blue Devils