Five takeaways from Indiana's win over Eastern Michigan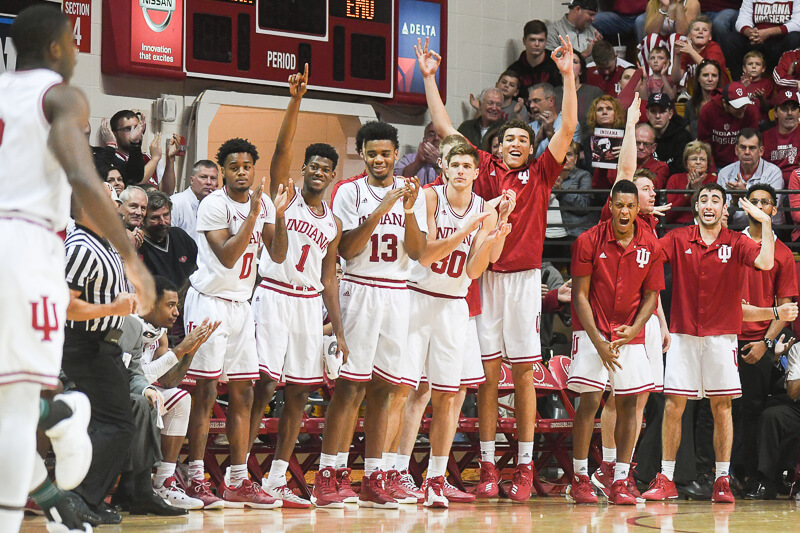 Indiana improved to 4-2 on the season on Friday afternoon with an impressive 87-67 win over Eastern Michigan at Simon Skjodt Assembly Hall. The win was the third straight for the Hoosiers.
Here's a look at five takeaways from the win over the Eagles.
· Decision making continues to improve: Correcting Indiana's turnover problem is a major priority for Archie Miller and the Indiana coaching staff. Over the past two games, the Hoosiers have show significant progress with their decision making.
After turning it over just eight times against Arkansas State, Indiana again had just eight turnovers against Eastern Michigan's 2-3 zone. It was an impressive performance against a team with legitimate size and length at several positions.
"To get eight turnovers was a big deal," Archie Miller said postgame. "Because if you turn it over against them, that's when they can become a real problem in transition for you."
Through six games, Indiana has a turnover percentage of 18.8, which ranks 161st nationally according to Ken Pomeroy.
· Johnson hitting his stride: Robert Johnson is being asked to do a lot for this Indiana team. He's often guarding the opposing team's best perimeter player. He's playing the most minutes on the roster. And the Hoosiers need him to be one of their go-to scorers.
Six games into the season, Johnson appears to be gaining confidence in his role. On Friday, he scored a team-high 18 points, the fifth straight game he's scored in double figures.
His 3-point shot also appears to be rounding into form. Johnson hit four of his six attempts in the win over Eastern Michigan. Over Indiana's last three games, the Richmond (Va.) native is 8-of-15 on 3s and he's now over 40 percent from distance for the season.
· Newkirk catches fire from the perimeter: Eastern Michigan coach Rob Murphy was very complementary of Josh Newkirk in his postgame comments as he mentioned the IU senior as the primary reason the Hoosiers pulled away in the second half.
After playing just 10 minutes in IU's win over South Florida, Newkirk has played much better the past two games. In IU's win against Arkansas State, Newkirk had six points, two assists and no turnovers in 21 minutes.
Friday afternoon was easily his best game of the season so far as he scored 17 points and hit five of his six 3-point attempts.
"We are like five, six games in, so everybody is getting more comfortable," Newkirk said postgame. "Everybody is understanding what's needed of them. And we're holding each other accountable. I think that's the biggest part."
· Bench comes up big: Indiana's bench scored 29 points in Friday's win as five different reserves scored.
The most notable performance was 10 points and nine rebounds for Freddie McSwain, who now has 19 rebounds over IU's last two games.
Al Durham Jr. continues to play starter's minutes off the bench and has quickly become one of Indiana's most dependable players. Durham had six points, five assists and no turnovers in the win and his turnover percentage this season is now 4.8, which ranks in the top 50 in the country.
Zach McRoberts also provided a boost off the bench, scoring a season-high four points to go along with three rebounds in eight minutes.
· Hartman makes his debut: The loudest ovation of the afternoon came when Collin Hartman entered for the first time this season.
Hartman checked in at the 8:31 mark and 30 seconds later, drained a 3-pointer from the corner to extend Indiana's lead to four at 22-18. Hartman played just six minutes, but with a brutal five-game stretch of games coming up, Indiana is going to need its senior leader moving forward.
"The hope was to get him in maybe this week," Miller explained postgame. "I don't think he was very confident in himself. And that prevented him from playing on Wednesday. The day in between, I think Tim and our docs really gave him encouragement that he's fine. I think for the first time he said to himself, if I'm going to get going I've got to get going. I've got to try it.
"He was cleared yesterday. And definitely wanted to have an opportunity to see him get out there just so he can get moving. And lo and behold, bangs his first three and I think obviously a lot of pressure out of the building for him. So hopefully, knock on wood, keeping him healthy and getting him back, re-acclimated into the lineup is really important."
Filed to: Eastern Michigan Eagles