Notebook: Senior backcourt, bench leads the charge in win over Eastern Michigan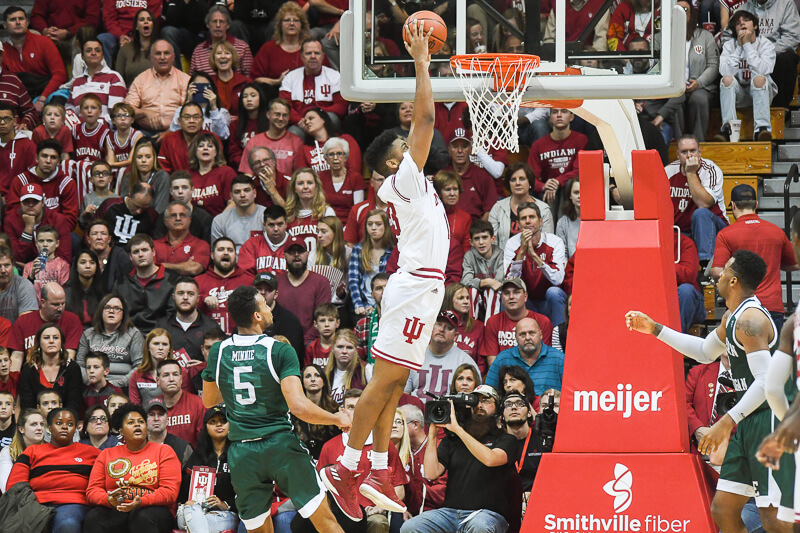 In their most complete game of the season, the Indiana Hoosiers held a quality Eastern Michigan team in check, coming away with a decisive 87-67 win.
After a few early turnovers, the Hoosiers calmed down and tore apart the Eagles 2-3 zone defense. Ten different players scored for Indiana, with five hitting at least one 3-pointer.
"I thought our staff and our team really worked hard yesterday to identify a couple of real key concepts to work against the zone, which was clearly to establish the ball getting inside and working through the paint," Archie Miller said after the game.
For the second consecutive game, Indiana turned the ball over just eight times, with three of those coming in the first five minutes of the game.
"We pride ourselves on taking care of the ball," senior Josh Newkirk said. "(We) limited turnovers. It makes our offense a lot better and it stops us from having to play a lot of defense and getting back on defense and defensive transition."
Indiana's senior backcourt, a subject criticism from fans and the coaching staff in the early portion of the non-conference schedule, found their offensive rhythm. Newkirk reached double figures scoring for the first time this season, pouring in 17 points, tying a career-high with five made 3s and turning it over just once.
Meanwhile, fellow senior Robert Johnson had another stellar game. Johnson recorded 18 points, made 4-of-6 from behind the 3-point line and added two assists in 32 minutes.
It wasn't just the seniors in the starting backcourt that contributed to the win. In addition to ten different players scoring, eight grabbed at least two boards, nine recorded an assist and six posted at least one steal.
"Everybody is getting comfortable with the offensive style, the defensive schemes," Newkirk said. "We've just been practicing a lot. I think everybody is feeling more comfortable understanding that we're all helping each other. I think it's coming along."
Hartman's return
Senior Collin Hartman returned to game action after a variety of injuries kept the forward out since Indiana's loss to North Carolina in the Sweet 16 in March of 2016. Hartman played in the Hoosier's final exhibition against UIndy and was expected to be ready for the regular season, but a groin injury suffered the day before the season opener kept him out longer than expected.
When Hartman checked in with 8:31 remaining in the opening half, the announced crowd of 12,024 gave the fifth-year senior a raucous standing ovation. 30 seconds later, when Hartman swished a 3-pointer from the corner, the fans responded with even more boisterous cheers.
"(Hartman) was cleared yesterday," Miller said. "And definitely wanted to have an opportunity to see him get out there just so he can get moving. And lo and behold, bangs his first three and I think obviously a lot of pressure out of the building for him. So hopefully, knock on wood, keeping him healthy and getting him back, reacclimated into the lineup is really important."
IU's bench breaks out
Indiana's reserves were instrumental in Friday's win, combining to score 29 points, the most since the Nov. 12 contest against Howard.
Freshmen Al Durham (six points, five assists) and Justin Smith (six points, five rebounds) continued their run of strong play, while junior Zach McRoberts (four points, three rebounds), and seniors Freddie McSwain (10 points, nine rebounds) and Collin Hartman (three points, one rebound, one assist) also contributed.
"For the first time all season we just dove into the bench regardless of what we were thinking prior to going in," Miller said. "And it was a good step in the right direction for our team. Sometimes it's not an individual's certain night; he doesn't have it going, and you have to be willing to trust the guys that are in there every day."
In particular, Miller singled out McRoberts' effort. Playing for the first time since Nov. 15 at Seton Hall, the senior logged eight minutes and provided hustle on both ends of the floor.
"What a great teammate," Miller said of McRoberts. "Probably should be in there a lot more right now and us learning our team and how we're doing things. I think today he showed what he can bring to the table, which is an awesome attitude, unbelievable work ethic. And what he did in practice is what he did in the game. He impacted our team in a positive way."
Filed to: Eastern Michigan Eagles, Josh Newkirk, Robert Johnson