The Minute After: Eastern Michigan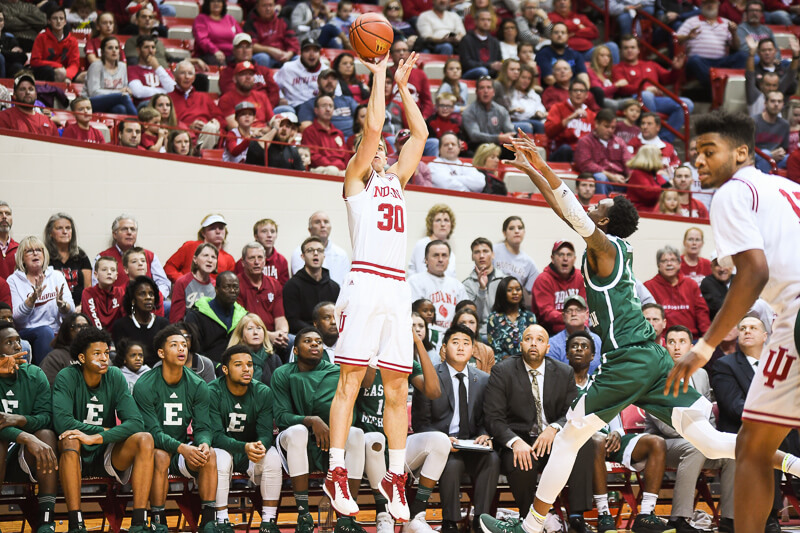 Thoughts on a 87-67 win against the Eagles:
Indiana's had stretches of strong play this season, only to fumble for equally long stretches, too. But tonight? The breakthrough. The Hoosiers put together a full 40 minutes of play in this one, en route to an impressive 20-point victory against Eastern Michigan.
The Eagles played a Syracuse-esque zone against Indiana. In years past this would have thrown a shiver up the spine of the Hoosier Faithful. We all know why. But Indiana showed early and often it knew how to carve it up, the first play of the game a sign of things to come: A pass into the middle of the zone to De'Ron Davis, a pass from Davis to a streaking Juwan Morgan along the baseline, dunk, foul, and-1.
From there, the Hoosiers kept it going. The ball movement was crisp and they'd continue to find their bigger bodies in the middle of the zone. And when that didn't happen, Indiana was able to connect from distance over the top of it. The Hoosiers also made those hustle plays Archie Miller has been clamoring for, as Morgan hit the desk for a loose ball. And just as Indiana was playing with effort and showing it could succeed against a lengthy 2-3 zone, it was also taking serious care of the ball (9.2 TO% heading at the half).
Indiana only carried a five-point lead into the break because it couldn't contain Elijah Minnie (17 points, 4-of-6 from distance) and wasn't great on the defensive whole either, allowing 1.14 points per possession to the Eagles.
And as the second half began, Eastern Michigan continued to keep it close, pulling within 49-47 at the 14:32 mark. But from there, Indiana put on a 38-20 run the close out the game and finish it out in comfortable fashion. The Hoosiers got a bit better on defense allowing 1.09 PPP for the contest, and really turned it up on offense, punching up their points per possession from 1.29 at half to 1.42 for the game.
That 1.42 points per possession against a Syracuse-esque zone came with a turnover percentage of just 13.1. Hallelujah.
Good to see Zach McRoberts playing, and playing with confidence tonight. For a coach demanding a get-on-the-floor type of hustle at all times, it's a little surprising McRoberts hasn't seen much of the floor so far in the early season. He didn't play against Howard, South Florida or Indiana State and saw less than a minute against Seton Hall.
But when he finally entered the contest and stuck on the floor at the 13:27 mark of the second half, he got to work. In eight minutes of action, McRoberts scored four points on two strong takes to the rim and had three rebounds.
Collin Hartman returned to the lineup for the first time in the regular season. And like he did against UIndy in Indiana's second exhibition, he immediately splashed a 3-pointer. Hartman played just six minutes tonight as he works back from his groin injury. If the Cathedral product doesn't regress health-wise, those minutes are likely to start creeping upwards during Indiana's next slate of games.
Speaking of that next slate, it's upon us. Duke, Michigan, Iowa, Louisville, Notre Dame all to follow. It won't be easy. But this one was no doubt a confidence builder and should help Indiana during its upcoming challenging stretch.
Filed to: Eastern Michigan Eagles