The Minute After: Arkansas State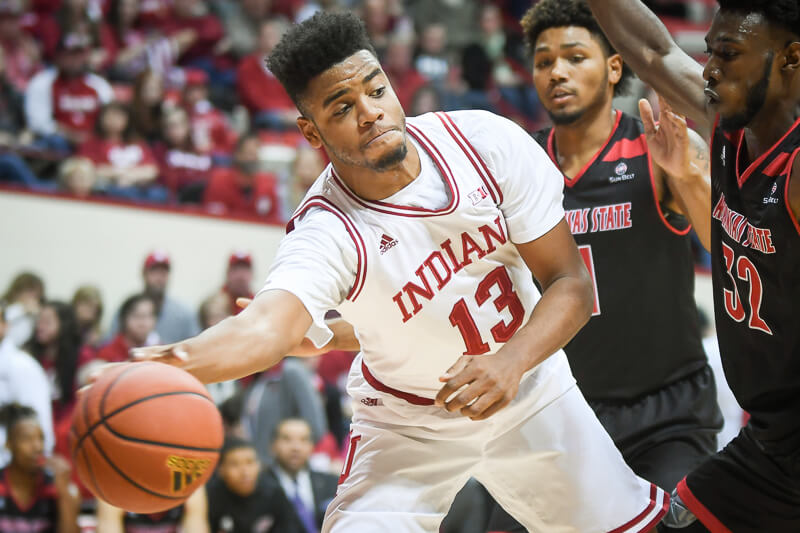 Thoughts on an 87-70 win against Arkansas State:
This one was volatile.
Indiana came out flat, didn't hustle for loose balls, missed shots and turned the ball over. It had problems figuring out Arkansas State's zone and played from behind for most of the first 10 minutes of the contest. Archie Miller didn't take kindly to the performance. But the Hoosiers turned it around in a big way to close out the first half. The turnovers ceased. The 3-pointers started falling and the offense started to hum. It was all enough to pull away for a 14-point lead at half (47-33) while scoring 1.34 points per possession and turning it over on just 11.4 percent of their possessions.
But that lead would evaporate as the second half meandered along. Devonte Green had a couple early turnovers. Indiana's defense was porous; Deven Simms (21 points) and Ty Cockfiled (nine points) got to the rim with ease. The 14-point lead dwindled to three points on two occasions (9:43 mark, 8:25 mark).
But just as soon as Indiana was letting another less talented team hang around in Assembly Hall, the Hoosiers stepped on the gas over the final 8:25 of the contest, outscoring the Red Wolves 24-10 in the process and cruising to a 17-point victory.
Despite the see-saw nature of this one, there was plenty to like.
Start with Juwan Morgan. This marks the second straight contest he's played like a man possessed. Morgan is being aggressive on the boards and swatting shots. He's scoring in a variety of ways and showing he can put it in the basket on either side from seemingly any angle. Morgan posted a career-high 28 points this evening on a hyper-efficient 9-of-11 line from the floor and 10-of-10 performance from the line. He also snagged eight boards and had two assists and two steals.
Morgan won't score 28 points every night. But if he can continue to play with this much effort and energy, it won't be the last time he affects the game in this many ways.
"This is how he's practiced," Miller said after the game.
Against Arkansas State's zone, Indiana failed to get De'Ron Davis going much in the first half as he had just one shot attempt. But after the break this changed, and Davis continues to prove to be an efficient scorer when he's given the opportunity. He shot 50 percent from the floor tonight (4-of-8) en route to 10 points. And as our Josh Margolis noted, Al Durham Jr. has played 100 minutes of game action since his last turnover, a seriously impressive stat for the freshman.
This is the second straight game the Hoosiers have held the opponent under a point per possession, though it was just barely as the Red Wolves scored .99. Indiana's turnover rate was also very good, as the team turned the ball over on just 11.3 percent of their possessions for the contest — a season best. The Hoosiers, after struggling from the line at times this year, were also pretty solid there tonight (16-of-21, 76.2 percent).
Indiana has to flip around quick on the other side of Thanksgiving to host Eastern Michigan on Friday afternoon. Things are still a work in progress early on in the Archie Miller era. And Indiana still hasn't put it together for a full 40 minutes … or even 30 minutes.
But there's seeds of change being planted. We'll see how quickly this team can grow with a tough slate of games ahead on the horizon.
Filed to: Arkansas State Red Wolves, Juwan Morgan