The Minute After: South Florida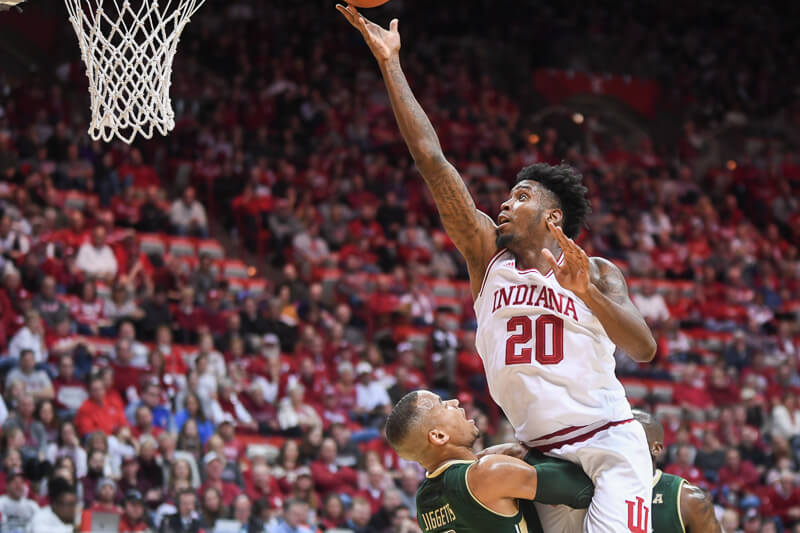 Thoughts on a 70-53 win against the Bulls:
As the Hoosiers entered halftime down 34-33, another 20 minutes defined by sloppy turnovers and not-up-to-Archie-Miller standards on defense, it seemed a real possibility Indiana could start this season 1-3.
But the Hoosiers turned things around in a big way in the second half. They turned it over just three times. They recorded five blocks. The strung together some great sets on offense. The Assembly Hall faithful had plenty to cheer about and made their presence felt. It was all enough to propel the Hoosiers to a 17-point victory on Sunday night and pull this team to .500 on the young season.
The cream and crimson also got some strong individual performances. Juwan Morgan played with an energy and intensity not seen in some time and his efforts showed up on both sides of the ball. The junior recorded a stat-stuffing line of 15 points, 10 rebounds, four blocks and a steal. Morgan shot just 3-of-7 from the field, but his aggressiveness on offense rewarded him with a 9-of-10 performance at the line. Seven of his 10 rebounds came on the offensive end. His four blocks were a team-high. An engaged Morgan on both ends of the floor makes this team better. And as a junior, one hopes performances like tonight can become more consistent.
Robert Johnson also shined. The senior didn't get off to the best start this season in Indiana's opener loss to Indiana State (seven points on 2-of-8 shooting), but has ripped off three straight games of double-digit scoring performances, including a team-high 21 points tonight. Johnson came to play in both the first (12 points, 5-of-6 shooting) and second half (nine points, 4-of-8 shooting) of the contest. Johnson also was a catalyst on defense in the second half when Indiana clamped down on the Bulls and recorded two blocks of his own.
Thanks to just those three miscues after the break, Indiana's turnover percentage from halftime to the end of the game fell nearly 10 percent (29.5 percent vs. 19.7 percent). That 19.7 mark for the game was better than Indiana's two losses against Seton Hall (26 percent) and Indiana State (26.5 percent), but it's still a little too high for a team that lacks an elite offense.
The Hoosiers held South Florida to just .87 points per possession tonight, the first time this season they've held an opponent under a point per possession. The Bulls scored just 19 points after halftime. This also marks the first game this season Indiana has not given up 50 points or more to an opponent in a half.
De'Ron Davis got in a bit of foul trouble tonight, but still managed 25 minutes of action and continues to be an efficient post presence when given the opportunity (12 points, 5-of-7 shooting). Miller's trust in freshman Al Durham Jr. was on display again tonight, as he logged 31 minutes. He never turned the ball over, was aggressive and got to the line (5-of-7) and posted nine points to go along with four assists and five rebounds.
After a bit of a concerning start, it was a nice bounceback half for the Hoosiers. We'll soon see if its a sign of things to come, as the Hoosiers have two more games this week on Wednesday and Friday.
Filed to: South Florida Bulls