Notebook: Upperclassmen lead the way in Indiana's second win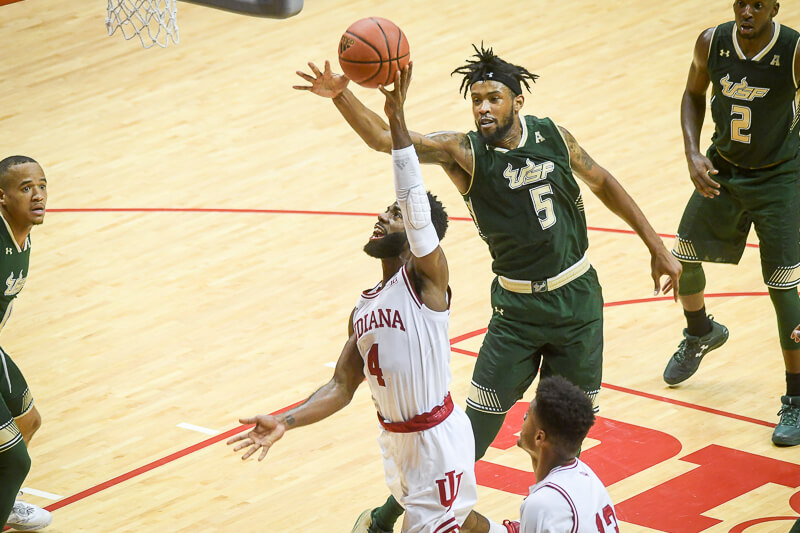 Led by the upperclassmen duo of senior Robert Johnson and junior Juwan Morgan, Indiana used a strong second half to come away with a 70-53 victory over South Florida on Sunday at Simon Skjodt Assembly Hall.
Even while Johnson struggled to find his shot throughout the first three games of the season, Archie Miller was effusive in his praise of the senior. During his radio show on Thursday night, Miller lauded Johnson for providing maximum effort and buying into his system, adding that his shot will find its rhythm in due time.
That time was Sunday.
In his 102nd career game and 92nd start in an Indiana uniform, Johnson turned in perhaps his most complete performance. The senior shined on both ends of the floor, pouring in 21 points on 9-of-14 shooting (3-of-3 from three), grabbing four rebounds, dishing three assists and blocking two shots.
"Rob's unbelievable," Miller said after the game. "I couldn't say one (bad) thing about Rob. His intentions as a player, as a leader, even coming off of Seton Hall in practice — vocal, getting on guys. He's doing a great job."
One of five seniors on the roster, Johnson has taken it upon himself to be a leader, both with his voice and his actions.
That's why Miller opted to play Johnson for the duration of the final 10:14 of Sunday's game. When Johnson re-entered for Curtis Jones at the 10:14 mark, Indiana was up just three. When the final buzzer sounded, the Hoosiers had ballooned that edge to 17.
During that stretch, Johnson accrued nine points on 4-of-6 shooting, grabbed three boards and recorded an assist. 24 seconds after Johnson's only turnover of the final 10:14, he made up for it with a block on the other end.
"When things got stagnant, we'd see Rob just slice the defense and then get an easy layup. (It made us think) 'We can do this.' Rob's killing it for us right now, we've just got to help him out," Morgan said of Johnson's leadership. "That's what really ignited us right there. Rob needed help and couldn't do it alone. As one piggybacked onto Rob, then another one came, then another. It was just a domino effect."
While Johnson led the way in the backcourt, Morgan captained the frontcourt. The junior posted the second double-double of his career, ending the contest with 15 points, 10 rebounds and a career-high four blocks. Although Morgan's perimeter jumper is still a work in progress, his inside presence has grown leaps and bounds. Morgan tested the South Florida defense all night, drawing foul after foul and grabbing seven offensive boards.
"(Morgan) was fantastic," Miller said. "It wasn't just about shooting 3s; it was about playing hard. I thought he played hard on both ends of the floor. The offensive rebounding was an unbelievable effort. And then 10 free throw attempts kind of shows the aggressiveness that he played with tonight. And so just happy for him. I thought he played really well today."
Other than Johnson and Morgan, the two other players that stood out for Indiana were sophomore De'Ron Davis and freshman Al Durham. Davis battled through foul trouble to record a 12-point, five rebound performance, while Durham continued to flourish at the lead guard. For the second consecutive game, Durham captained the offense for sustained periods and didn't commit a single turnover. In the 31 minutes the freshman was on the floor, Indiana outscored South Florida by 24 points.
Miller's first tech
The first technical foul called on Miller as the Hoosiers head coach came in interesting fashion.
Frustrated at his team's inability to grab a defensive board with 2:04 remaining in the opening half, Miller grabbed a towel and smacked it across the scorer's table.
The towel then appeared to slip from Miller's grasp, sending both the towel and a play card onto the floor during live action.
Although Miller had not meant to garner a technical, the Assembly Hall crowd approved of his antics, boisterously cheering on Miller for sending a message to his team.
"I really didn't want a technical foul," Miller said. "I was clearly ticked off we didn't get a loose ball rebound. But I'll take that technical foul. At the end of the day, I never want to give the other team two points. And I didn't say anything to the official. If I could have kept my play card and my towel off the floor, it probably would have helped the cause."
Filed to: Juwan Morgan, Robert Johnson