The Minute After: Seton Hall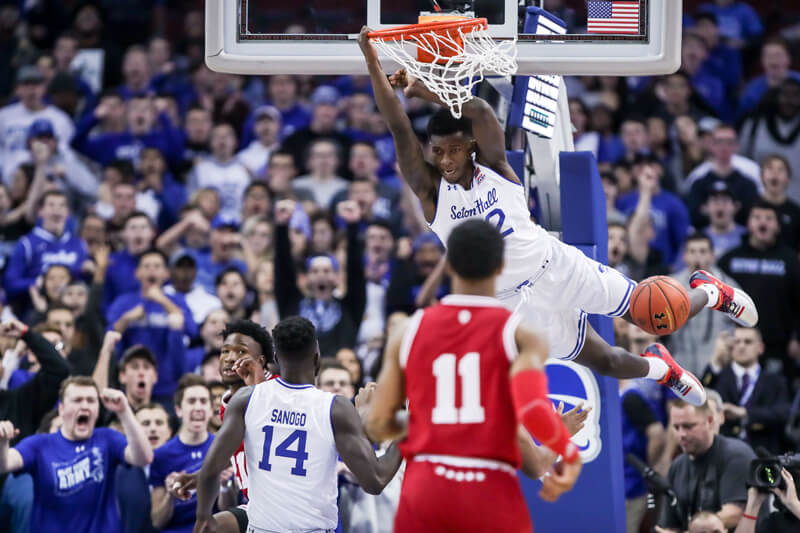 Thoughts on an 84-68 loss to the Pirates:
Finally.
After 80 minutes of ho-hum basketball from the Hoosiers at home, Indiana shook off the cobwebs in its first road contest of the season and got after it on the court. The Hoosiers came out playing hard. They played with effort. They matched Seton Hall's energy.
A play that perhaps exemplified this all best? Devonte Green's one-handed steal … with a shoe in his other hand. Indiana again was far too careless with the ball in the first half, posting a turnover percentage of 29 percent. But Seton Hall's was worse (32%) and the Hoosiers shot it pretty well, including a 4-of-9 mark from deep — all of which came from Green (4-of-5). Indiana trailed by just one at half (33-32).
This one felt like it'd be a blowout heading in but if Indiana could keep this play up for another half, they'd at least be able to keep it interesting and have a shot at the upset in the closing minutes.
But a blowout it became.
The turnovers, several of them ill-advised, continued as Indiana turned the ball over on 26 percent of its possessions for the contest. Its simply too high a mark in this department, no matter the opponent or the venue.
"It was devastating," Archie Miller said of the turnovers after the game. " … When you look at your senior backcourt and they had seven of your 18 (turnovers), that's something that they have to take more pride in."
Indiana's defense also broke. The fouls piled up early and Seton Hall got into the bonus just over five minutes into the second half, where they'd outscore the Hoosiers by 11 for the game. De'Ron Davis fouled out in just 15 minutes of action.
Indiana had trouble containing Desi Rodriguez and Angel Deladgo after the break. The pair combined for 24 of Seton Hall's 51 points in the second half. As the Indy Star's Zach Osterman tweeted, this is the third time in as many games the Hoosiers have given up 50-plus points in a half. Not good.
Beyond the spirited play in the first half, there were some other positives.
Freshmen Justin Smith and Al Durham Jr. started this evening and backed up their strong performances against Howard with two more. Smith continues to look like an experienced player despite this being just his third college game. Some more strength could help his game, but he pumped in 10 points (5-of-11) tonight and looked good in the process. Durham Jr. continues to show no hesitation or fear and had a couple nice scores in the paint en route to 10 points (4-of-6) of his own.
Robert Johnson attacked the rim in the second half and it helped him get to 10 points on 5-of-10 shooting. Green had a team-high 16 points, returning a bit to the promise he showed in the exhibition contests.
It's a loss and a double-digit one at that. But Indiana showed some signs of life tonight. They can build on this one.
(Photo credit: Vincent Carchietta-USA TODAY Sports)
Filed to: Seton Hall Pirates