The Minute After: Howard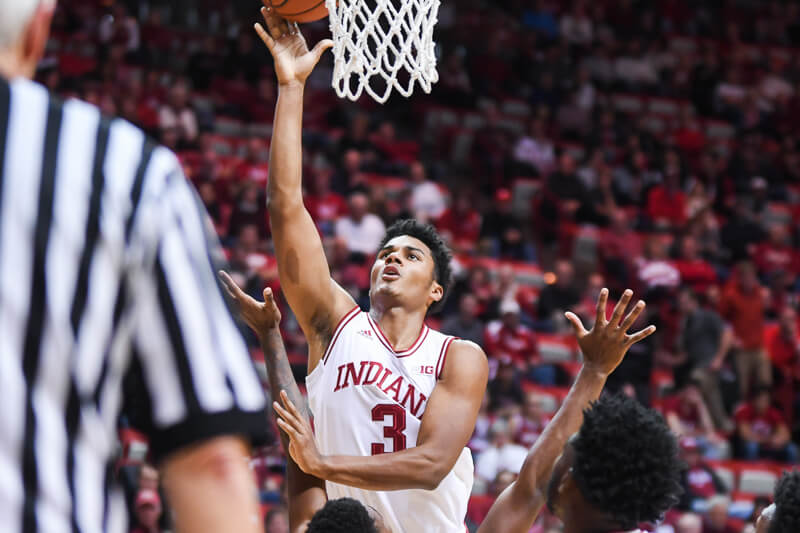 Thoughts on an 86-77 win against the Bison:
This one goes down in the books as a W, one sorely needed after Indiana's surprising season-opening loss to Indiana State on Friday night.
But that doesn't mean it came with ease against a weak opponent. Or that there still aren't some serious concerns about this team as it heads to its first showdown with a ranked opponent on Wednesday night against Seton Hall.
As a Big Ten Network camera scanned Indiana's bench in the waning minutes of the game, Stephen Bardo noted the Hoosiers looked more relieved than happy to win the game, their faces sullen. The energy of this team has been a little off through two games — more doom, gloom and negative than upbeat, joyful and positive. The Hoosiers are lacking confidence on the court, too, as they adapt to Archie Miller's system.
Indiana started the contest 0-of-7 from the free throw line and finished shooting just 8-22 (36.4 percent) from there. The Hoosiers also surrendered over a point per possession (1.02) to a Bison squad that had one of the worst offenses in all of Division I a season ago and started there again this season after a loss to George Washington on Friday night.
Indiana's senior guards also are having a hard time finding footing. After a 2-of-7 performance against Indiana State, Josh Newkirk followed up shooting just 2-of-9 tonight. Robert Johnson followed up his 2-of-8 performance on Friday night by hitting just one shot in the first half. Johnson became more aggressive in the second half and ended up finishing the night 5-of-8 (14 points), but he hit just 2-of-6 from the line.
With the seniors struggling some, Indiana got production from a pair of freshmen: Justin Smith (16 points, 12 rebounds) and Al Durham Jr. (16 points). On a team currently lacking confidence, Durham Jr. showed no fear early in knocking down 3-of-4 from distance in the first half. The freshman also drew some contact in the second half and hit 3-of-5 from the line. Smith showed some nice production out of the short corner for scores, finished an alley-oop and made good work against Howard's matchup zone around the rim in the second half.
After some serious problems in the turnover department against Indiana State, the Hoosiers were much better with the ball tonight (16 TO%). The Bison scored just 12 points off those miscues, as opposed to the 34 the Sycamores posted on Friday night.
De'Ron Davis didn't record a personal foul all evening, which means he was able to play heavy minutes (29). Davis made the most of his opportunity, posting an efficient 7-of-9 shooting performance en route to a team-high 17 points. The sophomore really struggled from the line tonight, though, going just 3-of-10. Davis had a couple that hit the back of the rim and his struggles seemed to compound after missing a few early on in the contest.
"We're gonna have to get a lot more physical, we're gonna have to get a lot tougher, and Wednesday's going to be a great opportunity to see how that's going," Archie Miller said after the contest.
Will Indiana's energy shift to a more positive fashion away from Assembly Hall? We'll soon see.
Filed to: Howard Bison