Around the Hall: Archie's Challenge, SI's Big Ten projection, more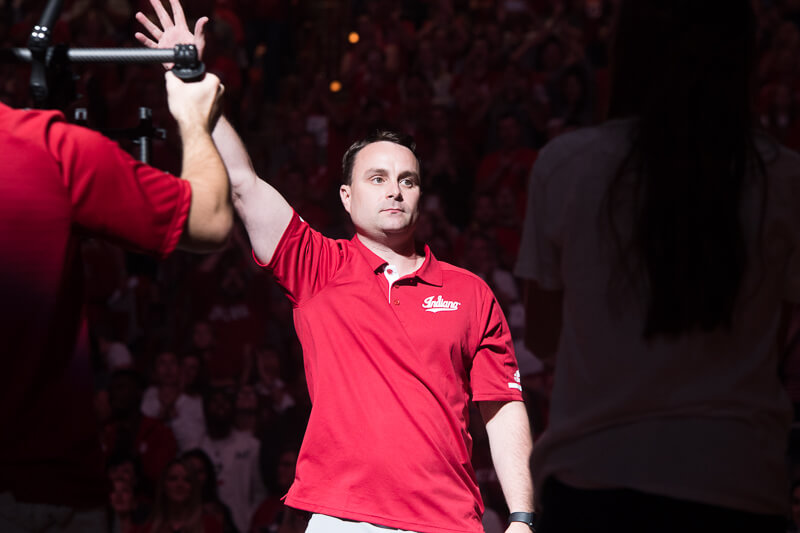 Around the Hall is recommended reading from the Inside the Hall staff.
Craig Fehrman goes in-depth on Archie Miller's biggest challenge at Indiana for Indianapolis Monthly:
Archie Miller has yet to coach his first game at IU, but he's already making a few offseason changes. While Crean had stopped doing team camps—high-profile events where dozens of high schools bring their squads to Bloomington to scrimmage each other—Miller revived them this summer. Coaches loved that he set the price lower than it had been in the past. Players loved the competition, in addition to seeing Assembly Hall and IU's other lavish facilities in a calm, fun setting.

Miller's camp drew some of Indiana's top high school coaches, including Lawrence North's Keefer. It makes sense to reach out to them through team camps, friendly texts, and office visits—all of which Miller has done in his first months on the job.

But those coaching relationships won't determine Miller's fate. In fact, his efforts on that front say more about his thoroughness—and maybe his understanding of the kind of stories old-school IU fans love to read—than about anything else. "The biggest thing Archie Miller has done is develop relationships with players and their families very quickly," says the analyst who tracks Indiana. "He does a really good job of connecting with people on a personal level." So far, Miller has secured essentially seven recruits—the three players from Crean's final class, whom he convinced to stay, plus four more top-100 recruits he landed in July and August.
Sports Illustrated's Big Ten projections are out and Indiana comes in at No. 8:
The Hoosiers' long-term outlook under first-year head coach Archie Miller is bright, but they're going to have to scrap for an invitation to the NCAAs this season. Combo guard Robert Johnson, frontcourt duo Juwan Morgan and De'Ron Davis and fifth-year wing Collin Hartman—who sat out last season with a knee injury—give the Hoosiers the foundation of an above-average offense.
ESPN.com's preseason power rankings are out and four Indiana non-conference opponents are in the top 20, including No. 1 Duke:
If everything comes together, Duke has the most talent in the country. But there are a couple of things to watch in the early part of the season: How Grayson Allen develops into his role as a leader on a team with mostly freshmen, and whether Trevon Duval is able to keep all the scoring options happy on the offensive end.
CBSSports.com has a list of 12 "hard to gauge" teams, including a pair from the Big Ten:
Maryland Terrapins
The Melo Trimble era lasted so long, it's hard to imagine just how the Terps will lookout with him running the point. Sophomore Anthony Cowan returns after averaging 10.3 points and 3.7 assists per game last season which will solidify the backcourt for Maryland, but it's still hard to imagine Mark Turgeon's team being better this season without one of its most productive players in program history. Cowan and Justin Jackson form a dynamic inside-out duo that could totally surprise teams in the Big Ten and outplay their preseason projection of tied for fifth.

Illinois Fighting Ilini
New coach Brad Underwood has to replace the top three scorers from last season, but with a top-30 incoming recruiting class and a graduate transfer ready to start in Mark Alstork, the Illini have the makings of a formidable squad on paper. It's too early to tell if the hodgepodge roster, however, will be able to come together to win big in Year One of the Underwood era. His track record of success leads me to believe Illinois could overachieve and be an NCAA Tournament team, despite the awkward blend of pieces on the roster.
In a Q & A with Brendan F. Quinn, Miles Bridges discusses being offered money during the recruiting process ($):
Brendan Quinn: You say you were able to navigate the recruiting process without succumbing to temptation. At the same time, you obviously weren't blind to what's out there. How did you come to grips with not cashing in on your own value?

Miles Bridges: I mean, if you get caught, that might be the end of your career. I wanted to play in college really bad. I don't know — materialistic things, they don't really get to me. So when people were offering me money, I would say no right away, because I wanted to be able to live out my college experience. But really, I don't know, it is hard, especially because I was so young at the time — 17.
Filed to: Archie Miller