2017-2018 ITH Season Preview: Minnesota Golden Gophers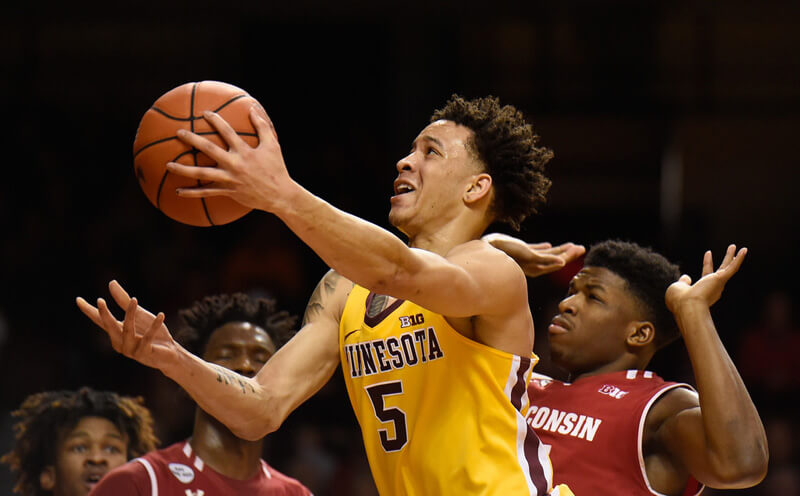 With the start of college basketball season on the horizon, we'll be taking a long look at the conference at large as well as Indiana's roster over the next month. Today, our Big Ten team previews continue with a look at Minnesota.
After winning just two Big Ten games in the 2015-16 season, Richard Pitino led Minnesota to 11 conference victories and an NCAA tournament berth in 2016-17.
The Golden Gophers return four starters – all of whom averaged double figures last season – and could enter the season ranked in the top 25.
Senior Nate Mason, who was named first team All-Big Ten last season, might be the league's best point guard. The 6-foot-2 Mason averaged 15.2 points, five assists and 3.6 rebounds per game as a junior. He had the third best assist rate in conference games (29.6 percent) and the sixth best turnover rate (10.8 percent). Mason shot a respectable 36 percent on 3s last season, but just 38.3 percent on 2s. Defensively, he's one of the league's best on ball defenders and led the team in steals last season with 46.
Sophomore Amir Coffey and junior Dupree McBrayer will join Mason in the Minnesota backcourt.
Coffey, a top 50 recruit out of high school, made the league's all-freshman team last season and started all 33 games he appeared in. At 6-foot-8, Coffey is a difficult cover on the wing because of his length and versatility. His 12.2 points per game last season were second on the team. Coffey hit close to 42 percent of his 3s last season in Big Ten games.
McBrayer, a 6-foot-5 guard from New York, should replace Akeem Springs in the starting lineup. McBrayer averaged 11.1 points as a sophomore and shot 41.6 percent from distance.
Freshman point guard Isaiah Washington, a 6-foot-1 guard from New York, will bolster the backcourt depth. Washington, the No. 61 player in the 247Composite in the class of 2017, is likely to split time backing up Mason and also playing alongside him. Freshman Jamir Harris should provide 3-point shooting off the bench.
Minnesota also returns one of the league's best frontcourt duos in junior Jordan Murphy and senior Reggie Lynch. Murphy averaged 11.3 points and 8.8 rebounds per game last season and was first in free throw rate (FTA/FGA) in Big Ten games at 63.8 percent. Murphy was also fifth in defensive rebounding percentage in league play and shot 58.2 percent on 2s.
The 6-foot-10 Lynch is the league's best shot blocker and arguably one of the best defenders in the country. Foul trouble was often an issue for Lynch, but he finished last season with the second best block percentage in the country, which earned him Big Ten defensive player of the year honors.
Junior forward Davonte Fitzgerald, who sat out last season with a torn ACL, last played in the 2014-2015 season at Texas A&M. Sophomore forward Michael Hurt, the older brother of class of 2019 five-star prospect Matthew Hurt, appeared in 26 games last season. His role could increase following a preseason injury to sophomore Eric Curry, who will miss the entire season. Curry averaged 5.5 points and 5.2 rebounds per game last season.
Senior Bakary Konate could see spot minutes as Lynch's backup. The Mali native averaged 1.6 points and 2.8 rebounds last season.
Bottom Line: Despite a disappointing first round NCAA tournament loss to Middle Tennessee, Minnesota was one of the Big Ten's best teams a season ago. And with nearly every notable contributor returning, the Gophers look poised for a top four finish in the league and could have a chance to contend for the league crown. After finishing last season with the league's 10th best offense, figuring out ways to score more efficiently will be the biggest challenge for Pitino.
Quotable: "They tasted success. If we are fortunate to get there again to the NCAA tournament we'll review, 'hey what did we not do right.' Got to stay healthy obviously. But is there something we can get better from it? But that's a long way away. We have goals certainly, but we didn't talk about that. We're a day to day program." – Richard Pitino to Marcus Fuller of The Star Tribune on whether the Gophers are talking about making a deeper tournament run this season.
Filed to: 2017-2018 Big Ten preview, Minnesota Golden Gophers