2017-2018 ITH Season Preview: Purdue Boilermakers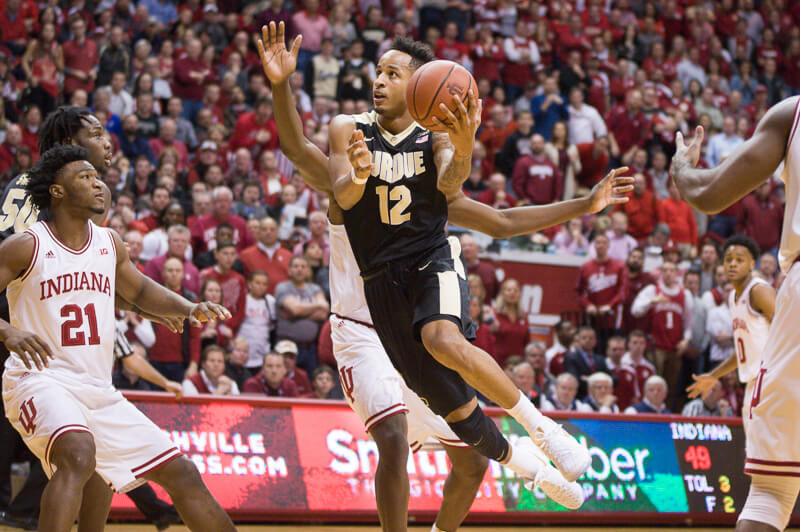 With the start of college basketball season on the horizon, we'll be taking a long look at the conference at large as well as Indiana's roster over the next month. Today, our Big Ten team previews continue with a look at Purdue.
Big Ten player of the year Caleb Swanigan left Purdue in the spring for the NBA, but expectations in West Lafayette are still high entering the 2017-2018 season.
And rightfully so.
The Boilermakers return four starters from last season's Big Ten championship team and have a head start on the season after claiming a silver medal for the US in the World University Games over the summer.
Seniors Vincent Edwards and Isaac Hass will anchor the Purdue frontcourt after testing the NBA draft waters last spring. The 6-foot-8 Edwards is one of the league's most skilled forwards and should take on a bigger offensive role after averaging 12.6 points last season. Edwards can do a little bit of everything offensively. He shot 42.3 percent as a junior on 3s and 83 percent from the free throw line. He's an above average offensive rebounder (8.3 OR%) who had the Big Ten's 19th best assist rate and fourth lowest turnover percentage.
The question for Haas is whether he'll be able to play more minutes effectively. He averaged 12.6 points in 19.5 minutes per game as a junior. He drew a ridiculous 7.8 fouls per 40 minutes last season and shot close to 59 percent from the field. But Haas has always had the luxury of playing the sidekick to another talented big man. With Swanigan's departure, he'll need to avoid foul trouble and play more minutes without his efficiency dipping.
Beyond Edwards and Haas, the Purdue frontcourt is largely unproven. Junior forward Jacquil Taylor sat out last season with an injury, but is expected to join the rotation. He's currently nursing an ankle injury, but is expected to be ready for the start of the regular season. Other names who could be in the mix for minutes are freshman Aaron Wheeler, junior college transfer Eden Ewing and Matt Haarms, a 7-foot-3 freshman center.
The Boilermaker backcourt has talent and depth with Carsen Edwards, P.J. Thompson, Ryan Cline and Dakota Mathias all returning.
Mathias, a senior, is one of the Big Ten's most under appreciated players who can defend and knock down shots from the perimeter (45.3 percent on 3s last season). Edwards looks primed for a breakout sophomore season after averaging 10.3 points in his debut season. And P.J. Thompson, yet another senior on the roster, does an excellent job running the offense while taking care of the ball. Thompson is a career 38.3 3-point shooter.
Cline, a 6-foot-6 junior, is likely to come off the bench. He's made 87 3-pointers through his first two seasons. Freshman point guard Nojel Eastern, a top 100 recruit, will give the backcourt a different look at times because he'll be one of the league's tallest point guards at 6-foot-6.
Bottom Line: Swanigan is a major loss, but Purdue is still loaded with experience and offensive talent. The Boilermakers finished last season in the top 25 in both offensive and defensive efficiency, according to KenPom.com. Purdue has no shortage of 3-point shooters and with four seniors that have won 38 league games over the last three seasons, this group knows how to win. Assuming Haas can play more minutes and the offense continues to hum from the perimeter, Purdue might be the biggest threat to challenge Michigan State for the Big Ten title.
Quotable: "It's big-time just because we can start at a higher point than we would have if we had to introduce a lot of things to the new guys. A great thing about our team is we have a great mix of guys who have been to the Sweet 16 and won the Big Ten, but we have those guys that are young and hungry and ready to learn. They were able to experience what we go through in practices this summer. They got to understand our lingo and how we communicate offensively and defensively and I think it makes us a lot more advanced than where other teams are that are just getting started this weekend practicing." – Thompson on the advantage of playing in the World University Games in August.
Filed to: 2017-2018 Big Ten preview, Purdue Boilermakers