2017-2018 ITH Season Preview: Penn State Nittany Lions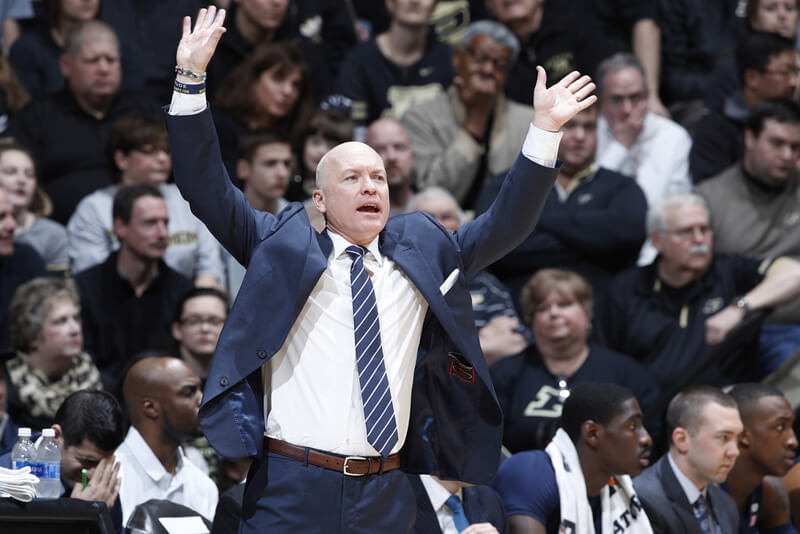 With the start of college basketball season on the horizon, we'll be taking a long look at the conference at large as well as Indiana's roster over the next month. Today, our Big Ten team previews continue with a look at Penn State.
Penn State was a team expected to take a major leap forward in the Big Ten a season ago. But after a 16-16 performance in 2015-2016, the Nittany Lions fell back into the bottom three of the conference.
As Pat Chambers enters his seventh season at the helm, Penn State is once again being mentioned as a team with the talent to surprise. There's never been a doubt that Penn State teams have played hard under Chambers, but there's little in his record to-date that suggests the Nittany Lions are in line for a breakout.
Over six seasons for Chambers in University Park, he's never won more than seven Big Ten games. He hasn't come close to making the NCAA tournament and has yet to reach the NIT. Penn State's lone postseason appearance under Chambers was the CBI, a tournament that is "pay to play," back in 2014. Penn State finished that season 16-18. Any optimism surrounding Penn State, at this point, is a leap of faith.
Despite three transfers – Terrence Samuel, Isaiah Washington and Payton Banks – the Nittany Lions return most of their notable contributors from a season ago.
The backcourt will be led by the trio of sophomore Tony Carr, senior Shep Garner and junior Josh Reaves.
Carr, a former four-star recruit, led Penn State in scoring last season at 13.2 points per game. His efficiency numbers, however, were well below average. Carr shot just 39.9 percent on 2s and 32 percent on 3s. Freshman Jamari Wheeler will likely be the backup point guard.
Garner was in our preseason top 25 Big Ten players heading into last season, but regressed as a junior. With the addition of Carr, Garner's assist rate shrunk and his turnover percentage increased. He also shot just 35.7 percent on 3s on 230 attempts.
Reaves is a plus defender (11th nationally in steal percentage) who finished close to 51 percent of his 2s in 27.1 minutes per game last year. Nazeer Bostick, a high school team of Carr's, should also figure into the backcourt rotation.
The Penn State frontcourt will be headlined by Mike Watkins, who averaged 9.7 points and 8.1 rebounds per game last season as a redshirt freshman. Watkins ranked eighth nationally in block percentage and 33rd in defensive rebounding percentage.
Sophomore forward Lamar Stevens got to the free throw line 146 times last season and knocked down 76.7 percent of those attempts. Stevens was second on the team in scoring at 12.7 points per game, but made just 44 percent of his 2s and 34.4 percent of his 3s in his debut season.
Satchel Pierce, a 7-foot transfer from Virginia Tech, and senior Julian Moore, who averaged 2.8 points and three rebounds per game last season, will provide depth behind Watkins and Stevens.
Bottom Line: There's no doubt that Chambers has upgraded the talent level at Penn State, but through six seasons, he's just 87-109 overall and 29-78 in the Big Ten. At most Big Ten schools, he would have been fired long ago. Penn State, which has historically been a league doormat in men's basketball, has given Chambers a long leash. Penn State does have a leg up because of its trip to the Bahamas this summer, which included extra practices and two exhibition games. If a breakthrough is coming, Penn State has to improve drastically on offense. The Nittany Lions were the Big Ten's second worst offense last year and if Carr, Garner and Stevens don't make major improvements with their outside shooting and overall efficiency, it's hard to envision a climb out of the bottom five or six of the conference.
Quotable: "From the moment last season ended, our biggest focus has been on creating good habits and we have worked on improving as a team and as individuals." – Chambers on Monday as Penn State opened practice.
Filed to: 2017-2018 Big Ten preview, Penn State Nittany Lions