Indiana doing a 'terrific job' in recruitment of Trayce Jackson-Davis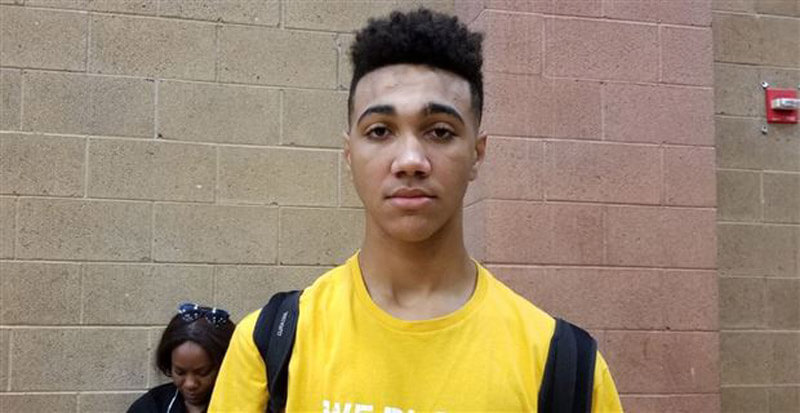 There was a constant presence at the AAU games of Center Grove forward Trayce Jackson-Davis in July: the Indiana coaching staff.
In fact, the Hoosiers had someone at every game Jackson-Davis played for Team Teague in July. And that persistence has allowed IU to make up significant ground with the rising junior in a short amount of time.
Prior to Archie Miller's hiring in late March, Indiana was barely even on the radar for Jackson-Davis. Thursday, he'll make another unofficial visit to Bloomington for the IU-Ohio State football game.
"Before the coaching change, he was just kind of coming into his own, but we hadn't heard anything from IU," Ray Jackson, his stepfather, told Inside the Hall on Wednesday afternoon. "They actually came up his freshman year and then we really didn't hear anything back from them."
Miller's emphasis on recruiting the state has already paid dividends in the class of 2018 as the Hoosiers have commitments from a pair of top 100 prospects in Damezi Anderson and Robert Phinisee. The top 2018 prospect in the state, Romeo Langford, recently included the Hoosiers on his list of seven finalists.
In 2019, IU is hot on the trail of both Jackson-Davis and Keion Brooks, a five-star forward from Fort Wayne.
When he was hired in late March, it didn't take time for Miller and the IU staff to identify Jackson-Davis as a top priority.
"Once coach (Archie) Miller came in, the staff reached out to coach (Zach) Hahn, his high school coach,"Jackson explained. "And we went up there for a visit. And we came back a week later for a team camp and Trayce played really well. And that's when they offered him.
"Since then, it's every other day we're in contact with somebody. They came to every single one of his games in July. All of July they were there. He's built a nice little rapport with the coaching staff. Trayce has been up there three or four times and every time, it gets a little bit easier for him and the more comfortable he gets. He has nothing but good things to say about the coaching staff. They've done a terrific job of recruiting him."
Jackson-Davis, who is 6-foot-8 and still growing, averaged 12.2 points and nine rebounds as sophomore.
He recently broke into the top 40 of the ESPNU top 60 for the class of 2019 and holds scholarship offers from IUPUI, Iowa, Purdue, Butler, Xavier, IU and Clemson.
Ultimately, Jackson says, his stepson has the goal of becoming a McDonald's All-American. As his high school career has progressed, his role in the Center Grove program has evolved.
"As a freshman, they needed him to do more back against the basket," Jackson said. "Sophomore year, you can float out just a little bit more, get more blocked shots, more rebounds and get stronger with the ball. Junior year, shoot more outside jumpers, put the ball on the floor more. And by senior year, be able to shoot 3s, bring the ball up and be able to post.
"Those are all of the things Trayce is doing right now. The timeline is perfect for him. He's in the weight room, he's getting bigger, his diet is getting better and he's starting to believe now because of the success that he's had."
On Thursday, Jackson-Davis is expected to play pickup in Bloomington with some of the current roster, according to Jackson, before heading over to Memorial Stadium.
Opportunities to play against high level of competition are only helping Jackson-Davis to build more confidence.
"He really hasn't even flipped the switch yet," Jackson said. "He's probably at 75 percent right now. When he realizes how good he really is, that's when he's really going to take everybody by storm."
Filed to: Trayce Jackson-Davis