Freshman Focus: Clifton Moore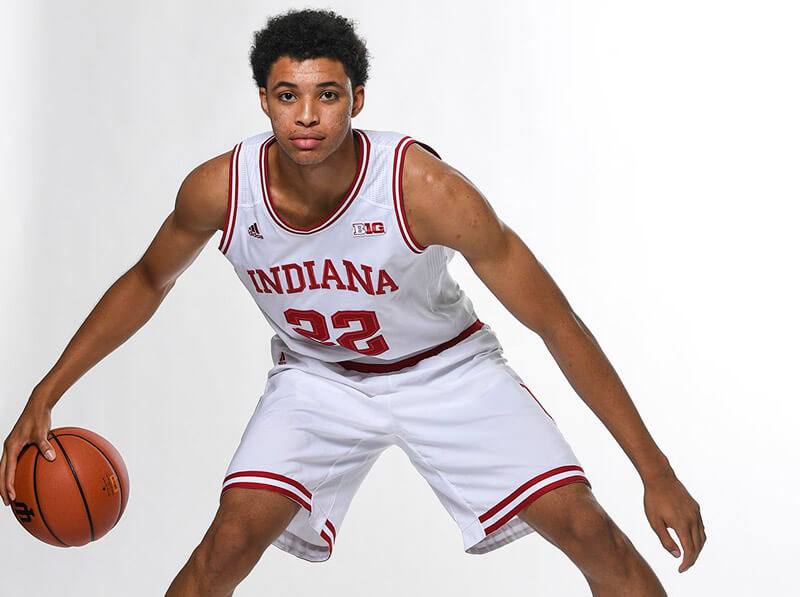 "Freshman Focus" is an Inside the Hall series on each of Indiana's incoming freshmen. Over the next couple of days, we will take an in-depth look at each newcomers. Today: Clifton Moore.
The sleeper of Indiana's 2017 recruiting class may end up being Clifton Moore.
The 6-foot-10, 200 pound forward out of suburban Philadelphia was a late bloomer, growing seven inches since his sophomore year.
"To see how Clifton grew, just as a guy, over those years, was just amazing," said Jonathan Michels, the head coach of the AAU program Hoopdreamz, where Moore played since he was nine. "He was a kid that went from such a quiet, to himself guy, to becoming a man."
Originally recruited by local mid-majors, Moore's game evolved as his body grew. Soon, Northwestern, Indiana, Ole Miss and Boston College came calling with scholarship offers. Yet, even as his profile increased, his drive never wavered.
"(Clifton's) just a guy that shows up every day," Michels said. "He's a kid who passed up home visits with college coaches because we had practice. Me, I nearly killed him for doing it, but our guys looked at it as just coming to work every day."
When he visited IU in October of 2016, he enjoyed his visit so much that he committed before he boarded his flight home. Moore recommitted in April after meeting with Archie Miller.
"When we met with Archie, it was a very sincere feeling," Michels said. "You didn't feel like you were getting sold. You just felt like what he was selling you was legitimate."
IU assistant coach Bruiser Flint was also at the meeting. Flint has strong ties to the Philadelphia area, which helped Moore feel comfortable recommitting to Indiana.
"I've known Bruiser for 30 years and (Clifton's) dad knows Bruiser," Michels said. "I don't think for as well or as long as I have, but Philly is a very closely knit basketball community. If you're involved in it, everybody kind of knows everybody, one way or the other."
As a senior at Hatboro-Horsham High School, Moore showcased his ability to handle the ball, hit a variety of shots from both inside the paint and beyond the arc, and defend the rim. In the first round of district playoffs, Moore accrued a triple-double with 22 points, 13 rebounds and 10 blocked shots.
When Miller first commented publicly on Moore in May at Huber Farms, he noted his versatile skill set and wiry frame.
"(Clifton's) got a frame that is going to grow," Miller said. "He's going to be what I would call a true versatile forward, in time, with his size combined with being able to shoot the 3 and some of the things he can do. I think, down the road, you're going to see a guy kind of grow up right before your eyes."
As for Moore's ceiling?
Michels thinks Moore could one day play in the Association.
"Long term, I think Clifton's got a chance of being an NBA player," Moore said. "I think while he's (at Indiana), everybody is going to kind of be surprised at how competitive he is. I think that gets minimized because he's a bit of a suburban kid. I think you're going to realize he's very competitive, he's a much tougher guy than people give him credit for and he's an absolute work guy. He'll work all day long if you allow him to. It's what's made him improve the way he's improved."
Filed to: Clifton Moore, Freshman Focus