Recruiting roundup: Third evaluation period centered in Las Vegas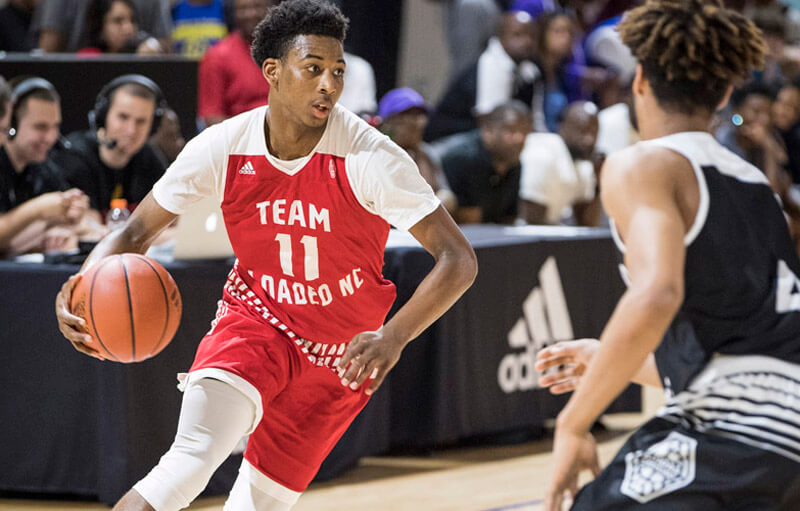 The third and final July evaluation period started on Wednesday and most of the action is centered in Las Vegas with the adidas Summer Championships, Fab 48 and CP3's The Eight. The AAU Super Showcase is also taking place this week in Orlando.
Here's a roundup with some IU-centric news and notes from Wednesday and Thursday:
· Indiana continuing to watch Nate Hinton: One of the notable takeaways from Eric Bossi's Thursday notebook over at Rivals.com was Archie Miller's presence at Mass Rivals-Team Loaded North Carolina:
The Team Loaded North Carolina and Mass Rivals game was jam packed with head coaches. Virginia Tech's Buzz Williams had three assistants with him for Nate Hinton and Minnesota's Richard Pitino, Tulsa's Frank Haith, Houston's Kelvin Sampson and Indiana's Archie Miller weren't rolling solo either. Other schools I saw repped by their head coaches at the game included Providence, Michigan, Arkansas, Butler, North Carolina, Villanova, Virginia, Penn State and Baylor. Trey Wertz is a shooter with upside who could be generating some action and four-star wing Landers Nolley was hot from three for Team Loaded NC.
Hinton is a prospect that Indiana has tracked diligently this month and Bossi noted that the Hoosiers had multiple coaches in attendance for him on Thursday. Of course, IU could also have been there for David Duke of Mass Rivals, but Duke didn't make mention of the Hoosiers in a recent Q & A with Evan Daniels of Scout.com.
Also of note from Bossi's notebook: "Five-star Romeo Langford doesn't quite look himself playing through a back injury."
· Akinjo planning official visit to Bloomington: Class of 2018 Salesian (Ca.) point guard James Akinjo was one of the standouts at the Peach Jam as he helped lead the Oakland Soldiers to the EYBL title.
It appears the Hoosiers have put themselves in solid position for Akinjo as he told Josh Gershon of Scout.com that he has three official visits in mind and one of them is Indiana:
"I'm going to take some visits in the fall and go from there," he said, adding that UConn, Indiana and California would all get visits.

…

Indiana: "They always have a good program. I love their facilities. I really like coach Archie Miller and how he's trying to build a relationship with me."
Indiana's point guard pursuit for 2018 seems to be focused on Robert Phinisee, Darius Garland, Akinjo and Duke. Phinisee is still planning to make a decision in August.
· Stewart stands out in Orlando: Class of 2019 Rochester (N.Y.) big man Isaiah Stewart, who Indiana offered back in the spring, was one of Dan McDonald's standouts from the AAU Super Showcase on Thursday in his notebook at Rivals.com:
With Maryland's Mark Turgeon looking on, Isaiah Stewart completely dominated the game in the paint. He used his big body, natural strength and strong hands to absolutely dominate on the boards. He may have reached double figures in just over a quarter of action. He also finishes well on the block on the offensive end when he gets a chance. There is little doubt he's one of the better post players in the 2019 class.
Stewart's relationship with former IU big man Thomas Bryant is well documented.
· Potential 2018 big man name to know: There's a shortage of capable bigs in the 2018, which has limited Indiana's pursuit of a true post player to add to next season's roster.
One name to keep an eye on, according to Brian Snow of Scout.com, is George Conditt of Corliss High School in Chicago:
Not playing for one of the major shoe sponsored teams, Conditt is someone that coaches typically have to go out of their way to watch, and they have been doing just that.

"Schools like UTEP, Illinois, Wisconsin, Georgia Tech, Indiana, Washington, and Iowa State have all been coming to my games," said Conditt.
· Henry adds another high major offer: Ben Davis rising senior Aaron Henry, who added a scholarship offer following the first July evaluation period, continues to add offers as the month rolls along.
The most recent school to offer Henry is Ohio State, which extended an offer on Thursday:
Blessed to receive an offer from THE Ohio State University #GoBuckeyes ??? pic.twitter.com/dtysRC5u4g

— AH? (@henny2x) July 27, 2017
Filed to: Aaron Henry, David Duke, Isaiah Stewart, James Akinjo, Nate Hinton, Romeo Langford