Rochester native Isaiah Stewart talks Indiana, Thomas Bryant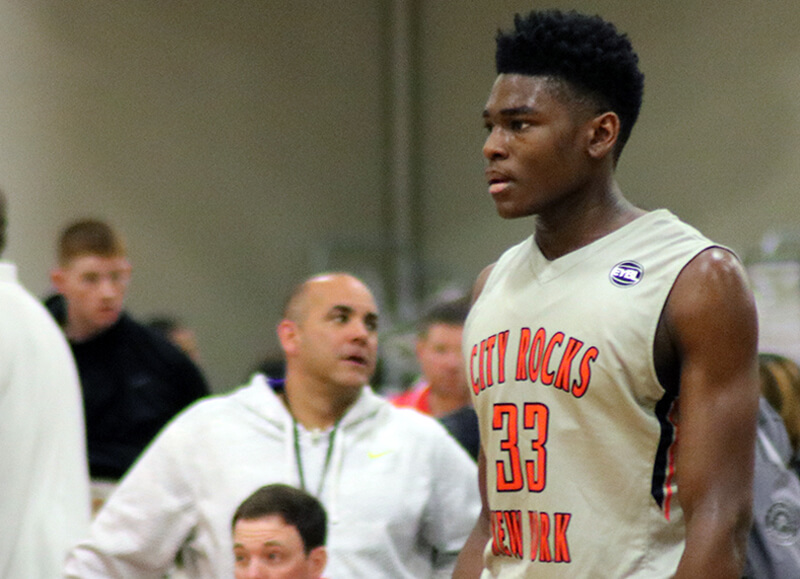 NORTH AUGUSTA, S.C. – If 6-foot-9 power forward Isaiah Stewart is looking for a blueprint to follow and reach his dreams of someday playing in the NBA, he doesn't have to look very far.
In fact, he's been seeing it frequently over the past few weeks during NBA Summer League play. Stewart, a Rochester, New York native, is close friends with former Hoosier and fellow Rochester product Thomas Bryant and says he's been keeping close tabs on Bryant's play for the Los Angeles Lakers.
"I always talk to him after summer league games, ask him how it feels, and just congratulate him," Stewart said with a smile. "I love watching him."
If Stewart continues his level of play, it won't be long before Bryant will be able to return the favor. The No. 35 overall prospect in the 2019 class according to 247 Composite, Stewart attracted plenty of attention for his play at the Nike Elite Youth Basketball League (EYBL) Finals at the Peach Jam last week.
Only a rising junior and competing largely against players a year older, Stewart helped City Rocks to a 5-1 record thanks to his 11 points, 9.5 rebounds and 1.8 blocks per game. Taking a cue from Bryant, Stewart was an efficient 58 percent from the field, going 29-for-50 through the tournament. He also posted double-doubles in consecutive games against Boo Williams (19 points and 13 rebounds) and All-Ohio Red (12 points and 15 rebounds).
"My game is built around toughness and being physical and running the floor and doing everything I can to make the team win," he said.
With a long way still to go in his recruitment, Stewart already has a long list of top programs vying for his services and mentioned Indiana, Xavier, Marquette, Georgia Tech, Maryland, Duke, Notre Dame, and Syracuse as teams consistently in contact. Jim Boeheim's son is a City Rocks teammate of Stewart.
"Coach Archie Miller has been texting me," Stewart said of Indiana's involvement. "He'll text me every day or two and check up on me and see how I'm doing and how things are going."
Georgetown is also involved and Stewart says new head coach Patrick Ewing makes the Hoyas an interesting option.
"Patrick Ewing is making me a priority," he said. "He definitely knows what he's doing when it comes to big men and he's been to a level that other big men want to get to."
As for Indiana, part of the draw clearly includes Stewart's relationship with Bryant, whose successful two-year stint in Bloomington led to being selected with the 42nd pick in the NBA Draft.
"He's saying it's a great place and everything worked out well for him while he was there," Stewart said of Bryant. "He gives me advice to keep pushing every day and keep getting better and that I'm next up."
Filed to: Isaiah Stewart