Four-star point guard David Duke on IU: "It would be a good fit"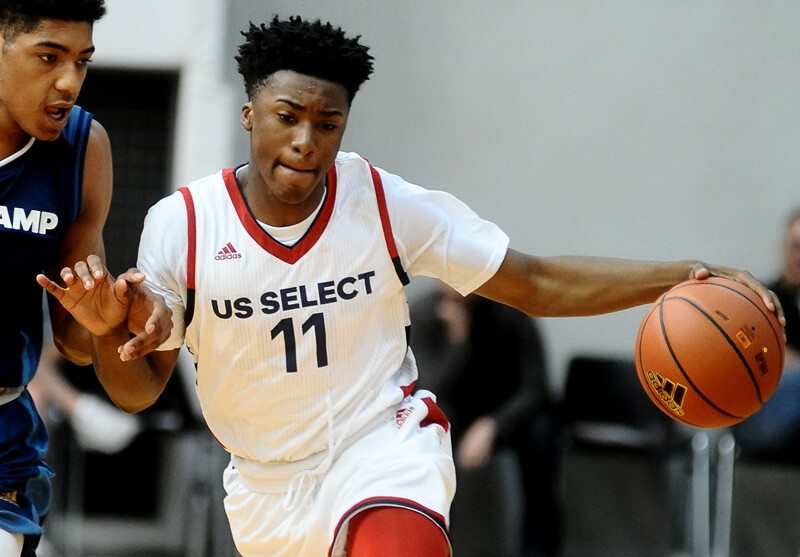 SPARTANBURG, S.C. – At this time one year ago, David Duke was on the outside looking in.
The mailbox was empty. The phone wasn't ringing. But, he says, the fire inside him was building.
Now the No. 47 ranked prospect overall in the 247 Composite, Duke says he wouldn't have it any other way.
"March last year, I had no offers – wasn't ranked, wasn't even looked at," Duke said following Mass Rivals' 58-55 loss to Chauncey Billups Elite Saturday at the adidas Gauntlet Finale. "I basically wasn't recruited at all – no phone calls or letters or anything. By the summer, I think I had like three local schools, but no high major schools. Now, I have 20-plus offers and I'm still getting recruited by multiple schools. I just take that as motivation to keep going."
Duke's journey to this point hasn't been an easy one. And he's quick to point out that it hasn't happened overnight, despite his rapid ascent into the limelight of the summer recruiting scene. It started with a few offers here and there. Then a few more. Then more, until ultimately, he warranted offers from the likes of Kansas, Florida, Villanova, Virginia and, recently, Indiana.
Duke admits he's not exactly sure what the turning point was along the way, but he says it's the sum of hard work and increased visibility associated with his play on the adidas Gauntlet circuit. He also credits the tutelage of hard-nosed Mass Rivals coach Vin Pastore.
"Playing on a tough circuit like this definitely helped," he said. "Coming to the adidas circuit and having great coaching just showed me I always have to work harder. Coming out here, I got busted a couple of times and that motivates me. I try to come back better every time."
It's not hard to see why schools have started to notice the athletic 6-foot-3 combo guard out of Cushing Academy (Mass.). On the highly competitive Gauntlet circuit, he averaged 9 points, 3.6 rebounds, and 3.2 assists per game.
As for Indiana, Duke says it's his aggressive approach that has garnered the Hoosiers' attention.
"They like my game and how hard I play on both sides of the ball," he said. "I definitely try to be aggressive – play hard defensively and be tough overall. It would be a good fit. I know Coach (Archie) Miller is a good coach and Coach (Bruiser) Flint is, too."
At one point, Duke says he thought about a reclassification into the 2017 class, but that's no longer under consideration – giving him plenty of time to make a decision. Until then, the letters and phone calls will likely continue to pour in, and Duke says he will never forget a time when that wasn't the case.
"It feels amazing," he said. "It's a blessing, but I'm just going to keep working harder."
Filed to: David Duke