Bryant confident in Indiana's future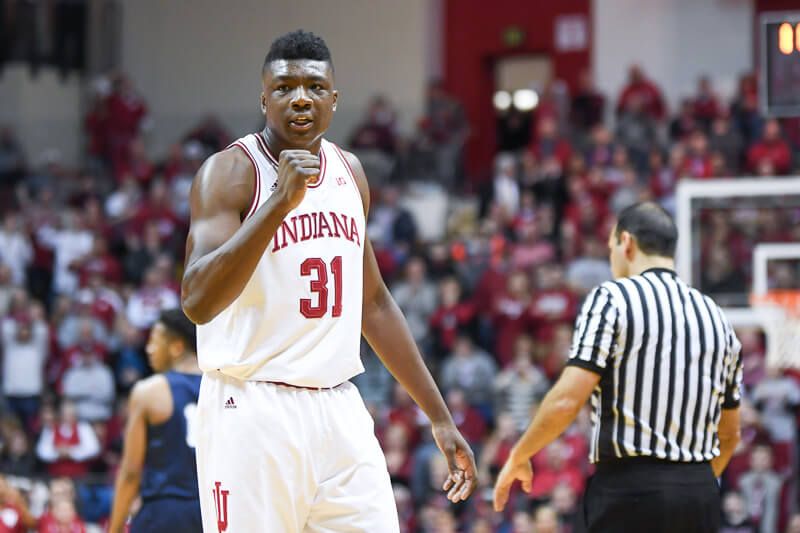 Thomas Bryant was a part of two very different seasons at Indiana.
The Rochester, New York native helped lead the Hoosiers to a Big Ten championship and a Sweet Sixteen appearance as a freshman.
After the Hoosiers knocked off Kentucky in the NCAA tournament round of 32 in Des Moines, Bryant gazed at the Indiana fans in attendance and shouted, "This is why I'm here."
He returned for his sophomore season with the goal of an even deeper tournament run, but Indiana's 2016-17 season was derailed by injuries, turnovers and a defense that never improved. The Hoosiers finished just 18-16 and lost to Georgia Tech in the first round of the NIT.
Two days following that loss, Fred Glass announced the firing of Tom Crean after nine seasons. Just nine days later, Indiana hired Archie Miller, a rising star in the coaching profession, from Dayton.
In his first season, Miller will take over a roster which lost three of its top four scores as James Blackmon Jr., Bryant and OG Anunoby all departed as early entry candidates for the NBA draft.
Despite the roster turnover and change in leadership, Bryant is confident in the program's direction.
"They'll be able to (keep it going), I know that for a fact," he told Inside the Hall on Friday in a one-on-one conversation. "I've played with most of the guys that have been there, the ones that are freshmen going into their sophomore year, the guys that are veterans, too. They're very strong minded. Playing for coach Crean, they had to be strong minded. And they're tough. So I see them doing a real good job this year and in the years moving forward."
Bryant, who signed with the Hoosiers in the spring of 2015, was a part of a three-man recruiting class that also included Anunoby and Juwan Morgan.
Morgan is now the last man standing from that group and will be expected to take on a much bigger role as a junior. His first two seasons have been derailed by injuries at times, but Bryant feels that his friend and former teammate is ready to break out in a major way.
"He's always been one of the leaders on the team," Bryant said of Morgan. "He's a leader by example. I feel like people really slept on him the last two years. With some guys gone, people are going to wake up and realize how good Juwan really is."
In addition to an increased role for Morgan, another Hoosier who will be expected to take major steps forward is De'Ron Davis.
The 6-foot-10 Davis, who averaged 5.9 points and 3.1 rebounds, is in the midst of a pivotal offseason. Miller said recently that Davis is already down 16 pounds this offseason.
With Bryant gone, Indiana will need Davis for extended minutes as a sophomore. He averaged just 13.9 minutes per game as a freshman.
"De'Ron just needs to stay calm and collected," Bryant said. "He's a real good player. He knows he's good, too. And everybody else knows he's good as well. If he just takes it one day at a time, he'll be fine."
Filed to: Thomas Bryant