Davis working to change his body in preparation for sophomore season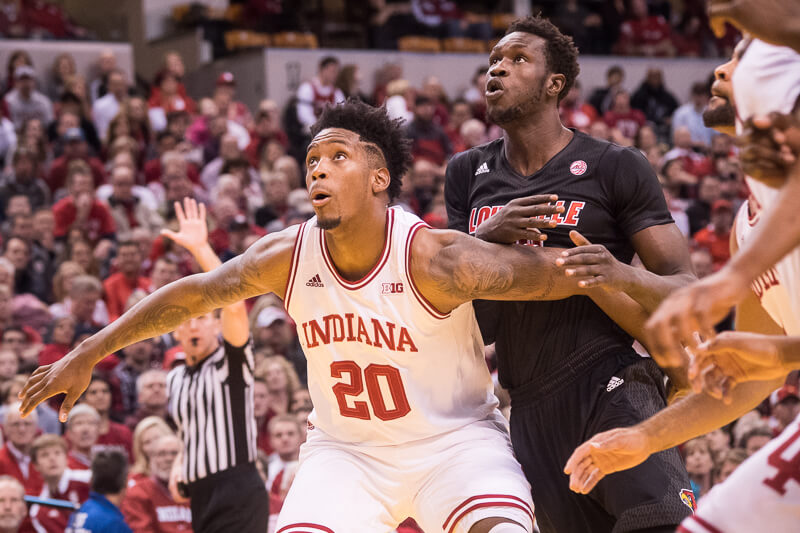 The transformation of De'Ron Davis is underway in Bloomington.
After a freshman season that had ups and downs, Indiana will need much more from the Colorado native as a sophomore. And so far, he's embracing the challenge.
Davis is one of five IU players on campus for the first summer school session and he's already beginning to change his body significantly.
"He's doing really well," Archie Miller said last Wednesday. "He's heading into his fourth week. We always said that if De'Ron could stay the whole summer, the first four weeks would really set him off. He's done a great job. He was 271 pounds when we started and we are hoping by the end of this week he'll be at 255, 254. So he's already down 16 pounds."
Following the departure of Thomas Bryant to the NBA draft, Davis is now the clearcut primary option in the post as Miller builds his first roster in Bloomington.
As a freshman, Davis showed flashes of being the player that made him a top 50 player nationally in the 2016 class. Despite conditioning issues and a couple of nagging injuries, he had moments when Big Ten opponents had difficulty containing him in the post.
Next season, Davis must turn those flashes into consistent production for the Hoosiers to reach their potential.
"De'Ron is in a great situation. He's got opportunity," Miller told fans on Wednesday at Huber's. "And with opportunity comes excitement, but also comes reality. It's 'where are you right now?' And 'where do you have to be to do the things that you're going to be asked to do?'
"And the first thing is, change his body. And De'Ron has to change his body. He was a big guy at the end of the spring and he's had some injuries. He's not going to be able to do what we're asking him to do unless he's in tremendous shape."
Solid footwork and passing have always been present for Davis, but the next step is for his athleticism, conditioning and explosion to take a leap forward.
He's been working with Clif Marshall, IU's new director of athletic performance, on diet and has also been in the sandpit outside of Simon Skjodt Assembly Hall.
"You can start to see the bounce in him a little bit," Miller said. "When he's on the floor, when he's in the locker room, when he's around our staff, he's got a much more positive bounce. I think he feels good about what he's doing right now. We're going to break it up and do four more weeks after that. I think if he stays with it and keeps doing what we're doing, he's going to set himself up for a great start."
Get better Thursday! #IUBB #IndianaBasketball #IndianaStrength pic.twitter.com/05toAvDhvY

— Coach Clif Marshall (@ClifMarshall) June 1, 2017
Filed to: Deron Davis