Four-star forward Race Thompson talks IU offer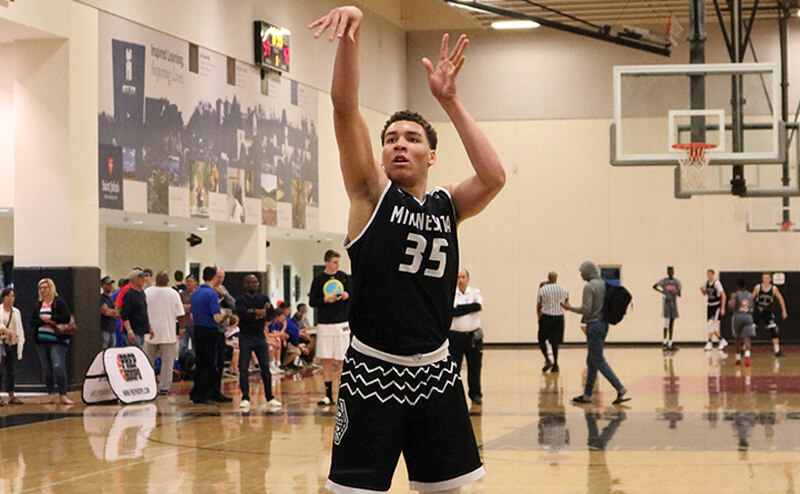 MINNEAPOLIS – Four-star class of 2018 forward Race Thompson continued his strong stretch of AAU play this past weekend, helping lead D1 Minnesota to a record of 3-1 at the Battle at the Lakes.
Throughout the three-day event, Thompson displayed the attributes; solid handles, strength, court vision, and an effective mid-range fadeaway, that have led to him receiving serious interest from elite Power Five schools.
"(I'm) able to be versatile depending on the player that's guarding me and play my game off that," Thompson told Inside the Hall on Friday evening after an 82-51 win over Greenwood Elite. "Going inside, outside, being able to handle the ball on the fast break. Those are probably my main strengths."
When Inside the Hall spoke to Thompson last month, he had been in minimal contact with Indiana. Since then, Thompson has earned a scholarship offer and has become increasingly familiar with the program.
Thompson said he talks to the IU staff via phone two-to-three times a week, and texts assistant Tom Ostrom, who is a graduate of the University of Minnesota, "almost every day."
"We've got a lot to talk about. He's from Minnesota, I'm from Minnesota," Thompson said of Ostrom. "We talk about pretty much everything."
Thompson said he's intrigued by the program's culture and tradition, and wouldn't have to change his game too much to fit into what Miller wants to build in Bloomington.
"They have probably one of the best colleges in the nation, one of the best fanbases," Thompson said. "Up there at the top in pretty much every category."
Besides Indiana, Thompson says he's also in contact with Minnesota, Iowa State, Baylor, Marquette, Providence, Michigan and Michigan State.
Through two adidas Gauntlet sessions, Thompson is averaging 14.4 points and 6.9 rebounds per game.
While he doesn't have a firm timeline for a decision, Thompson is looking to make a decision between the end of the AAU season and the start of his senior season at Robbinsdale Armstrong High School.
"I'm kind of taking it day by day," Thompson said. "I will most likely commit by my next high school basketball season."
Filed to: Race Thompson