Draft Watch: Combine tips off this week in Chicago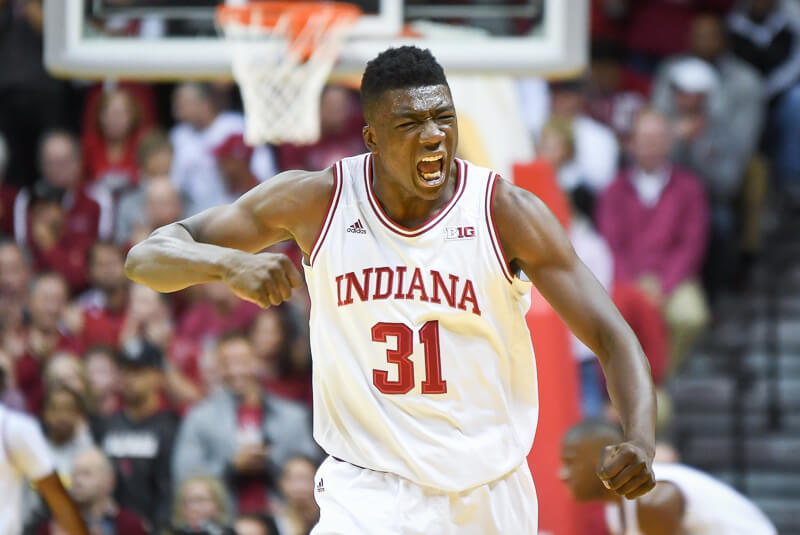 Indiana has three early confirmed early entry departures for the NBA draft and could have a fourth if Robert Johnson opts to keep his name in the draft. The deadline to withdraw is May 24.
In our second draft watch since the end of the season, here's an updated look at projections for OG Anunoby, Thomas Bryant and James Blackmon Jr. along with some notes and analysis on their draft outlooks ahead of this week's draft combine in Chicago:
OG Anunoby
ESPN: (13) Draft Express: (14) NBADraft.net (44)
Notes: Anunoby won't be able to participate in this week's draft combine in Chicago because he's still recovering from an injury, but he is expected to attend and do interviews and also get official measurements. The measurements will be interesting as Anunoby hasn't ever attended an event – like the Nike College Skills Academy or a USA basketball combine – where measurements are taken. As The Ringer pointed out last week, IU listed Anunoby with a 7-foot-6 wingspan, but this week will yield official measurements for the first time. As for Anunoby's draft stock, he moved up in ESPN and Draft Express since our last update and appears to be in the mix for a late lottery spot.
Analysis: "Teams are eager to have their doctors check out his knee and provide a timetable for his recovery. Even if he ends up missing his entire rookie season, I still think he could end up going in the lottery. – Chad Ford of ESPN.com.
Thomas Bryant
ESPN: (47) Draft Express: (36) NBADraft.net (84)
Notes: Bryant won't participate in the 5-on-5 portion of the combine, but like Anunoby, will be in attendance for interviews and measurements. He could also choose to participate in some of the skills testing. Right now, Bryant's projections are all firmly in the second round, but Draft Express moved him up to No. 33 in its latest mock draft. Even if he isn't picked in the first round, Bryant's age (19) combined with his length and ability to shoot from the outside should help him earn a guaranteed deal for next season with the introduction of "two-way" contracts.
Analysis: "Bryant had a bit of a disappointing sophomore season for Indiana. On the plus side, he showed off more of his shooting range, hitting 23 3s at a 38 percent clip. That's appealing to scouts. On the downside, his 2-point percentage plummeted and his below-the-rim post game has scouts worried that Bryant's game may not fully translate to the NBA. He should go somewhere between Nos. 25-50 in this year's draft." – Chad Ford of ESPN.com.
James Blackmon Jr.
ESPN: (108) Draft Express: (NR) NBADraft.net (NR)
Notes: Blackmon Jr. confirmed his intentions to hire an agent and remain in the draft on Monday and while it was met with some criticism from fans on social media, it was a move that makes sense for his basketball future. Blackmon Jr. was unlikely to change his stock by returning for another season. Seniors aren't much of a commodity in the NBA draft and Blackmon Jr. is already 22. He's also had two major knee injuries and a third could further hinder his chances of a professional career. While he may not be destined for the NBA, he could have a shot for a training camp invite or a two-way contract. But even if that doesn't work out, Blackmon Jr. will have a nice market overseas. He was not invited to this week's combine in Chicago.
Analysis: "Blackmon is an elite shooter and scorer, but his lack of elite athleticism and size for his position has always hurt his draft status. While he has an outside chance of landing in the second round, most likely he'll go undrafted." – Chad Ford of ESPN.com.
Filed to: James Blackmon Jr., O.G. Anunoby, Thomas Bryant