An early look at Indiana's potential roster for the 2017-18 season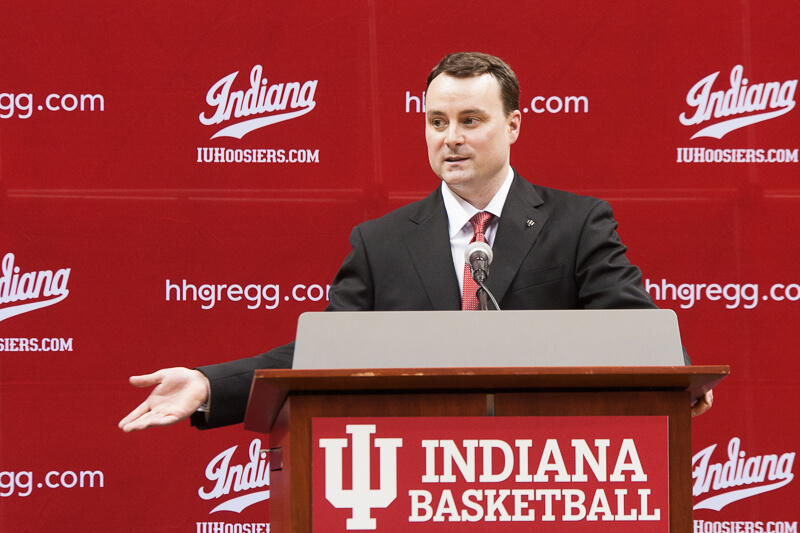 In his press conference on Tuesday, Indiana coach Archie Miller was asked about the scholarship situation for the 2017-18 season.
Miller inherited an oversign situation from the previous coaching staff, but is confident that the situation will be resolved without issue. Here's a complete transcript of Miller's comments on the subject:
It's not a big challenge yet. We still have guys now that one's gone, and we have three more guys that could walk in tomorrow and say I'm not coming back. So when that happens you're kind of looking around and saying, now we're one under, so we have a lot of things coming and moving, but I don't anticipate it being challenging. I think it's going to work itself out.

Communicating is big this time of year anyway, especially heading into the off-season. I met with the guys a ton on the front end. We're going to meet with them a ton on the back end as well as they get ready to part for summer break.

So I think those things will sort themselves out as they normally do. We had a couple instances in Dayton where we were over, and at the end of the day we ended up being under two and three when it was all said and done. So you never can tell. But we'll sort it out. We inherited and we'll fix it.
A few pieces – Collin Hartman, Josh Newkirk, and De'Ron Davis – have already fallen into place for next season's roster. But there are others, particularly the three who have declared for the NBA draft without hiring an agent, with decisions to make.
Here's a current breakdown of the roster (scholarship players only listed below):
Seniors (6): Collin Hartman (redshirt), James Blackmon Jr., Robert Johnson, Tim Priller, Josh Newkirk (redshirt), Freddie McSwain
Notes: Hartman has already indicated that he will return, as has Newkirk. Blackmon Jr. and Johnson have entered the NBA draft without hiring agents. Both have until May 24 to decide whether to stay in the draft or return to school.
Juniors (2): Thomas Bryant, Juwan Morgan
Notes: This group could have attrition as Bryant is on NBA draft boards as a potential second round pick. OG Anunoby, who would have been a junior, is definitely gone after declaring for the NBA draft and announcing plans to sign with an agent.
Sophomores (4): Devonte Green, De'Ron Davis, Grant Gelon, Curtis Jones
Notes: According to Miller's comments on Tuesday, Davis is planning to remain in Bloomington all summer to work out. His high school coach, Danny Fisher, also said previously that he is staying at Indiana.
Freshmen (3): Clifton Moore, Al Durham, Justin Smith
Notes: All three signees have reaffirmed their commitments to the program and are expected to arrive on campus in June.
Our scholarship numbers page also has a color coded chart with IU's numbers for the next four seasons.
Filed to: 2017-18 roster