A closer look at the new Indiana coaching staff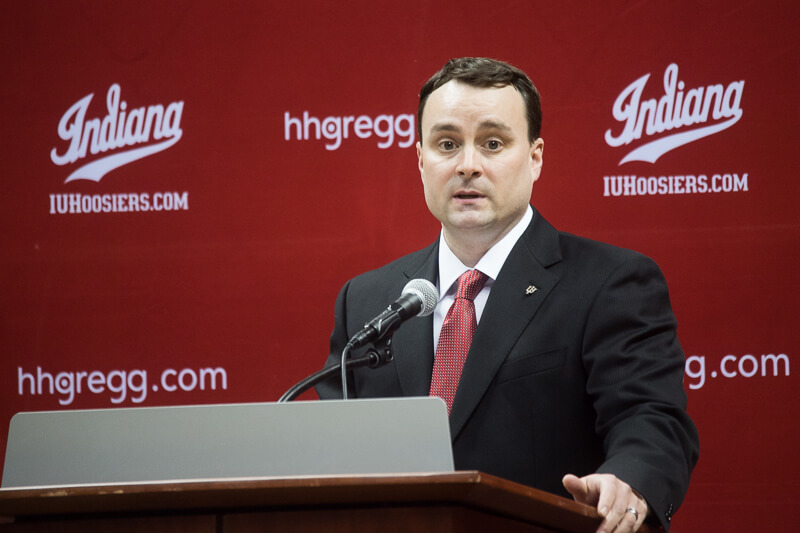 Via multiple reports over the weekend, the Indiana coaching staff for next season appears to be set. Archie Miller's assistants will be Bruiser Flint, Ed Schilling and Tom Ostrom.
Bill Comar is expected to be the director of operations and Clif Marshall is expected to be the strength and conditioning coach. Here's a closer look at each of the five additions:
Bruiser Flint, assistant coach
· Bio: The 51-year old Flint, a native of Philadelphia, played at St. Joseph's from 1983-87. He went on to serve as an assistant coach at Coppin State (1987-89) and UMass (1989-1996) before taking over as the head coach in Amherst when John Calipari left for the New Jersey Nets in 1996. Flint was the head coach at UMass for five seasons and then spent 15 seasons as the head coach at Drexel.
· The fit: Flint brings extensive experience – as both an assistant and head coach – and should improve Indiana's recruiting presence on the east coast. Adding a coach with the level of experience Flint possesses is a major coup for Miller. He won multiple Colonial Athletic Association coach of the year awards at Drexel and is the all-time winningest coach in that program's history.
Ed Schilling, assistant coach
· Bio: A Lebanon, Indiana native, Schilling was on the UMass staff with Flint in 1996, the season the Minutemen went to the Final Four. Schilling played at Miami (Ohio) from 1985-1988 and had three different stints as a high school coach in Indiana – Western Boone (1989-1991), Logansport (1992-1995) and Park Tudor (2009-2013). He's also been an NBA assistant – with Calipari in New Jersey and a college head coach at Wright State. His two most recent college assistant coaching jobs were at Memphis under Calipari and the last four seasons at UCLA under Steve Alford. Schilling has also spent time training multiple NBA players as he worked with the St. Vincent's Sports Performance and its NBA readiness program. He's also coached with adidas Nations and at Champions Academy in Indianapolis.
· The fit: Schilling is well respected around the state and his experience is vast. He was Yogi Ferrell's coach at Park Tudor and guided that program to two Class 2A state championships. He will be a major asset for Miller and Indiana as the program looks to reclaim the state in recruiting.
Tom Ostrom, assistant coach
· Bio: Ostrom was a major part of Miller's staff at Dayton and has experience as an assistant coach at the high major level at both Arkansas and Florida. A 1997 graduate of the University of Minnesota, Ostrom worked in the Gopher program as an undergraduate under Clem Haskins. He spent seven seasons at Florida under Billy Donovan, two in which he served as an assistant coach. Ostrom also worked as an assistant coach under John Pelphrey at South Alabama and Arkansas before joining Miller at Dayton at 2011.
· The fit: Ostrom was a major force on the recruiting trail for Dayton and recruited successfully at the high major level at both Florida and Arkansas. Given that he knows Miller and his system very well, he should be able to hit the ground running immediately in Bloomington.
Bill Comar, director of basketball operations
· Bio: Comar was one of Miller's first hires at Dayton and spent the last six seasons at the program's director of operations. He also worked at Dayton from 1997-2001 under Oliver Purnell. Two of those seasons were as director of operations and two were as an assistant coach. He also was director of operations at Xavier for seven seasons, first under Thad Matta and then under Archie's brother, Sean. Comar also worked as an assistant coach at Loyola (2008-09) and was the director of strategic development for Pro Camps Worldwide. A native of Wilmette, Illinois, Comar attended Kenyon College, where he played three seasons.
Clif Marshall, strength and conditioning
· Bio: Marshall has trained over 250 NFL players as the performance director at Ignition Athletic Performance Group. Prior to that, he was a strength and conditioning assistant coach for the Cincinnati Bengals. He also worked as a strength assistant at the University of Louisville. He is a graduate of the University of Louisville, where he earned his Bachelor's of Science Degree in Exercise Science & Sports Medicine and his Masters of Arts in Teaching of Physical Education.
Filed to: Bill Comar, Bruiser Flint, Clif Marshall, Ed Schilling, Tom Ostrom