Q & A: Dave Burhenn, author of "Miller Time"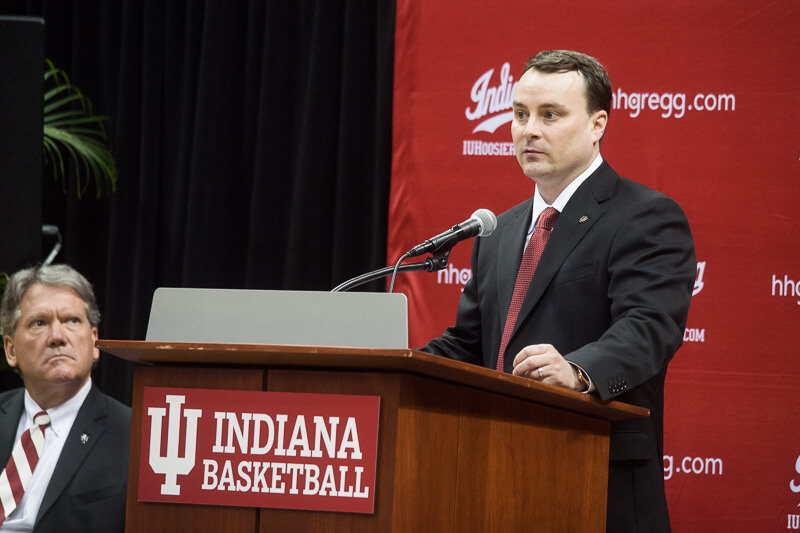 Dave Burhenn has known Archie Miller's father, John, since he was one of his students in gym class as a child.
Now a fifth grade teacher in Western Pennsylvania, the 46-year old Burheen is the author of "Miller Time," (available at this link) which chronicles the story of John Miller, father of Sean, Archie and Lisa and an icon in high school basketball coaching in Pennsylvania from his days at Blackhawk and Riverside.
At Blackhawk and Riverside, Miller won more than 630 games. At Blackhawk, he won 111 straight games and led the school to four state championships. Miller, 74, now operates the Drill 4 Skill Academy.
Inside the Hall spoke with Burhenn recently to get some insight on the Miller family, Archie's hiring at Indiana and much more. Here's our Q & A:
Alex Bozich: I'm curious, just for some background, how did this project come about and what was your goal with the book?
Dave Burhenn: I actually first met John Miller, Archie's dad, he was my gym teacher growing up. I kind of lost touch with him as it had been 20 years or so since I graduated. I didn't even play basketball, he was just my gym teacher and I was a drummer at the school. Years later, my son (Ben), he was having trouble in school. Speech problems. It wasn't that he couldn't talk, it was that he was having trouble trying to figure out what other people were saying to him to follow directions and it was showing up on his school work.
The teachers at school said, 'he has ADD and he has this and that.' Meanwhile, the one speech teacher told me to take him somewhere that he'll have to prove that he's listening to direction by performing a task. Well, right after she said that I saw that John Miller was opening this basketball gym down the street, so I took him down there and I'm thinking, 'well, he's just starting this up and I'm going to ask him if he can show him basketball because Ben was interested in basketball because of a Disney movie that was popular.'
I opened the gym door and he's helping these guys get ready for college. So I'm mortified and I don't want to go up to this guy because he's a local legend. So I walk over and I say, 'can you help my kid follow directions?' And he's in kindergarten and I expect him to laugh.
But in a real sincere tone, he told me to bring him back tomorrow and that he'd get started right away and that he couldn't wait to work with him. Five years later, my son is in fifth grade getting A's and B's, real confident and he's the state free throw champion in Pennsylvania.
I went to high school about the same time as Archie's brother, Sean. He was a couple of years older than me. I wasn't even that interested in basketball, but it was just that this family, John in particular, I can't pay the guy back enough. It meant so much to me what he did.
Bozich: Can you put into perspective how the Millers, as a family, are regarded in Pennsylvania in your community?
Burhenn: It's a local legend type of thing. I think people were introduced more through Sean because he got national attention for his ball handling. He was on the Johnny Carson Show.
He had a full segment at the desk with Johnny talking to him and then they brought him off to the side where the band is and he did this dribbling show that was crazy. From there, he went on the show "That's Incredible" and he would do halftime shows at the Spectrum. He was even on a movie with Doctor J (Julius Erving) called "The Fish that saved Pittsburgh."
He also had an Indiana tie because after the Evansville basketball plane crash, he did some shows for charity there.
And with Archie, it was like, it can't happen again. But he shows up 10 years later and he didn't want to go into the ball handling show, dribbling type of thing. Sean eventually broke out of that and became a star player at Pittsburgh. But Archie didn't want to go the route of the dribbling shows. But 10 years later, he's just as good and some say he was even better than Sean was as a player. And everyone is like, 'whoa, something is going on with this family.'
First, you get a kid playing Division I basketball you're probably as proud as can be and satisfied. But Archie comes up 10 years later and then their sister, Lisa, ends up being a Division I player, just a fantastic player. Everybody knows them here as the hardest working people around.
And I'm sure Indiana fans saw this with Archie at the press conference, everybody's probably looking at him like, 'this guy doesn't even look like a basketball player.'
But then after he gets done talking, you can tell he's strictly business. Everybody here in Pennsylvania knows that they work from the minute they wake up. It's 24-7 with them. When I talked to Archie and Sean, they both say that they wanted to play basketball and that John wanted them to play basketball.
But John said to them, 'the way you're built, you're going to have to work harder than anybody out there. Before you put the ball down for the day, can you think of anybody else out there that worked harder than me today? If the answer is no, then you have to keep going.'
They would work endlessly.
Pages: 1 2
Filed to: Archie Miller