Around the Hall: Archie Miller sits down with local columnists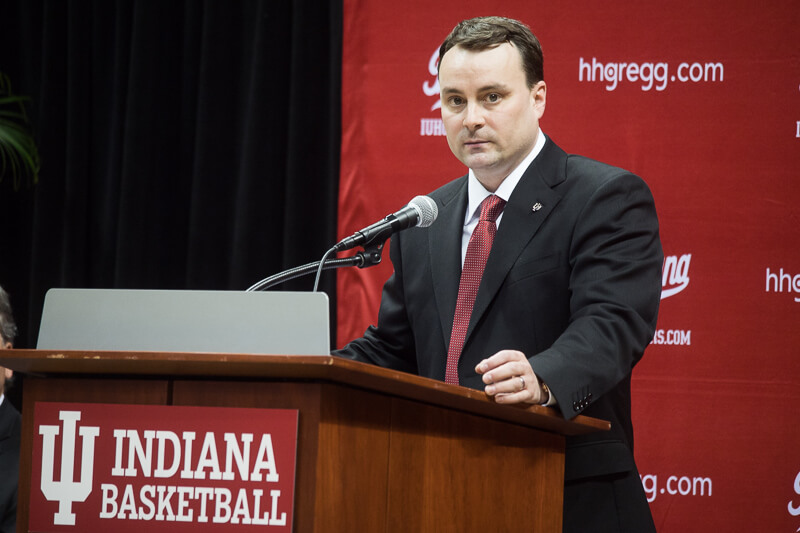 Around the Hall is recommended reading from the Inside the Hall staff. This special edition of Around the Hall is a roundup of columns from Archie Miller's roundtable discussion earlier today with local columnists:
Rick Bozich of WDRB.com writes: At Indiana, (Archie) Miller time begins at home
Miller has invested more time in developing relationships with the players on Tom Crean's final IU team than he has in finalizing every member of his new staff. He'll complete his coaching lineup later but said it would certainly have a Dayton flavor.

That's a change from the way Miller established himself at Dayton because what he learned in his last transition is building relationships with his new players is what matters.

"I didn't drive to Indy and start running around meeting high school coaches," Miller said. "I sat in the office and dealt with Thomas (Bryant, IU's sophomore center, who is considering a move to the NBA). I dealt with Collin (Hartman, the senior Miller recruited to return for a fifth season with the Hoosiers) …

"You have to get a feel for what's going on around you before you start doing things. There's going to be plenty of time for that stuff … To me getting the lay of the land has been a lot more important than starting off saying, 'Hey, I've got to do 9,000 things in the next four days and make sure I'm the best at all of them.' I'm just going to stink at everything if I do that."
Gregg Doyel of The Indianapolis Star: Miller isn't tempering expectations – he's raising them
Starbucks coffee in the morning, Mother Bear's pizza at night. Delivery, because Archie Miller isn't leaving Assembly Hall for something as silly as sustenance. For a week after being hired at IU, Miller was leaving the Indiana Memorial Union's Biddle Hotel and heading to Starbucks, where his mobile order — dark bold roast, choo-choo: he's gone — is ready. He's at Assembly Hall by 8 a.m. Gone at 10. That's 10 at night.

These are long days, but this is a big job. And Archie Miller came here to win big. At one point Wednesday he is talking about the national championship game, and how North Carolina won it, and how "there's no reason Indiana can't be UNC," and by that he means a national champion. IU has been that before, been a national champion multiple times and Archie Miller knows that, but he didn't come to IU to bask in those memories. He came to IU to create more.
Jeremy Price of The Herald-Times: Miller aiming for IU to win sooner than later
The approach may be one of patience, but don't think for a minute that Miller intends to take advantage of the honeymoon period often accorded to a new coach.

His competitiveness just won't allow that to be the case.

"Expectations are something that a lot of people want to temper, and if you get off to a slow start, obviously people are going to give you the cushion," Miller said. "I don't operate like that. I want to win now. The highest starting point Indiana University can have, that's my goal, that's what I have to do.

"If that doesn't work out best in my favor, so be it. No excuses. We want to start off the highest possible place we can."
Greg Gottfried of The Indiana Daily Student: A roundtable around a rectangular table with Archie Miller
My first realization is that, yes, Miller knows how to smile. He even laughs when the moment calls for it. On several different occasions — when pressed on the possibility of kickstarting a rivalry with Arizona and his brother Sean to the bombshell that he almost never eats lunch but loves Mother Bear's delivery — Miller's lips moved in a curve that can definitely be classified as more than nothing but less than a beam. Perhaps the Mona Lisa would be the best comparison.

Beaming may not be his thing, but it seems like basketball is. Although "overwhelmed" at his introductory press conference, his insistence of reviving IU basketball shone through. This sentiment persisted behind closed doors as well.

Miller does not seem worried about the offense. The skill sets are there, and the players are in place to put the ball in the basket. Defense is a different monster.

Answering a question about instituting the "tough, nasty" defense he referenced in his introductory press conference, Miller quickly responded with the need for his players to just "start tackling each other tomorrow." The small crowd responded with some laughs. Apparently, Miller knows how to craft a joke.
Filed to: Archie Miller