Around the Hall: Reaction from Archie Miller press conference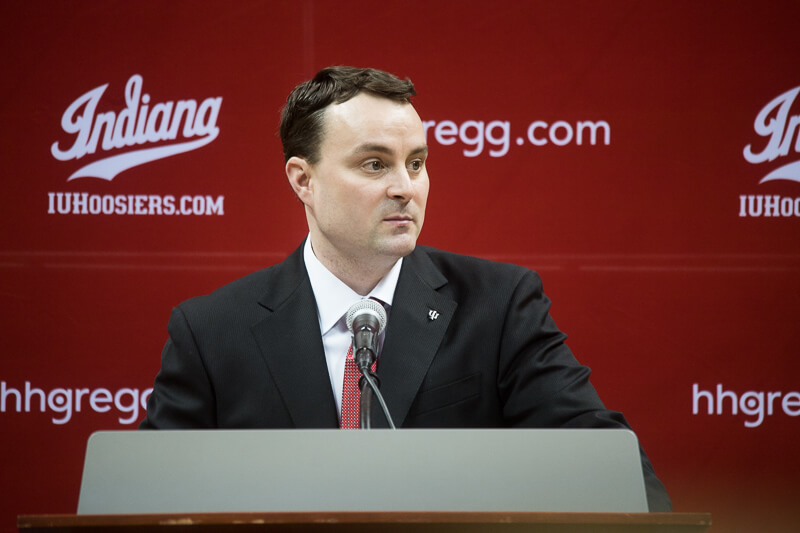 Around the Hall is recommended reading from the Inside the Hall staff.
Rick Bozich of WDRB.com writes that the road to the top for Archie Miller at IU goes through the state:
You didn't need a translator to understand the people that Miller was speaking to during his introductory press conference. He was speaking to Indiana kids, Indiana coaches and Indiana fans who want Indiana players performing well at Indiana.

Miller's recruiting philosophy will begin by chasing every Indiana kid that he believes can play in the Big Ten.

Miller even had a phrase for the strategy – Inside/Out.

Start with Indiana prospects. Add kids from Big Ten areas. Chase the national guys that you believe you can sign. Fill in the blanks with international players if necessary.
Eric Crawford of WDRB.com believes Miller was excellent in his introductory press conference:
And on Monday, Indiana introduced its new coach — Archie Miller, from Dayton. He was hailed by many as, you guessed it, a "home run." He doesn't quite bring the resume Crean brought. But resumes aren't everything.

Miller was outstanding in his introductory news conference. He embraced the expectations. He reprised the "inside out" recruiting theme. He talked about leveraging the history. And there's no doubt he'll work at it. His work ethic at Dayton has been widely praised.

Miller has a plan. His older brother, Sean, has worked it with successful results at multiple stops.

More than we media types, I tend to listen to recruiting analysts when evaluating a coaching hire. And those guys are Archie Miller fans. Evan Daniels of Scout, for one, called it a "terrific" hire.
Mike DeCourcy writes that Archie Miller is the hype of Hoosier that Indiana needs:
As introductory press conferences go, this was closer to a coaching clinic than a pep rally. That is the man Indiana hired when it chose Archie Miller as its next men's basketball coach. And that is exactly the man Indiana needs.

Miller spoke for a few minutes after being introduced by athletic director Fred Glass to a standing ovation before a few thousand Hoosiers fans assembled at Simon Skjodt Assembly Hall. Then he answered media questions for another 20 minutes or so.

Throughout that period, his preternatural intensity made itself obvious to everyone in attendance. He responded to questions directly, firmly without any hint of political bombast.
Zach Osterman of The Indianapolis Star writes that Miller isn't hiding from IU's sky-high expectations:
This was Miller's most basic and resonant pitch to his new fan base Monday. That he has little use for pretense, that he believes in hard-nosed basketball and tough-minded players, that he wants "nasty" defense to be his program's foundation and that he's ready to recruit the state "inside out," prioritizing talent within Indiana's borders first and foremost.

Mostly, that the Beaver Falls, Pa.-born son of a high school basketball coach, a 5-9 point guard with a scrappy reputation, speaks the language of IU's blue-collar fan base.

"The state of Indiana," Miller said, "in many ways, is me. It's how I grew up. … I'm the son of a coach who sat around all day long with a ball in his hands from about five or six years old, and the only thing that was ever preached to me was you have to outwork everyone."
Gregg Doyel of The Indianapolis Star to IU fans: Don't worry, Archie will get to work:
Archie Miller doesn't assume Indiana will like him just because he's the new basketball coach. Something for nothing? The world doesn't work that way, not this part of the world anyway, and Miller knows it. He knows the Midwest. He knows basketball tradition. He knows proud fan bases.

He knows you, Indiana. You hearing me? He knows. Another man might look around Assembly Hall, see those five national championship banners and that giant scoreboard celebrating his arrival, and decide: I did it.

Miller looked around and decided:

I better do it.

"We don't expect to get anything," he said Monday, mirroring something he said in various ways about recruiting the state, winning over former players, uniting the fan base, more. "We're going to have to earn our respect."
Jeremy Price of The Herald-Times writes that Miller is genuinely off to a good start:
Miller, however, had his game face on for his first public appearance as the Hoosiers' coach.

Once at the podium, Miller spoke for more than 30 minutes, providing first his own remarks and then answers to questions from the media, somehow winning the press conference without it ever feeling like he was trying to do so.

It didn't come off as a sales pitch — although in many ways, it was, for the current players seated in the second row, for the future players watching on TV and for the fans both near and far who wanted to see what the new guy was all about.

What they heard was a quiet intensity, a detailed plan and a desire for the university, players and fans to all live up to their individual and collective lofty expectations.
Greg Gottfried of The Indiana Daily Student writes that Miller is already 1-0:
Miller is not here to mess around, and that was evident on day one.

Perhaps the most crucial parts of the event were the small tidbits the media could produce from the new head coach about his on-court vision. This is where Miller seemed to perk up a bit like a gopher poking his head out of a hole.

A running offensive style isn't a newfangled idea when coaching IU, but his ideas on the other side of the court seem groundbreaking, and something to "take pride in."

Miller doesn't simply want his team to play defense.

Miller requires his team to play defense.
Miller sits down with Don Fischer for an interview following the press conference:
?: @Archie_Miller's exclusive interview with Don Fischer on day one. #iubb https://t.co/PJbRrpvJuk

— Indiana Basketball (@IndianaMBB) March 27, 2017
Filed to: Archie Miller