Fred Glass "more confident than ever" with hiring of Archie Miller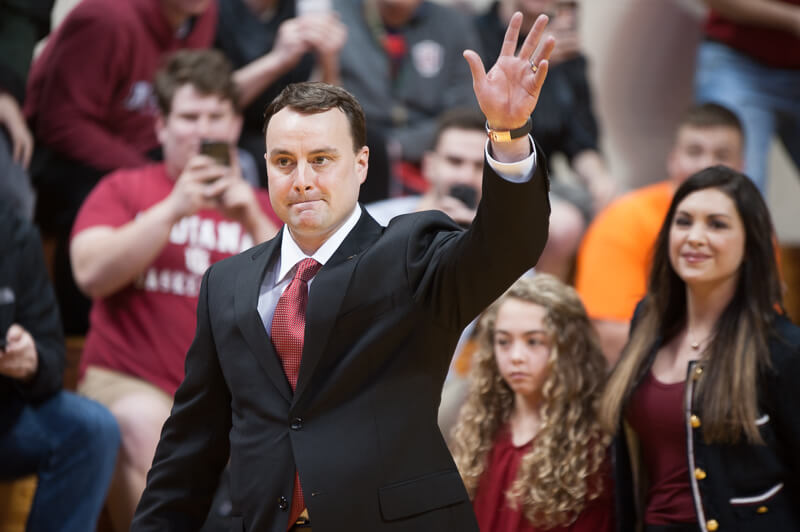 It took just 10 days and one face-to-face interview for Indiana basketball to find its next head coach.
IU athletic director Fred Glass admitted Archie Miller had been on his "short list" of candidates from the very beginning.
Miller was the only one on the list that was offered the job at IU. Despite rumors and speculation of IU hiring Steve Alford or meeting with Billy Donovan, Miller was the lone candidate to personally meet with Glass.
Glass and Miller agree on vision for future of IU basketball
As the search process went on, Miller fit more and more of the criteria Glass was looking for. When it came time for the two to meet, it was a done deal.
"The most compelling piece was when we met personally," Glass explained. "He sees this as the great opportunity that I see it. The vision that we laid out when we started our search 10 days ago or whatever is the opportunity that Archie sees. He embraces the expectations."
While up at the podium, Miller spoke with confidence. He hinted more than once he is ready and willing to get to work. Glass kept his guard up, but left nothing to question as he introduced Miller to those seated around Simon Skjodt Assembly Hall.
"By getting to know Archie, I'm even more confident than ever that he is the right basketball coach for us to lead us to meet our very high expectations here at Indiana University," Glass said. "I've got to say, Archie, after observing your first team meeting, I'm even more confident than ever that you're the right guy for us."
Miller comfortable in position, Glass comfortable with decision
An hour after the press conference formally introducing Miller as the new IU basketball head coach, Miller sat in the upper level suites of Simon Skjodt Assembly Hall on his cell phone.
See that guy on the phone, alone in the upper deck at Assembly Hall? Indiana's new coach. pic.twitter.com/fqqpt6xb1I

— Gregg Doyel (@GreggDoyelStar) March 27, 2017
On just his first official day, Miller already looked comfortable, making himself at home in between interviews and TV appearances.
As the time at IU expired for Tom Crean, many felt there was a disconnect between Crean and the IU administration. After it was announced IU had fired Crean, he eluded that alignment with the program ultimately led to the decision to part ways.
The majority of the initial reactions of IU's decision to hire Miller has been positive, with national voices praising his work ethic and style of play. For Miller, it seemed IU was the next step up. For Glass and IU, the tradition-rich program needed a young, dedicated and committed coach to fill the void.
"He's focused on the state of Indiana," Glass said. "He wants to recruit inside-out. He's a plain-spoken, real person that I think is really going to connect with the guys and future guys, and our former players, as well."
Miller's next step as head coach
"Two things happened when I was able just to talk to Fred," Miller said. "I felt like we had an amazing conversation on all levels. I thought our conversations matched up with, so to speak, some of the questions and answers, and I felt really comfortable about it at the end, and I was very, very happy with how things turned out."
Glass and Miller have seen eye to eye on things since the beginning, leading to a 7-year, $3.35 million per year contract for Miller at Indiana.
While Miller works on building the rest of his coaching staff, he said his goal is to build "the best staff in all of college basketball." Glass watched attentively along with the rest of the fans, hanging on every word Miller had to say.
Bottom line is, Miller has the mindset and the resume that makes him one of the best young coaches right now. In the long term, Miller has the opportunity not only to add to the history of IU basketball, but to start the beginning of a new era for the Hoosiers.
"The expectations are set high," Miller said, "and they're achievable. I wouldn't be here if I didn't believe that."
Filed to: Archie Miller