Five takeaways from Archie Miller's introductory press conference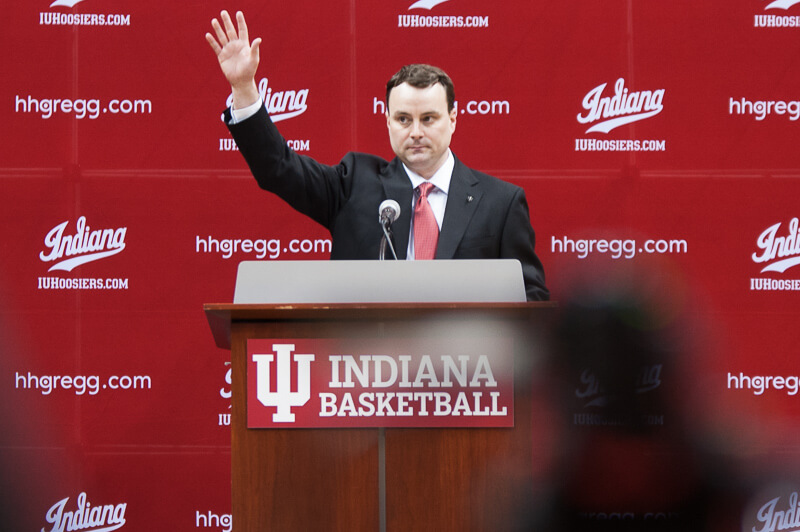 Archie Miller was introduced as the 29th basketball coach in Indiana University history on Monday afternoon at Simon Skjodt Assembly Hall.
Here's a look at five takeaways from Miller's introductory press conference:
· Miller has a clear vision for what he wants to build: In the press release issued on Saturday announcing his hiring, Miller called Indiana a "destination job."
On Monday afternoon, he laid out his vision for the program's future. It was direct without any window dressing. Miller wants to embrace the past, future and present and build a culture of accountability and toughness.
Here's how Miller will define an Indiana player under his leadership:
They'll embrace high standards both in the classroom, on the basketball court; they'll compete for excellence in both," he said. "Represent yourself, your family, and Indiana University in a first-class manner at all times. Tell the truth, and make no excuses, regardless of the circumstances. Respect your teammates, take responsibility for their well-being and treat them as family. Understand our team's attacking mentality. Pursue relentlessly a competitive edge in all that you do in our program, and focus on team goals more than individual goals. Know your role on our team and take great pride in it."
· An aggressive approach to recruiting: Indiana has faltered in terms of recruiting within the state in recent years. It was an Achilles heel in the final years of Tom Crean's tenure in Bloomington.
Miller wants to change that.
His vision is making Indiana the destination program for kids who grow up in the state. How does he plan to accomplish that? A deep dedication to doing so. He called it the "inside-out" approach.
"The inside-out approach means that we have to dedicate ourselves to the high school coaches in this state, the high school talent in this state, the grass-roots programs in this state, and they must feel like they're being dominated by Indiana University," he explained. "You're not going to get every player; you understand that. But if we want them, we should have a great chance of getting them because of the commitment level that we're putting forth 24 hours a day at home."
· Miller is taking ownership of the current roster: One of Miller's biggest tasks in the coming weeks is solidifying his roster for next season.
The reality in any coaching change is that there isn't always an alignment between the current players and the new coaching staff. Miller knows it's going to take time, but also believes that things have gotten off to a good start so far.
"There's only one of me right now, but as these guys know, I've already had a lot of conversations on the way," Miller explained. "We're going to start having a lot of conversations as we keep moving forward. I have to invest in their families. I have to invest in the important people in their lives, and like I told them, I didn't recruit you, but you're mine, so at that point, if you're mine, then you have to do everything in my power to make sure that you understand there's great belief and value in you here."
· Miller discussed potential for a series with Arizona and Kentucky: Along with stating that he will build his non-conference schedules with NCAA tournament seeding in mind, Miller didn't discount the possibility of renewing the series with Kentucky or starting a new one with Arizona, where his brother Sean coaches.
Non-conference scheduling was a sore spot for Indiana fans in recent seasons, but Miller believes that it's the one of the most important responsibilities he has.
"You know, you have to be the master of creating a non-conference schedule that, one, creates great excitement with your fans; two, challenges you at the highest level as you enter the Big Ten; and three, puts you in a non-conference résumé that stacks up with the best teams in college basketball," he said. "That's what will be our goal."
· It's possible that his coaching staff will have an Indiana tie-in: The notion that Indiana needed to hire an "Indiana guy" was always misguided, but does Miller think it could be important to have someone with ties to the state on his staff?
Miller talked a lot about building a cohesive staff first and foremost, but also didn't dismiss the possibility of adding someone with ties to the state.
"I think both could play a part," Miller said. "The most important thing as a team are coaches. You'd better have a team of coaches if you want to have a great team. You have to have an unbelievable commitment to one another. You have to be completely united, and the message is always the same, and if that group is working like that, regardless of where they're from, the current players, the guys on your team, are going to give great effort and they're going to get better."
Filed to: Archie Miller