Coaching search profile: Chris Mack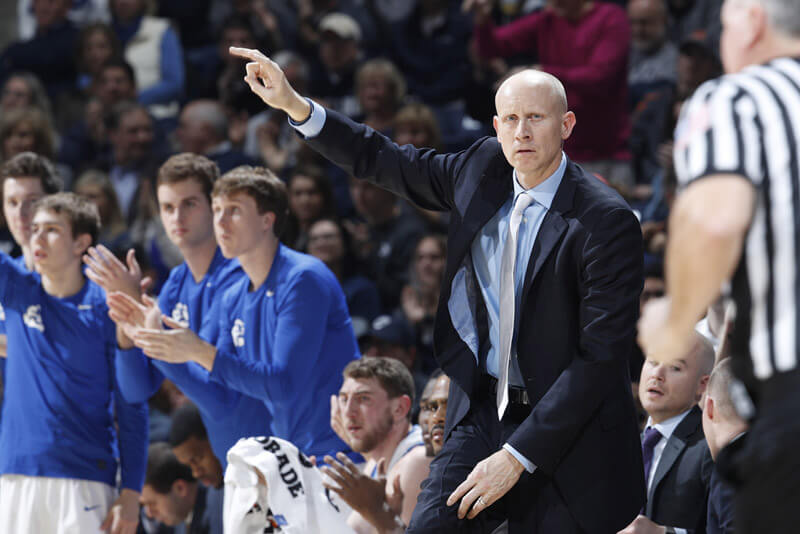 After nine seasons in Bloomington, Tom Crean is out as Indiana's head coach and the search for his replacement is underway.
Inside the Hall will profile some of the candidates who are being discussed for the job over the coming days. Our fifth profile takes a closer look at Xavier coach Chris Mack.
Born in Cleveland and a graduate of Xavier in 1992, Mack does not have any direct ties to IU basketball, so no "double check plus" there.
Before transferring to Xavier to graduate, Mack spent two years as a student-athlete for the University of Evansville. So technically, he has spent time in the Hoosier state.
Mack's coaching career began at the high school ranks in 1993, but he quickly worked his way up.
In 1999, Mack was hired as director of basketball operations for Xavier, where he worked alongside Skip Prosser. When Prosser left to move on to coach Wake Forest in 2001, Mack followed, this time in the role of assistant coach.
Over five seasons with Prosser, Mack was a part of a program that won 20 games every season and made the tournament four times, including a trip to the Sweet 16 with Wake Forest in 2003-04.
Prosser's teams were known for high-octane offense, and in his final year with Mack, the Demon Deacons had the most efficient offense in the country (117.9 adjusted efficiency for the 2003-04, per KenPom).
On Dec. 2nd, 2003 of that season, Wake Forest never trailed in a 100-67 thrashing of Indiana in Winston-Salem. The Demon Deacons shot 51 percent from the floor and scored 38 points off 22 IU turnovers. Chris Paul, who Indiana coach Mike Davis said was one of the best point guards he'd seen while at IU, scored 20 points, eight assists and had five steals. It was, at the time, the largest margin-of-victory in the history of the Big Ten-ACC challenge.
Other than Paul, notable players under Mack from 1999-2004 include David West, Josh Howard and Darius Songaila .
Mack returned to Xavier in 2004 to become an assistant for Sean Miller. When Miller left Xavier for Arizona after the 2008-09 season, Mack was promoted to head coach.
In his first season at the helm, Mack took a team led by Jordan Crawford (who transferred from Indiana) to an Atlantic-10 regular season title, a No. 6 seed in the NCAA Tournament, and a trip to the Sweet 16. The team had no returning double-figure scorers and just one senior, but Mack finished the season with more wins in his debut season at Xavier than any coach not named Thad Matta.
Nearing the end of his eighth season as the head man at Xavier, Mack's resume is very good. He's taken the Musketeers to the NCAA Tournament seven times, including four trips to the Sweet 16.
On the downside, Mack is winless in the Sweet 16 and his players haven't been able to stay completely out of trouble.
Final Analysis: Mack has been around the game of basketball his entire life. Under the tutelage of some of the greatest offensive minds in the game, Mack has become a respected figure himself.
It isn't known whether Mack is interested in the opening at Indiana, but his name has been floated nationally as one the Hoosiers could be interested in.
Filed to: Chris Mack