Coaching search profile: Steve Alford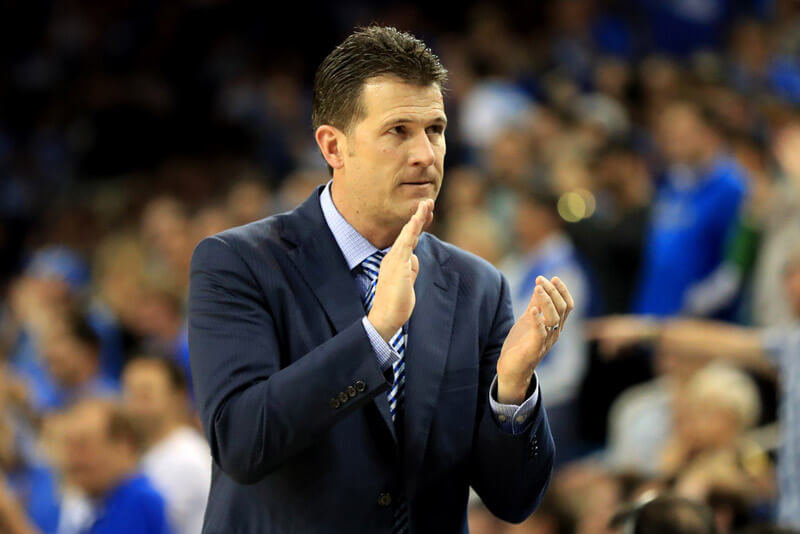 After nine seasons in Bloomington, Tom Crean is out as Indiana's head coach and the search for his replacement is underway.
Inside the Hall will profile some of the candidates who are being discussed for the job over the coming days. Our second profile takes a closer look at UCLA coach Steve Alford.
Steve Alford is a polarizing candidate in discussions amongst Indiana fans. There's a segment who believes that the school needs a former player and point to Alford as the best of the potentially available candidates who fit that description. Alford has things rolling right now at UCLA. The Bruins are a popular Final Four pick after beating Cincinnati 79-67 on Sunday night.
And there's also a segment that doesn't believe Alford's head coaching resume or past qualify him for a serious look from Indiana.
So, where does the truth lie in the debate? It's possible that both sides have a case.
The 52-year old Alford is in his fourth season as the head coach at UCLA and has the Bruins in the Sweet Sixteen for the third time in four seasons. UCLA is back on the national stage this season after a disappointing 15-17 performance last season that ended with Alford apologizing to fans and returning his contract extension.
Prior to arriving at UCLA, Alford built New Mexico into a power in the Mountain West Conference, but the Lobos never broke through in the NCAA tournament. Alford was 155-52 (74.9 winning percentage) in six seasons at New Mexico, but never made it out of the second round of the NCAA tournament. Prior to his stint at New Mexico, Alford was at Iowa for eight seasons and won just 58.9 percent of his games.
In his 22nd season as a head coach, Alford hasn't advanced past the Sweet Sixteen. He'll have his chance this weekend as the Bruins face Kentucky in the South Regional semifinal in Memphis. UCLA is 31-4 this season and already beat the Wildcats earlier this season in Rupp Arena. Alford's overall winning percentage is quite strong at 66.8 and only four of his coaching seasons have been at a traditional basketball power.
If we're looking at Alford in the present, it's hard to argue against the fact that he's done a very good job this season with UCLA. He secured commitments from two of the nation's best freshmen this season in Lonzo Ball and T.J. Leaf. And in a season where the pressure to succeed has been significant given last season's results, he's delivered. On the recruiting trail, UCLA is rolling. The Bruins have the nation's No. 2 ranked recruiting class for 2017, headlined by North Central forward Kris Wilkes. That suggests he could resonate quite well with recruits from Indiana.
The past, however, is hard for some to forget.
Alford's handling of the Pierre Pierce situation at Iowa is still discussed and he was asked about it as recently as last week in a press conference. It would be an issue that the Indiana administration would have to address in some form if he were hired.
Final Analysis: There's been a lot of smoke pointing in the direction of Alford, but is it coming from Bloomington? Fred Glass has played the process very close to the vest and it's unlikely that, even if he views Alford as a serious candidate, he's communicating that information publicly.
It's very possible and probably likely that Alford has significant interest in the job. It's unclear how much of an obstacle his buyout would be to his candidacy.
Filed to: Steve Alford