Five takeaways from the Tom Crean era at Indiana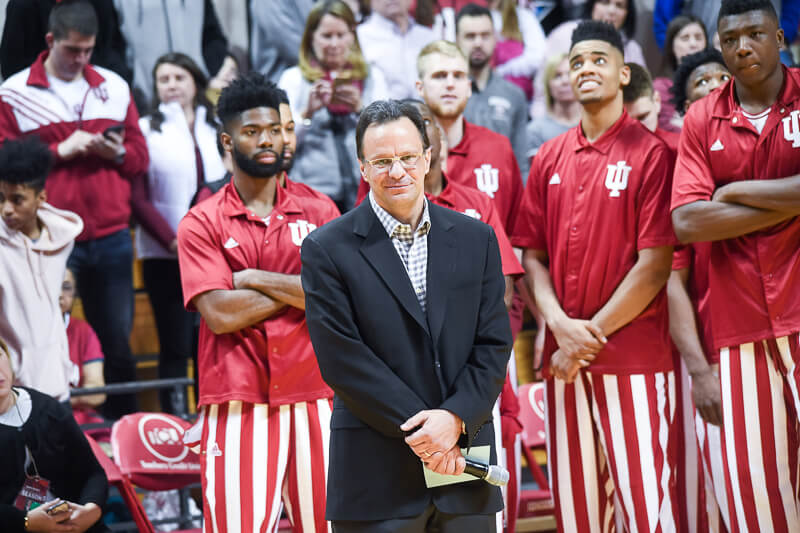 Tom Crean was fired after nine seasons in Bloomington on Thursday afternoon. The move was announced just as the 2017 NCAA tournament was getting into full swing.
Here's a look at five takeaways from the Crean era at Indiana:
· The results were too inconsistent: Tom Crean brought Indiana back into the national conversation by winning two outright Big Ten titles in the last five seasons.
But Crean didn't win consistently enough.
In 2012-13, Indiana won the outright Big Ten title, earned a No. 1 seed in the NCAA tournament and advanced to the Sweet Sixteen. He followed that performance up with a 17-15 record in 2013-14 and missed the postseason entirely, even with two McDonald's All-Americans on the roster.
In 2015-16, Indiana again won the outright Big Ten title. The Hoosiers earned a No. 5 seed in the NCAA tournament, beat Kentucky in the second round of the tournament and lost to eventual runner-up North Carolina in the Sweet Sixteen. But injuries and a lack of leadership followed in 2016-17 as Indiana finished 18-16 and lost to Georgia Tech in the first round of the NIT.
For a program that spends top ten money on its program, it wasn't getting top ten results on a consistent basis. Ultimately, that inability to build a baseline of success was Crean's downfall.
· The Big Ten championships were a significant accomplishment: Indiana's two outright Big Ten championships in five seasons were glossed over by those who had their mind made up that Crean wasn't the right fit for the job.
But winning regular season conference championships isn't easy to do. Crean did it. Twice.
NCAA tournament success is the barometer for success in college basketball. But the postseason is largely about matchups and being able to prepare on a short turnaround.
Winning in a league that has as many great coaches and programs like the Big Ten isn't easy. In two of his nine seasons, Crean won big in the Big Ten. That shouldn't be forgotten.
· Crean's Indiana teams had two major deficiencies: As great of an offensive coach as Crean is with the right personnel, his teams had two major deficiencies that prevented the program from advancing any further.
Defensively, Indiana was never in the top 20 under Crean in adjusted defensive efficiency. In the KenPom era, only one team has won a national championship with a defense ranked outside of the top 20. To build a program that is competing for national championships and Final Fours, defense is a key ingredient.
The turnovers were also a constant of Crean's teams in Bloomington. No IU team under Crean ranked in the top 50 nationally in taking care of the ball. And three of the last four ranked outside of the top 270 nationally.
· Indiana recruited many high character kids and Crean was a positive figure in the IU community: There's more to Crean's tenure than just basketball. There's a human element, too.
Indiana's academic record under Crean was outstanding. He recruited many high character kids who were class representatives of the university. And Crean and his family were major positives in Bloomington and the IU community.
None of that should be forgotten or minimized as he departs the Indiana job.
· The program is in much better shape now than when Crean inherited it: There are very few coaches who go their entire career without being fired. It's part of the business.
There are few who would dispute the fact that Crean inherited a mess of a program in Bloomington. Indiana is in a much better place than it was nine years ago and Crean is responsible for that.
Coaching, however, is a tough business.
Indiana fans are the most passionate in the country, but they also demand consistent success on the floor. When it isn't achieved, the noise for something better becomes loud.
Crean's tenure in Bloomington should be viewed as a success overall. But it will also be remembered as one that could never quite live up to the standard he set in his first press conference. This is, after all, Indiana.
Filed to: