Five takeaways from Indiana's loss at Georgia Tech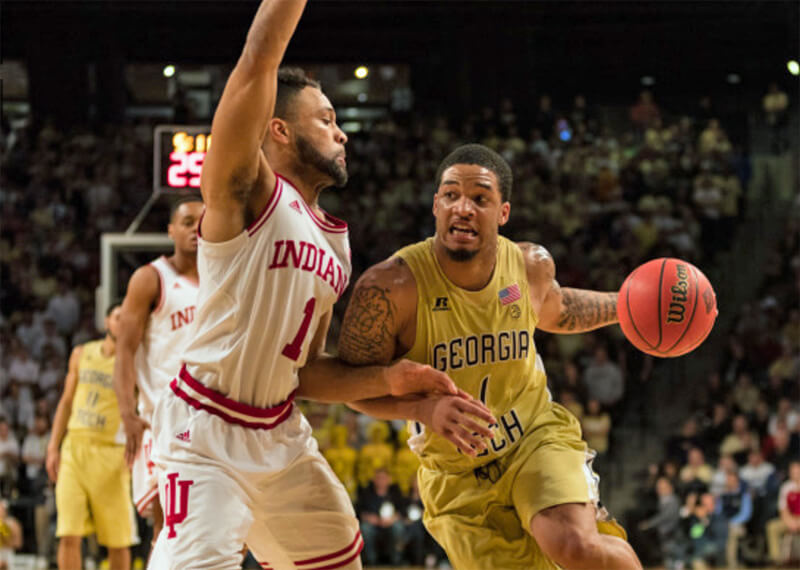 ATLANTA – Indiana's 2016-17 season is over. The Hoosiers, once ranked No. 3 in the Associated Press top 25 poll with wins over a pair of NCAA tournament No. 1 seeds, lost in the first round of the NIT.
Indiana was beaten soundly by a hungry Georgia Tech team, 75-63, at McCamish Pavilion in front of 5,533 fans. Here's a look at five takeaways from the loss to the Yellow Jackets:
· Turnovers – a season defining problem for IU – were once again the difference: Indiana failed to take care of the ball with any consistency all season.
On Tuesday night, the Hoosiers turned the ball over on 22.9 percent of their possessions. Georgia Tech turned 16 Indiana mistakes into 22 points. The points off of turnovers statistic, a problem all season, was 22-10 in favor of the Yellow Jackets.
"We've got to get better with the ball [and] with the decision making," Indiana coach Tom Crean said. "We've got to get stronger with the ball. We've got to get better with our finishing."
· Georgia Tech was in control throughout: In a secondary tournament like the NIT, advancing is in large part related to which team wants it more. Every team is excited and engaged to play in the NCAA tournament, but that isn't always the case with the NIT.
It was clear, from the opening tip, which team wanted to keep playing more.
Georgia Tech, which was picked in the preseason to finish in the cellar of the ACC, led the contest for more than 36 minutes. Aside from a few runs that engaged a solid showing of IU fans in the arena, the Hoosiers weren't sharp nor did they play with the urgency necessary to win.
· Another poor shooting performance: Crean has often mentioned his team "missing shots they normally make" this season. The Hoosiers had another poor shooting performance on Tuesday.
Indiana hit just 43.6 percent of its 2s and 26.3 percent of its 3s.
But after so many poor performances and inconsistencies with shooting, it's fair to say this Indiana team regressed offensively and with its shooting from where it was in November.
Beating two No. 1 seeds in a month doesn't happen if a team isn't playing well. But those wins – over Kansas and North Carolina – were the top of the mountain for Indiana this season. And both came in November.
"We had great wins, we had tough losses," Crean said. "We were in a ton of games that didn't go our way at the very end. We've got to learn and grow from that."
· More questions than answers: In his postgame comments, Crean spoke like a coach who was ready to get to work in the offseason.
He referenced coaching the same whether he was in year one or in year ten of a contract. He spoke about recruiting, lineups and areas in which the team needs to get better.
"The program is in great shape, the team has to get better," Crean said. "There's so much good structure with what we have, but our team wasn't where it needed to be. I don't think you win two championships in four years and not have a really strong program.
"But obviously facts are facts and our team wasn't as good. We've got to improve that. The guys that are going to be back have got to get better. The new guys that we'll get have got to get better. I've got to get better. Everybody has got to get better. That's our plan."
The caveat in all of that, however, is what Athletics Director Fred Glass thinks about the state of the program. He's been silent in recent months when it comes to discussing Crean, but will have to make a comment in the coming days to lay out where things stand.
· Whatever happens next, the action must be decisive: From an IU administrative perspective, there are many scenarios that could play be in play. The administration could decide to move on from Crean. Or Glass could opt to extend Crean's contract for a couple of years.
The middle ground, of course, would be bringing Crean back without an extension. For two key reasons, that would be a poor choice.
First, it would make recruiting even tougher given that Crean would only have three years remaining on his deal. Other programs would negatively recruit against the Hoosiers and cite Crean as being in a lame duck coaching situation. And second, it would signal that Glass is content with the current state of things, which doesn't align at all with the temperature of the fanbase.
Whatever decision is made, it needs to happen sooner rather than later. If Indiana is going to move on, the search for new leadership needs to begin. And if Crean is going to be back, Glass needs to come out publicly and give fans an explanation as to why he's confident in the direction of the program.
(Photo credit: Georgia Tech Athletics)
Filed to: Georgia Tech Yellow Jackets, National Invitation Tournament