The Minute After: Iowa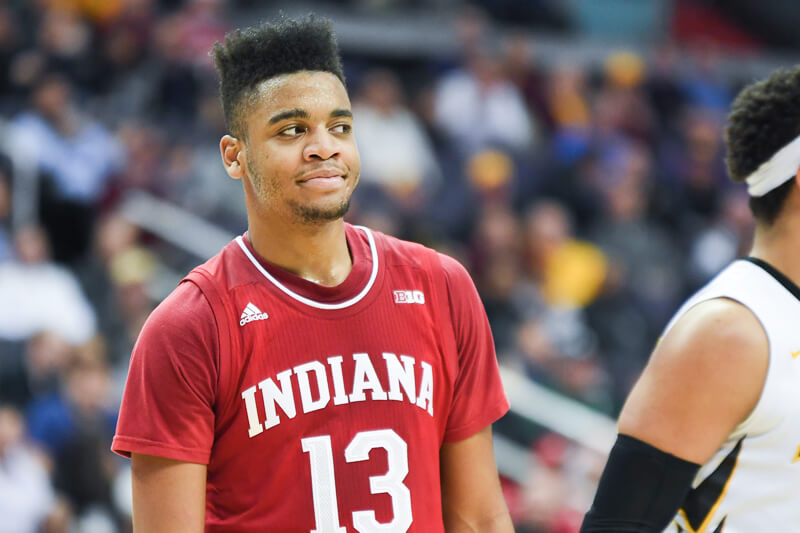 Thoughts on a 95-73 win over the Hawkeyes:
Don't look now, but the Hoosiers are in the midst of a mini-run. Who knows where this team was during the doldrums of the Big Ten season. But for the here and now, with a solid win against Ohio State on Saturday on the road and a beatdown against Iowa this evening, Indiana's looking very much like the team it should have been for most of the season — and then some.
The hot 3-point shooting carried over from Columbus. The Hoosiers hit a ridiculous 63.2 percent from distance (12-of-19) and it didn't matter who was hoisting. Devonte Green (2-of-2), Curtis Jones (2-of-3), Robert Johnson (2-of-4), Josh Newkirk (2-of-5) and James Blackmon Jr. (4-of-5) all connected from distance. Blackmon Jr.'s performance — especially in the second half — was one to celebrate. Not only was he hot from the field (7-of-9, 23 points), but he grabbed eight boards, dished out four assists, had a steal and turned it over just once in 32 minutes of action. Blackmon Jr. was also great out in the open court making decisions with the ball in his hands on the break. It was one of his better all around performances in the cream and crimson.
De'Ron Davis got into the scoring mix early and kept it going all game, finishing a perfect 7-of-7 for 15 points. You know it's your night offensively when you're hitting buckets like these. Green entered the game early for Josh Newkirk after he picked up two early fouls, and he finished the game with an efficient 4-of-6 (10 points) performance, adding a nasty stepback 3-pointer in the second half.
Iowa's full-court press flummoxed the Hoosiers in Iowa City, but Indiana had little trouble with it this evening. The Hoosiers were simply excellent in transition, making the right decisions for quick scores in a game they posted an effective field goal percentage of 70.7 and scored a healthy 1.25 points per possession. Indiana's 95 points were just two shy of the Big Ten Tournament record (97).
During their huge run in the second half to put Iowa away for good, the Hoosiers also clamped down defensively. Peter Jok, who dropped 35 on Indiana's head last month, had just nine points on 4-of-11 shooting and was pretty much a non-factor. Juwan Morgan tallied three blocks. Thomas Bryant had five. For the game, Indiana held Iowa to just .96 points per possession, its best mark against a Big Ten opponent this season, tying the .96 PPP it held Northwestern to in a win on Feb. 25.
So on a night the Hoosiers turned it over at about their average rate (22.4 TO%), blistering hot shooting and stout defense helped lead to a comfortable 22-point lead. It was Indiana's first win over a higher-seeded opponent in the Big Ten Tournament for the first time in the Tom Crean era.
It's a little too early to talk about Indiana making it all the way Sunday at this juncture. But if the Hoosiers can keep playing like this — and that's a big if, especially with how well they shot it from 3-point range — there's no reason they can't give Wisconsin a serious run for its money tomorrow night.
Filed to: 2017 Big Ten tournament, Iowa Hawkeyes