Five takeaways from Indiana's win at Ohio State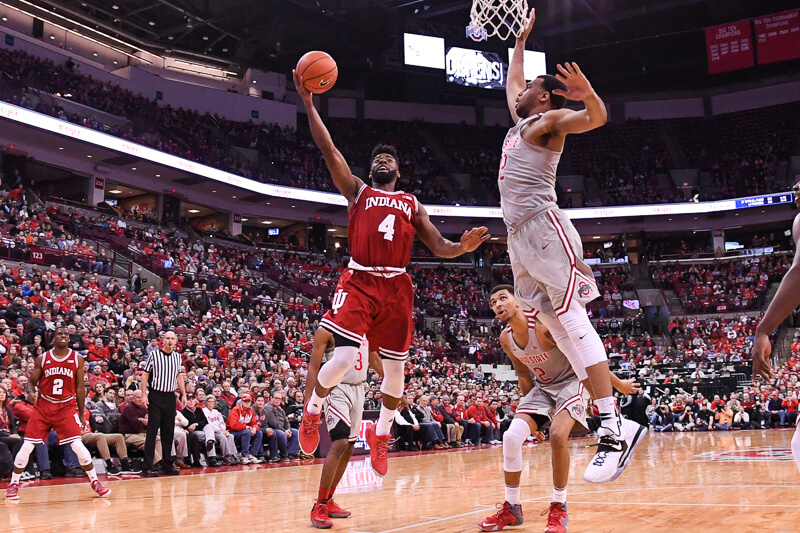 COLUMBUS, Ohio – Indiana won its second road game of the season on Saturday afternoon as the Hoosiers beat Ohio State 96-92 at Value City Arena. The Hoosiers improved to 17-14 overall and finished the regular season 7-11 in Big Ten play.
Here's a look at five takeaways from the win over the Buckeyes:
· Indiana's guards lead offensive barrage: It's been a rare occurrence for Indiana to have all three of its starting guards playing well in the same game in league play. But that's exactly what happened on Sunday afternoon.
James Blackmon Jr., Josh Newkirk and Robert Johnson combined for 66 of Indiana's 96 points. The trio shot 22-of-40 from the field and combined to play 104 minutes. Perhaps most importantly, the three guards combined for just six turnovers.
"It is a great confidence builder for our guys," Tom Crean said postgame. "They were really locked in."
· Free throw differential in favor of IU for first time in Big Ten road game: It took nine road games, but Indiana finally avoided being outscored from the foul line in a Big Ten road game.
Through Tuesday's loss at Purdue, Indiana had been outscored by 94 points at the line on the road in conference games. On Saturday, both Ohio State and Indiana took 22 free throws and IU hit 16 compared to 14 for the Buckeyes.
The fact that Indiana held Ohio State to a free throw rate (FTA/FGA) of just 35.5 percent is notable despite being just two percent below the Big Ten average for the Buckeyes. Indiana had the second worst opponent free throw rate (46.3) of a power conference team in league play coming into Saturday, so holding Ohio State to just 35.5 percent was significant in the outcome.
· Hoosiers have one of their best games of the season taking care of the ball: Indiana's turnover problem has been a storyline all season, but that wasn't the case against a Buckeye team that was indifferent to defending all afternoon.
The Hoosiers turned it over just 12 times for a turnover percentage of 16.2. It was just the third time Indiana has turned it over on less than 17 percent of its possession in Big Ten play.
Ohio State scored just 12 points off of the 12 IU mishaps and with IU scoring eight points off of 10 Ohio State turnovers, the differential wasn't a major factor in the outcome.
· Starters handle the majority of the minutes and scoring: Crean kept a tight rotation in the win with the bench scoring just three points in 45 minutes.
IU's starters all played major minutes and each contributor was efficient. Besides the aforementioned performances by the trio of guards, Juwan Morgan was 4-of-4 from the field and hit three free throws to finish with 11 points. And Thomas Bryant went 7-of-9 from the field to finish with 16 points.
How good was IU offensively? The Hoosiers scored 1.30 points per possession and won away from Bloomington despite allowing 1.24 points per trip. The 96 points were the most points ever scored by an Ohio State opponent in Value City Arena.
· Ohio State headed for second straight NCAA tournament miss: It's not news that the Buckeyes will miss the NCAA tournament for the second straight season.
But the program, once the conference's best under Thad Matta and a perennial national power, is slipping.
Matta built Ohio State with a defense-first mentality. There are "defense wins" signs in offices in the back hallways of Value City Arena. But this Ohio State team finished with the second worst defense in the Big Ten this season at 1.09 points per possession.
If you want to point to a reason that the Big Ten has taken a step back nationally in recent seasons, the regression of Ohio State is a major reason why.
Filed to: Ohio State Buckeyes