Notebook: Hoosiers capture second road win at Ohio State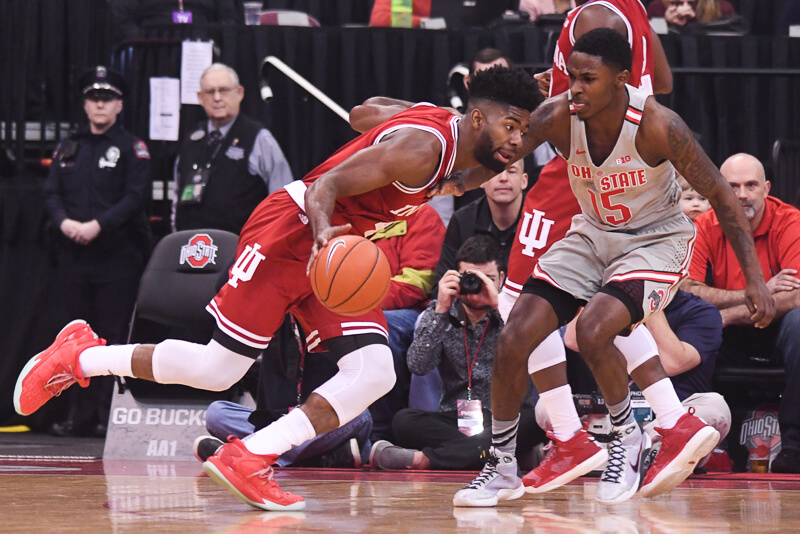 Indiana traveled to Ohio State looking for just its second road win of the season on Saturday.
Through the first 20 minutes, the IU offense looked like it would run away with a comfortable victory. But things got complicated in the second half and the Hoosiers had to rely on free throws late in the game to lock down a 96-92 win.
The Buckeyes were playing catch up for most of the afternoon, but managed to erase an 18-point deficit before the halfway point of the second half. IU started strong offensively but faded slightly after halftime, almost begging a lifeless Ohio State team to make it interesting.
With three minutes remaining, IU's commanding 10-point lead was threatened again and again. However this time, the Hoosiers came out on top in a game that went down to the wire.
"It was good for our guys to see that we could make the stops when we needed," Tom Crean said postgame. "They were really locked in. The first step on defense and the ball movement were great. They never brought any panic and showed tremendous confidence."
IU's execution in the final minutes was an improvement after a stretch in which Indiana lost five straight by an average of 5.8 points.
Hoosiers finally fix Achilles' heel
Turnovers have been an issue all season for Indiana. But when the Hoosiers are able to control them, they're a different team. The Hoosiers gave up just 12 points off of 12 turnovers.
IU left Columbus with a victory because it took care of the ball for the full 40 minutes and cut back on careless passing. Robert Johnson did not commit a single turnover in his 36 minutes of play.
Crean said postgame if they would have played at 8 a.m. instead of noon, it didn't matter. IU would have been ready. Indiana did what it has desperately needed to do all season, limit turnovers and let its offense shine.
Starters carry offensive load
IU dominated in the first half, shooting 64.7 percent from the field. Johnson, James Blackmon Jr., Thomas Bryant, Josh Newkirk and Juwan Morgan combined for 93 of the team's 96 points.
IU's lone bucket off the bench came from a 3-pointer by Devonte Green.
Indiana was back to its old ways, hitting 52.2 percent from behind the arc on 12-of-23 shooting from the outside.
The Hoosiers also shot 16-of-22 from the free throw line and Morgan, Newkirk and Blackmon made 10-of-14 free throws in the last 1:17 of play.
Johnson shoots his way out of slump
After a string of quiet offensive performances from Johnson, he finally broke out of his slump. In his best game of the season, Johnson dished out 26 points on 10-of-17 shooting from the field. He also added six assists and six rebounds.
"I'm really happy for him because that's the kind of player that he is," Crean said of Johnson. "It's unfortunate that's not always seen when he's missing some shots. It was absolutely fun to watch him play today."
Johnson, combined with Newkirk and Blackmon, stepped up and contributed 66 of IU's 96 points and just six total turnovers.
"We're a get-well card for guys," Thad Matta said postgame of Johnson's shooting. "If you're struggling, play Ohio State and you get out of your slump just like that."
Despite leading for 36:47, it seemed the same question remained— not if the Hoosiers would collapse and lose their lead, but how the Hoosiers would do it this time.
But this time, it was different.
Indiana did all the little things right and managed to come away with the victory. Even though it's almost too little too late for the Hoosiers, Saturday showed a side of what IU should look like with all the pieces working together.
"With a team like us we can get hot fast," Blackmon said. "So it can be the start of a run if we all buy in to it."
Filed to: Ohio State Buckeyes