At the Buzzer: Indiana 96, Ohio State 92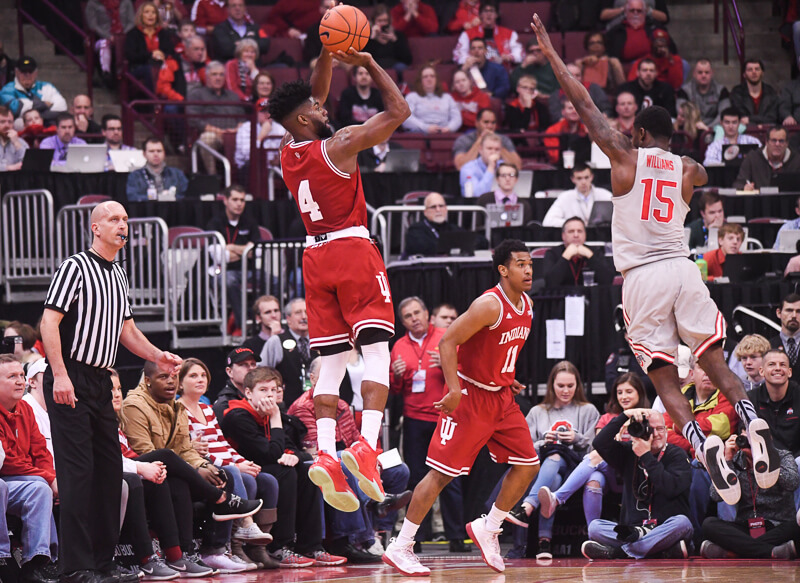 COLUMBUS, Ohio – Quick thoughts on Indiana's 96-92 win over Ohio State:
How it happened: It was a tale of two halves Saturday afternoon at Value City Arena. Indiana opened the game blazing hot from the field. The Hoosiers had an 18-point lead with 12:52 left in the first half and were scoring 1.76 points per possession at the under eight media timeout. After Josh Newkirk hit a runner in the lane to close the first half, Indiana had tied a season-high with 54 first half points. Four different players scored in double figures in the first 20 minutes. The Hoosiers looked well on their way to their second road win of the season. But Ohio State didn't go away quietly. Indiana scored just seven points in the first ten-plus minutes of the second half. The Buckeyes took advantage of IU's indifference to defense and grabbed the lead for the first time at the 11:37 mark of the second half on a 3-pointer by CJ Jackson. But the Ohio State lead was short lived. Robert Johnson (26 points) and Juwan Morgan (11 points) carried Indiana down the stretch. Indiana built the lead back to 10 three different times in the final seven minutes and hit free throws to seal the victory. With the win, Indiana will be no lower than the No. 11 seed in next week's Big Ten tournament at the Verizon Center in Washington D.C.
Standout performer: Robert Johnson put together his best game of the season with a game-high 26 points. Johnson was 10-of-17 from the field and also had six assists, six rebounds and no turnovers in 36 minutes.
Statistic that stands out: Indiana won on the strength of a low turnover percentage (16.2) and hot shooting (12-of-23 on 3s). The Hoosiers have struggled to take care of the ball and shoot it from the perimeter during their recent 2-8 stretch, but had no problem this afternoon. Also, Indiana's 96 points were a record for an OSU opponent in Value City Arena, which opened in 1998.
Final individual stats:

Final tempo-free stats: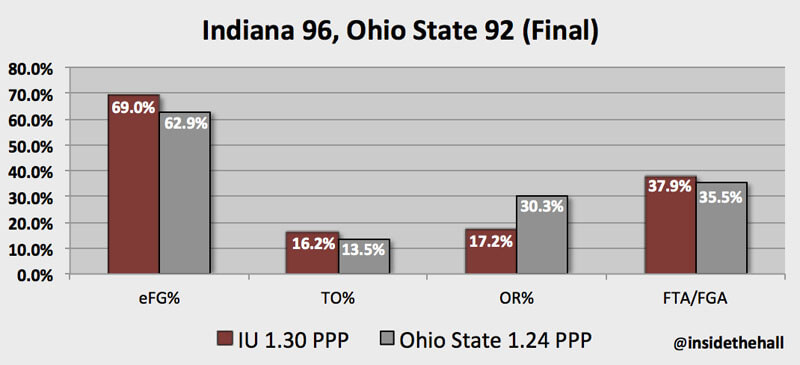 Filed to: Ohio State Buckeyes