The Minute After: Purdue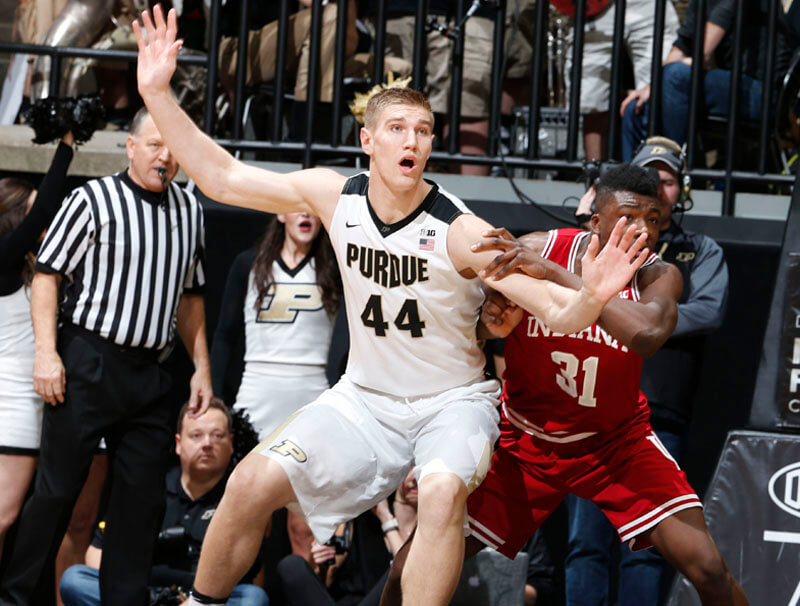 Thoughts on an 86-75 loss to Purdue:
In front of a raucous Paint Crew on senior night with Purdue going for a share of the Big Ten title, the Hoosiers put up a fight and keep it somewhat interesting for a good chunk of the contest.
But in the end, it's another loss — one once again highlighted by Indiana's glaring weaknesses. Another enormous foul discrepancy in this one. Purdue hit 28-of-33 from the charity stripe as Indiana's frontline failed to defend without fouling. Thomas Bryant and De'Ron Davis fouled out. Tim Priller and Freddie McSwain came close, each ending the contest with four fouls. Indiana didn't shoot a free throw until the second half of the contest, though the Hoosiers got there at a decent clip late and finished 13-of-17. Still, it was a 15-point advantage for the Boilermakers at the line.
Indiana had a slew of unforced turnovers to start the game and finished with a turnover percentage of 20.2. It didn't kill the Hoosiers tonight, though, as both teams scored 14 points of each other's turnovers. Still, it was another game Indiana wasn't sound enough with the ball, a sloppy team being sloppy once again.
Some individual highlights. McSwain got the start and tied his Indiana career-high with eight points. The junior added four rebounds and unlike other times in the season when he's looked a little out of his depth, McSwain played and acted like he belonged tonight.
Juwan Morgan is definitely looking more mobile and springy with each passing game, and you wonder with all the close games Indiana has lost over the past few weeks what a more healthy Morgan could have done to potentially sway the results. The sophomore snagged 11 boards this evening and chipped in seven points.
Devonte Green continues to show flashes of consistent, strong play and racked up 13 points thanks to a 3-of-3 performance from distance. If Green keeps at it and improves during the course of his career, he's on pace to turn out as a strong upperclassman.
And then there was Tim Priller, folks. Tim. Priller. After getting a bit of run on Saturday night against Northwestern, Priller saw the court for five minutes in the second half due to all the foul trouble in the frontcourt and contributed well. Priller pumped in a hook, a lay-up and two from the line for six points. He sets screens. He played decent defense. Considering it was a road Big Ten game, it was probably the most comfortable minutes of his entire Indiana career.
But any way you want to slice this one, it's another loss. Indiana's sixth in its last seven. At 6-11 in conference play, the Hoosiers currently sit in 13th place with only lowly Rutgers behind them in the Big Ten standings.
It's nowhere for an Indiana team to be with all the talent on this squad, and certainly nowhere anyone expected this team to be after some expectation-defining wins over two of the country's best teams in the non-conference.
One more game remains this Big Ten season.Will it be another loss to round out conference play?
Filed to: Purdue Boilermakers