The Minute After: Minnesota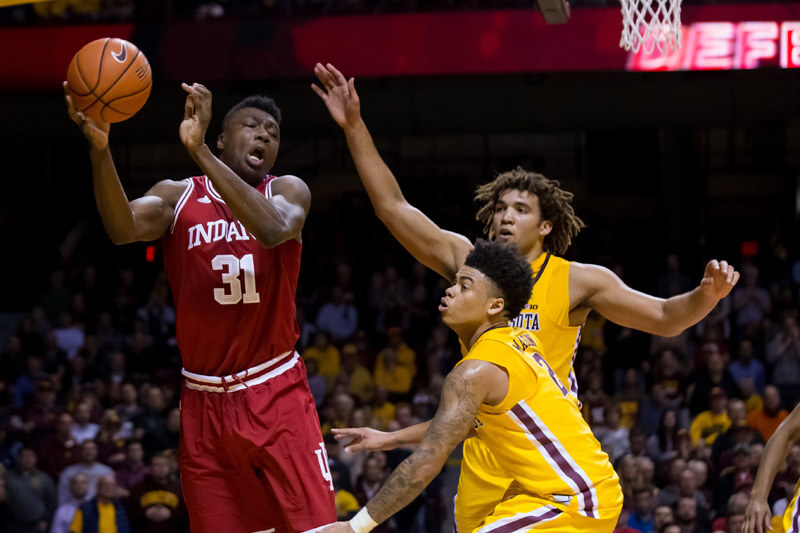 Thoughts on a 75-74 loss to Minnesota:
Tom Crean tried a new starting lineup, inserting De'Ron Davis for Juwan Morgan and Devonte Green for Robert Johnson. He had a quicker hook for players committing bad turnovers. He stomped the sidelines with a fervor.
But in the end, his team, despite putting itself in position to win down the stretch, fell short once again — an offensive rebounding opportunity landing just right for the Golden Gophers to put them up a point with three ticks to go. A James Blackmon Jr. buzzer-beating 3-pointer saved the game for Indiana a month ago in State College.
Tonight he couldn't hit as time expired.
The Hoosiers are now losers of four straight and sit at just 5-9 in league play. They're in 11th place in the Big Ten.
Despite this team's shortcomings and where the season's been heading, there was still a proper energy and effort that was noticeable tonight. This team hasn't given up. And that's what makes the loss a little tougher to swallow.
"These guys came to play, without a doubt," Tom Crean said on radio after the game.
Indiana had a forgettable first half. When the Hoosiers weren't turning it over (23.5 TO%), they failed to hit shots (33.8 eFG%) and entered half scoring just .76 points per possession. But Minnesota's splits in those categories weren't much better — 20.9 TO%, 35.3 eFG%, .86 PPP — so the Golden Gophers held just a four-point advantage at half. It was an ugly 20 minutes of basketball.
Indiana got down by nine early in the second half, but kept fighting and battling. James Blackmon Jr. had a return to form tonight, hitting some key buckets over the final 20 minutes on his way to a team-high 22 points. De'Ron Davis, who got the start tonight, found himself in foul trouble all evening. But he was able to get it going during a stretch in the second half as well to help keep the Hoosiers in good position to win, scoring on back-to-back possessions to put them up five with 2:26 to go. In just nine minutes of play, Davis scored 10 points, grabbed five rebounds and recorded one block.
Thomas Bryant had a rough night offensively (3-of-14), but scored four huge points in the final minute of action. Juwan Morgan looked healthier on his way to 14 points and seven rebounds.
Indiana committed just four turnovers all second half until Blackmon Jr. turned it over trying to feed Bryant on a tough angle with 1:11 to go. Eric Curry's steal of that pass led to Davis' fifth foul on the other end against Jordan Murphy. His two free throws put Minnesota up 71-70 with just over a minute to go, its first lead since the 10:08 mark of the second half.
Bad play at a bad time.
From there, the Hoosiers and Golden Gophers traded the lead twice over the final minute of action, it all culminating with the Akeem Springs putback and the Blackmon Jr. miss.
This game was right there for the Hoosiers to win, but it slipped through their finger tips, yet another loss in a season gone wrong.
Indiana gets some more time than usual to recover from this one as it doesn't play Iowa until Tuesday. It's another road game the Hoosiers have a chance to win. But as this season's proved, nothing comes easy for this group.
(Photo credit: Brad Rempel-USA TODAY Sports)
Filed to: Minnesota Golden Gophers