Five takeaways from Indiana's loss to Purdue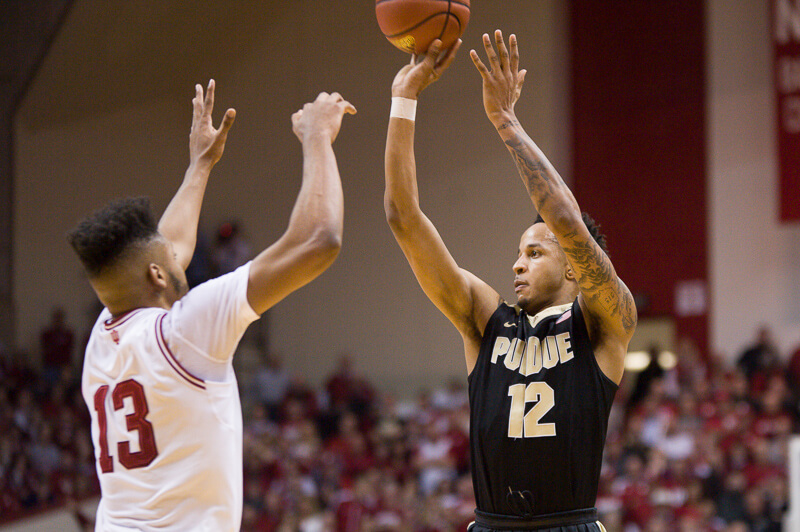 Indiana suffered its 10th loss of the season on Thursday night as the Hoosiers fell 69-64 to Purdue at Simon Skjodt Assembly Hall. The Hoosiers are now 5-7 in Big Ten play with six games remaining.
Here's a look at five takeaways from the loss to Boilermakers:
· Another close game, another failure to close out an opponent: It's been a theme this season for the Hoosiers. In games that go down to the final minutes, Indiana is having major trouble closing.
Thursday's loss brought IU's tally in games decided by five points or less to 2-6. The two wins: the season opener against Kansas and the buzzer beater over Penn State in State College.
Why was this loss more alarming than others?
This is the type of game that Indiana typically wins at home under Tom Crean. A ranked opponent with three days prep in front of raucous crowd is usually a good situation for Indiana to pull out a win. But it didn't happen even with Purdue playing far from its best game.
Indiana once again played well enough defensively (as it did in Madison), but 16 turnovers against a team that doesn't turn anybody over was the back breaker.
· More on the turnovers: For the ninth time in 12 Big Ten games, Indiana turned the ball over on more than 20 percent of its possessions.
Purdue turned 14 Indiana turnovers into 16 points. The Boilermakers turned it over 12 times and IU had 13 points off of those miscues. While only a three-point differential in this game, turnovers may end up as season defining for the Hoosiers.
In seven Big Ten losses to date, IU's opponents have scored 59 more points off of turnovers. Overall in 12 Big Ten games, IU has been outscored by 48 in points off of turnovers. That includes the Rutgers games in which the Hoosiers outscored the Scarlet Knights by 22 off of turnovers.
· Guard play not good enough to win: The return of James Blackmon Jr. to the Indiana lineup was much needed, but the Hoosiers didn't get an offensive lift from its backcourt.
Blackmon Jr. came out aggressively, but was just 3-of-14. Josh Newkirk, who was red hot coming in, was just 3-of-9. And Robert Johnson was just 2-of-11, including a 1-of-6 performance on 3-pointers.
"8-of-34 with our three starting guards," Tom Crean said postgame. "That's not good. That's not good."
· Bryant the lone bright spot offensively: As John Gasaway pointed out on Twitter this morning, Indiana's offense is trending in the wrong direction.
IU offense in B1G play…

First seven games: 1.16 points per trip

Last five: 0.98

— John Gasaway (@JohnGasaway) February 10, 2017
Indiana is now down to third in the Big Ten in offensive efficiency at 1.09 points per possession. The Hoosiers managed just .94 points per trip against the Boilermakers.
The lone bright spot was the play of Thomas Bryant, who stepped out and hit three 3-pointers and finished five of his eight 2s before fouling out in 26 minutes. Bryant finished with 23 points, the third time he's scored 23 or more in the last four games.
"Just staying aggressive, just taking what the defense gives me," Bryant said of the performance. "If they collapsed on me my teammates know that I'll find them."
· Indiana's margin for error is gone: Indiana is likely to be on the outside looking in when the next round of NCAA tournament projections come out. The Hoosiers, once ranked No. 3 in the Associated Press poll, are unlikely to make the tournament without multiple road wins down the stretch.
There's been hesitation to use the words "must win game," but Sunday's game against Michigan is just that. With three Big Ten home losses and four road games to play, is there a path for the Hoosiers to sneak into the tournament? It's a narrow one.
Crean was asked about his team's NCAA tournament chances in the postgame, but wasn't ready to discuss anything beyond Sunday's game against the Wolverines.
"We've got to get ready to play Michigan, okay. I really — I'm not smart enough to think past that in all honesty," he said. "We've got to get ourselves ready to play that game, and we've got to keep making the improvements that we have to make, and that's our next game, and they shoot it phenomenally well, and we'll put our game plan together, and that's what our focus has got to be."
Filed to: Purdue Boilermakers