The Minute After: Purdue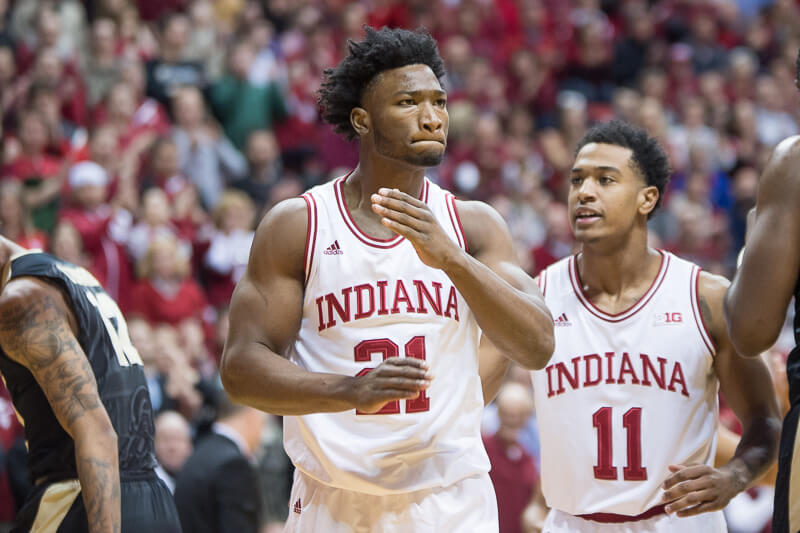 Thoughts on a 69-64 loss to Purdue:
The Hoosiers came to play. They competed. They hustled.
But despite the strong effort, the high energy, the collective will to win, it simply wasn't enough. The reality twelve games into conference play? The Hoosiers aren't part of the Big Ten's elite.
So it goes down as Indiana's third home loss in conference this season, dropping the Hoosiers to 5-7 in the Big Ten. What started off as a spirited march towards the Big Dance this year has grown into a weary crawl, the Hoosiers now on the verge of not making it.
Tom Crean said on the pre-game radio show it was about James Blackmon Jr. "getting integrated back into the team" and "not trying to get it all back at once." But the junior, playing in perhaps his last home game against Purdue, wasted no time and wanted to make his presence felt immediately.
Blackmon Jr. attacked the basket early with ultra aggression. He had 10 field goal attempts at half, though he made just two of them.
There were other early signs Indiana had that extra juice in them tonight. Zach McRoberts had a putback on an offensive rebound. Freddie McSwain did, too. McRoberts drew a charge on Caleb Swanigan. Josh Newkirk saved an Indiana turnover in the backcourt in a possession that led to a Thomas Bryant 3-pointer. Plays like these ensured the self-inflicted turnovers didn't kill the Hoosiers.
Indiana also wasn't lost on defense. Isaac Haas took too many shots out of the paint. He finished just 1-of-6 in the first 20 minutes of action. The Hoosiers also didn't let Purdue get too hot from distance, as they made just 3-of-11. So while Indiana failed to score a point per possession (.96), Purdue did too (.85). It all helped Indiana carry a 36-32 lead into half.
After the break, Indiana continued to play well enough to win. Thomas Bryant really asserted himself at the midway point of the second half on offense. He scored from beyond the arc and down low on his way to a team-high 23 points. Bryant's play over the last couple games has been inspiring, a reminder of why he's been regarded as an NBA talent since he stepped on campus.
In between back-to-back Bryant scores around the 10 minute mark, Indiana doubled down on Haas. On his kickout the Hoosiers closed out on the 3-point line twice to ward off a shot attempt. The possession ended in a P.J. Thompson turnover as the shot clock wound down. It was a solid sequence and gave hope Indiana was going to keep the lead and pull this one out.
But they just couldn't make enough winning play down the stretch after Purdue tied it up at 57 with 3:49 to go. Indiana continued to feed Bryant to mixed results, and it culminated in that odd double-foul call, Bryant's fifth of the game, fouling him out with 44 seconds left and Indiana down five. During that stretch, Blackmon Jr.'s only shot attempt was stolen away by Vincent Edwards.
On a night Indiana was about even with its opponent on points off turnovers (13 for IU, 16 for Purdue) and its defense held one of the better offenses in the country to a respectable 1.02 points per possession, the Hoosiers just didn't muster enough quality possessions down the stretch to emerge victorious.
Indiana's now dug itself a huge hole with just six games remaining in conference. Getting back to .500 in Big Ten play is going to be a big challenge, and who would have thought it just few months back?
Filed to: Purdue Boilermakers