What to Expect: Purdue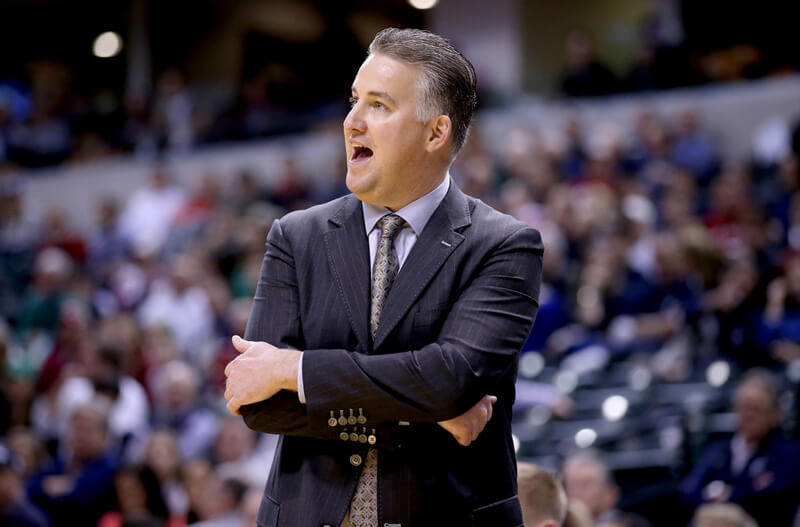 Following Sunday's 65-60 loss at Wisconsin, Indiana returns to Bloomington on Thursday night for a matchup with rival Purdue. The Boilermakers are 19-5 overall, 8-3 in the Big Ten and No. 16 in the latest Associated Press top 25 poll.
The game will be broadcast on ESPN2 at 7 p.m. ET with Dave O'Brien and Dick Vitale on the call:
The stakes for Indiana going into Thursday's game against Purdue couldn't be higher. The Hoosiers are clinging to their NCAA tournament hopes and another home loss would be devastating. Rivalry aside, Indiana just needs a win.
This fact is not lost on Purdue, which knows that a win in Bloomington not only helps keep pace in the Big Ten race, but also puts the Hoosiers in serious jeopardy of missing out on Selection Sunday.
There's always great theater when two of the Big Ten's most storied programs meet, but Thursday's game could be season defining for the Hoosiers.
MEET THE BOILERMAKERS
This could be the year that Purdue finally breaks its NCAA tournament losing streak. Since falling to Kansas in the second round of the 2012 NCAA tournament, Matt Painter's program is 0-2 in March Madness. The other two seasons in that span, Purdue played in the 2013 CBI and then missed postseason play completely in 2014.
What's different about this Purdue team? It might be Painter's best offense yet in West Lafayette.
The frontcourt is anchored by sophomore forward Caleb Swanigan, a legitimate national player of the year candidate and the frontrunner for Big Ten player of the year. Swanigan currently ranks second in Ken Pomeroy's national player of the year rankings.
Swanigan was the Big Ten's best defensive rebounder last season, but has taken his work on the glass to another level in his second season. His defensive rebounding percentage in league play is 33.5 percent. He's got 20 double-doubles in 24 games. Swanigan has also added a 3-point shot to his arsenal and is making 50 percent from deep this season.
Junior forward Vincent Edwards starts alongside Swanigan at the four and is quietly having a solid season. Edwards is third on the team in scoring at 11.3 points per game and has the 12th best offensive rating in the Big Ten in league play, according to Ken Pomeroy's stats. Edwards is a very good free throw shooter (83 percent) and is hitting close to 45 percent of his 3s this season.
Junior center Isaac Haas comes off the bench and is Purdue's second leading scorer at 13.1 points in 20.8 minutes per game. At 7-foot-2 and 290 pounds, Haas is a massive presence. He's difficult to stop when he catches it close to the basket. He's making close to 60 percent of his 2s this season.
The rest of Purdue's eight-man rotation consists of starters Carsen Edwards, P.J. Thompson and Dakota Mathias and backups Spike Albrecht and Ryan Cline. Each of them besides Albrecht can consistently knock down 3-pointers, which makes this Purdue team difficult to cover.
Mathias shoots 49.5 percent on 3s, Thompson is 42.7 percent, Cline is 44.7 percent and Edwards is 33.7 percent. If help is given to the post, Purdue typically does a solid job of finding open shooters and making teams pay.
Thompson is a very low usage offensive player, but does a good job finishing the opportunities he does get. He also averages less than a turnover per game. Edwards is using 24.5 percent of possessions while on the floor in Big Ten play and has a sub-100 offensive rating. If Indiana is going to help off of someone, he's probably the best option.
Mathias is second on the team at 30.8 minutes per game and is fifth in scoring at 10.3 points per game.
TEMPO-FREE PREVIEW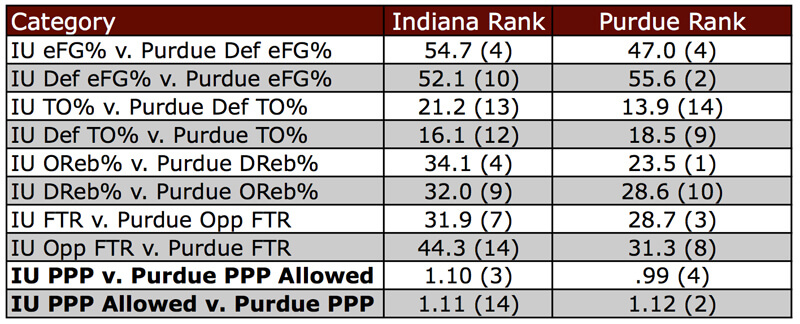 Purdue is a very good defensive team because it guards the 3-point line well and doesn't allow teams to offensive rebounding. The Boilermakers are allowing Big Ten opponents to make just 32.6 percent of their 3s and are the league's best defensive rebounding team.
Those numbers are problematic for Indiana because when the Hoosiers play well offensively, it typically has a lot to do with offensive rebounding and hot shooting.
So what does Indiana need to do to win? Play much better defensively than it has and take care of the ball. Purdue is last in conference play in defensive turnover percentage. If Indiana turns it over, those mistakes are likely to be self inflicted. Purdue also doesn't block a lot of shots, so finishing at the rim is another key.
At 1.12 points per possession, Purdue is the Big Ten's second best offense behind Michigan. Regardless of the status of James Blackmon Jr., it seems unlikely that Indiana is going to win by getting into a shootout with Purdue. The Hoosiers have to get stops. With the Big Ten's worst defense, Indiana locking down a top offensive team is something we haven't seen since the North Carolina game in late November.
WHAT IT COMES DOWN TO
The Pomeroy prediction is Purdue by 3 with a 40 percent chance of a win for Indiana. Sagarin likes Purdue by 2.
Swanigan has been a consistent double-double machine all season, so Indiana is going to need to prevent those around him from big games if the Hoosiers hope to emerge victorious.
Taking care of the ball is equally important as both Iowa and Nebraska, teams who beat Purdue at home in Big Ten play, both committed 10 or fewer turnovers. Both of those teams also did work on the offensive glass as the Huskers rebounded nearly 39 percent of their misses against Purdue and the Hawkeeys grabbed 30 percent.
With their NCAA tournament resume in desperate need of a win, Thursday's game is the beginning of an important week for Indiana. A pair of wins would put the Hoosiers solidly in the field heading into a stretch of four of five on the road to finish league play. A pair of losses could officially send the season into a tailspin.
(Photo credit: Andy Lyons/Getty Images North America)
Filed to: Purdue Boilermakers