IU outlasts Penn State 110-102 in three overtimes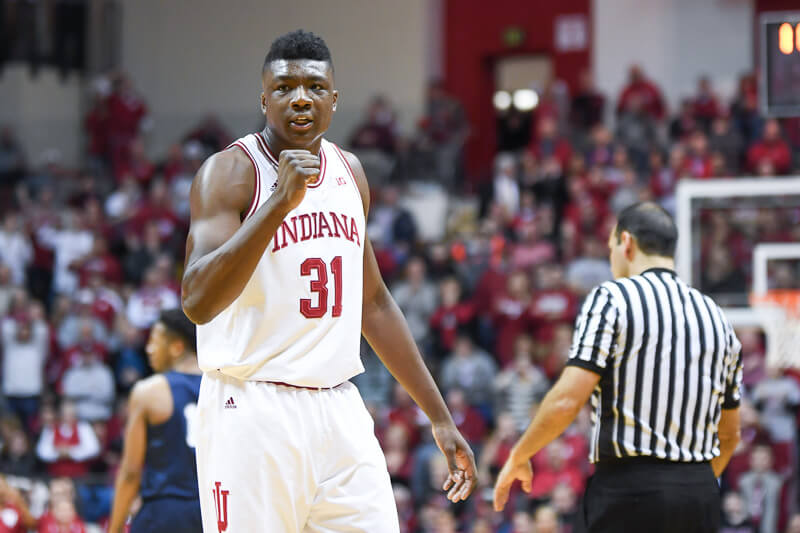 IU narrowly escaped Penn State earlier this season in State College, and the second matchup between the teams was no different. The Hoosiers needed three overtimes to beat the Nittany Lions, 110-102, on Wednesday night at Simon Skjodt Assembly Hall.
On a night where Indiana desperately needed someone to score, three Hoosiers stepped up. Thomas Bryant, Josh Newkirk and Robert Johnson all finished with career-highs to save IU from disaster.
"That was unique wasn't it?" Tom Crean said. "The proudest thing I am with these guys is how they never gave in. It really came down to a battle of wills."
Bryant was IU's go-to guy all night, dominating Penn State in the post. Bryant finished with 31 points and 11 rebounds in 44 minutes of play before fouling out. In his last two games, Bryant has scored 54 points.
"It comes from staying aggressive," Bryant said. "Just taking what the defense gives me. When people go down, everybody else's play has to step up. I'm here for the team and trying to win each and every game and looking forward to it."
After a shaky start that included two turnovers, a missed 3-pointer and two early fouls, Newkirk settled in. He finished with 27 points in 46 minutes and hit 4-of-8 shots from behind the arc.
Johnson played a team-high 50 minutes. He was clutch for IU down the stretch, whether it was hitting floaters in the lane or knocking down free throws.
"I just want to thank God for these guys and coach Crean," Johnson said. "There's no quit in them. Whenever we looked over at Coach Crean he didn't give us anything but confidence. The guys on the court, they fought every possession and at the end of the day, that's what it's about. I think we've really grown up tonight."
For a while, it appeared that Indiana might take its third consecutive loss. The Hoosiers needed a pair of free throws from freshman De'Ron Davis to send the game to overtime.
From there, the drama continued.
The Hoosiers had stretches in overtime where they failed to create shots, passed up open looks and went more than two minutes without scoring a field goal.
But on the final possession Newkirk drove into the lane and hit a layup at the buzzer. After a lengthy review, the officials confirmed the layup was good, which extended the game to a second overtime.
In the third overtime, IU had enough left in the tank to outlast Penn State's final push. Freshman Devonte Green made both free throws on back-to-back possessions that gave IU a 10-point lead with 1:57 remaining.
"There were many times that we could have won it and there were many times that Penn State could have won it," Crean said. "There were many times when we all could have lost it. When you look at our group and you put it into context with everything they've been dealing with and with the people who are out, and the roles they've been thrust into, it's hard for me to be much prouder of them."
Indiana did out-rebound Penn State 56-35 and outscored them in the paint 66-40, but some of the same problems IU has faced all season remained. IU had 23 turnovers that led to 29 points for Penn State.
The Hoosiers had a 13-point lead near the end of the first half, but couldn't hold onto it.
But with a depleted roster and a must win situation, Indiana made enough plays to prevail.
Filed to: Penn State Nittany Lions