The Minute After: Michigan State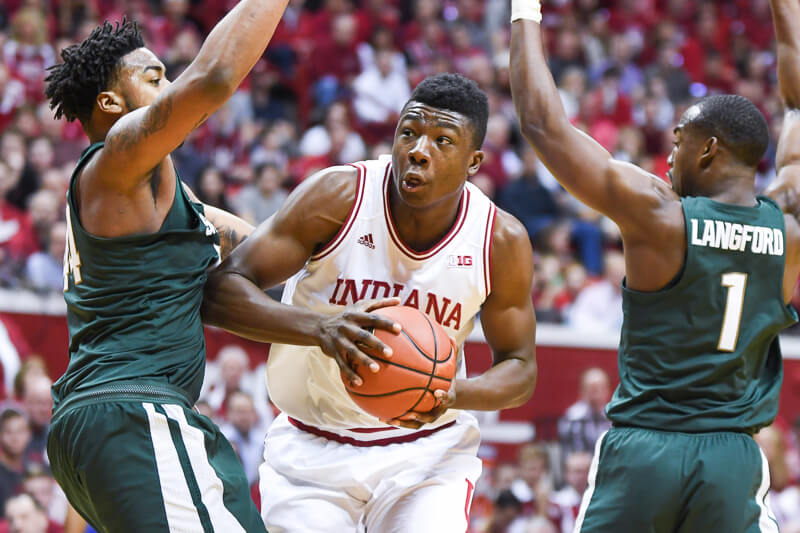 Thoughts on a 82-75 win against the Spartans:
Without OG Anunoby and Juwan Morgan, the Hoosiers stepped onto Branch McCracken Court with a sense of purpose this afternoon. The defense, spurned on by first-time starter Zach McRoberts, was stout. James Blackmon Jr. couldn't miss. Others were dropping in 3-pointers as well. Devonte Green continued to make the most of his minutes.
The Assembly Hall faithful, which had been ready for this one all day, were rocking.
It all led to the Hoosiers holding a double-digit lead for 13:19 of game clock (4:11 in first half to 8:52 in second half), the lead ballooning all the way up to 20 at the 15:20 mark in the second half.
And despite a bit of a scare over the final minutes of the contest where the Spartans cut the lead to four, Indiana emerged with a seven-point victory. This is Indiana's third straight win, its first over a Top 50 team since UNC on Nov. 30. The Hoosiers are now over .500 (4-3) in conference for the first time all season.
Blackmon Jr. was brilliant this afternoon as his 33 points tied for a career-high. The junior let it rip from distance and hit 6-of-10 from beyond the arc, which helped aid the Hoosiers to a hot shooting performance from 3-point distance (11-of-24, 45.8 percent). Blackmon Jr. also hit a tough right-handed runner late to keep the Spartans at distance.
Thomas Bryant still looked a little out of sorts at times. But he played hard. Really hard. A sequence in the second half tells the tale. After missing a second of two free throws at the line, Bryant hustled down to the other end of the court and drew a charge on Alvin Ellis III. On Indiana's ensuing possession, Blackmon Jr. drilled a 3-pointer to put the Hoosiers back up 11. Bryant finished with 11 points, six rebounds, an assist and a steal.
Indiana's offense put up 1.28 points per possession against the Big Ten's best defense. An under the radar reason for Indiana's great offensive efficiency today? It didn't shoot itself in the foot. The Hoosiers turned it over on just 14 percent of their possessions against the Spartans, a season best. When Indiana's offense doesn't turn the ball over, it can be absolutely deadly — especially when the 3-ball was dropping like it was in this one.
Indiana did allow 1.17 points per possession to the Spartans after giving up just .90 in the first half. Which is how MSU — led by Eron Harris (21 points) — erased a 20-point lead. But Indiana's offense was good enough this afternoon to make up for its defensive slump in the second half.
While McRoberts isn't as talented as Morgan or Anunoby, he's certainly been more consistent in terms of what you can expect from him game in and game out. And he seems to have growing confidence with an increased role over the last two contests. McRoberts stuffed the stat sheet with five rebounds, three assists, two steals and a block in 32 minutes of play. The walk-on also hit a 3-pointer in the second half to boot, capping a contest where his contributions were incredibly valuable.
Indiana needs wins wherever it can get them at this point. So its two wins this week were important. But next week brings bigger challenges with two away games at Michigan and Northwestern.
The Hoosiers aren't favored in either, but today's effort brings hope they can beat the odds.
Filed to: Michigan State Spartans