What to Expect: Penn State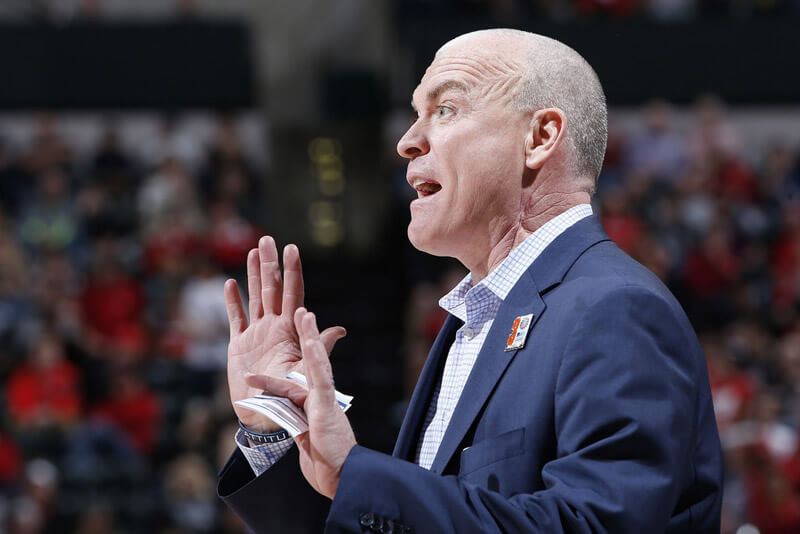 Indiana travels to State College on Wednesday night for a critical matchup with Penn State at the Bryce Jordan Center. The Nittany Lions are 11-7 overall and 3-2 in the Big Ten.
The game will be broadcast at 7 p.m. ET on BTN with Jeff Levering and Stephen Bardo on the call:
Indiana is running out of time to break through in the Big Ten. The Hoosiers have played five of their 18 conference games and are sitting at just 2-3.
Yes, it's technically still early in league play, but the problem is that eight of Indiana's remaining 13 conference games are on the road. The path to 9-9 or better means Indiana has to win at least two road games and that assumes no more slip ups at home, which is no guarantee.
How big is Wednesday's game at Penn State? If you put any stock into KenPom's win probabilities, it's enormous. Here's a look at Indiana's remaining Big Ten road games with Pomeroy's chances of an Indiana win (as of Tuesday, Jan. 17):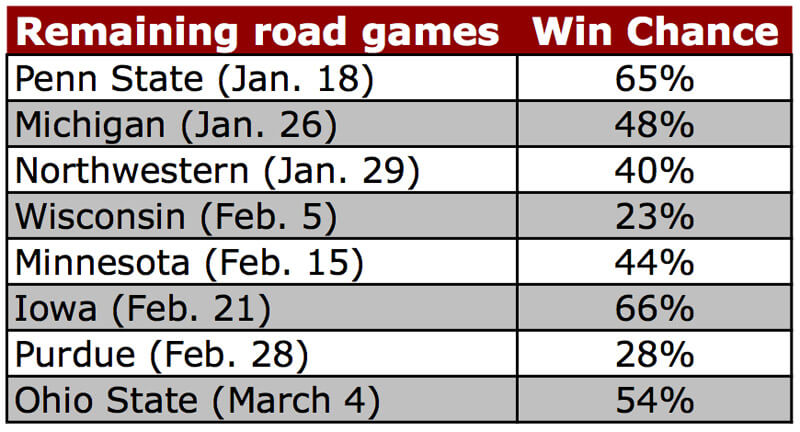 Pomeroy is projecting just three road wins for Indiana and Wednesday's game is one of them. And of the three, it's Indiana's second best chance at a win away from Bloomington remaining on the schedule. As John Gasaway correctly pointed out today over at ESPN Insider ($), Indiana can't take anything for granted the rest of the way.
MEET THE NITTANY LIONS
Two of Indiana's next five games are against the Nittany Lions, who have won three of their last four. That stretch included a nine-point win over Michigan State at the Palestra and a 2-point win over Minnesota in State College.
Penn State has come a long way since a home loss to Albany to begin the season and a 19-point blowout loss at home to George Mason on Dec. 7. The Nittany Lions play as hard as any team in the league and are beginning to see positive results.
The scouting report begins with 6-foot-2 junior guard Shep Garner, the team's leading scorer. Garner loves the ball screen – something that Indiana has struggled to defend – but has really struggled with his efficiency in Big Ten play. Garner's effective field goal percentage in five conference games is just 34.7. His 12.4 points per game lead Penn State.
The arrival of freshman point guard Tony Carr, a former Indiana recruiting target, has allowed Garner to play more off of the ball. He leads Penn State in assists (3.7 per game), but is also struggling with his shooting in league play. Carr is shooting just 35.5 percent on 2s and 29.4 percent on 3s in Big Ten games.
A third guard, 6-foot-4 sophomore Josh Reaves, also starts and is a valuable contributor. Reaves is long and can defend as his steal percentage is eleventh in the country. He's probably a good bet to spend significant time on James Blackmon Jr. While he's limited offensively, Reaves does a nice job using his athleticism to draw fouls and get to the foul line. His free throw rate (FTA/FGA) in league play is 43.9 percent.
Payton Banks, a 6-foot-6 junior, comes off the bench and is Penn State's third leading scorer. He's shooting a team-best 39.7 percent on 3s. The Nittany Lions have only made 85 catch-and-shoot jump shots this season and Banks has 33 of them.
Another former Indiana recruiting target, Lamar Stevens, is one of the Big Ten's best freshmen on the wing for Penn State. Stevens visited Bloomington and was a high school (Roman Catholic) and AAU teammate (Team Final) of Carr. His 12.2 points per game are second on the team and he's also second in rebounding at 5.8 per game. Stevens is an energy player who loves to play physical. He's finishing close to 48 percent of his 2s.
In the post, junior Julian Moore is the starter but redshirt freshman Mike Watkins is a force. In Big Ten play, the 6-foot-9, 246 pound Watkins is third in both offensive and defensive rebounding percentage and ninth in block percentage. He's averaging 9.6 points and 9.8 rebounds per game in league games.
TEMPO-FREE PREVIEW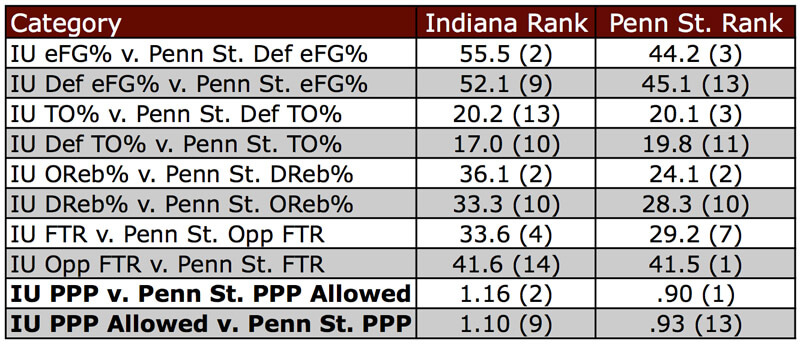 Pat Chambers has Penn State defending at a high level, but the Nittany Lions are struggling offensively. Penn State is great at getting to the foul line, but their offense really struggles overall in the half court.
Penn State is playing the second fastest tempo in league play and it's clear they are a much better offensive team in transition. The Nittany Lions rank in just the 16th percentile nationally in half court offense, but in the 71st percentile in transition. Indiana has never shied away from pushing the pace, but it might be a strong consideration in this contest.
It'll be surprising if Indiana's offense comes anywhere close to its average output (1.16 PPP), so if the Hoosiers hope to win one away from home, the defense must travel. Indiana was able to hold Rutgers down on Sunday, but this will be a better litmus test to gauge where Indiana stands defensively. Penn State hasn't scored more than 1.06 points per trip in a Big Ten game. Indiana has only given up less than 1.14 once. Something has to give on Wednesday.
WHAT IT COMES DOWN TO
KenPom likes Indiana by four with a 65 percent chance for victory. Sagarin likes Indiana by 5.5. Based on recent evidence, that seems high. Penn State is trending upward while Indiana, outside of Sunday, is really hard to gauge.
The Hoosiers are 3-1 in their last four trips to State College with the lone defeat in that stretch coming during last season's 15-3 run to the league crown.
This is a crucial week for Indiana with Michigan State looming on Saturday in Bloomington. At 2-3, Indiana's margin for error is basically gone. Can the Hoosiers start building some momentum with a much needed win on the road?
(Photo credit: Joe Robbins/Getty Images North America)
Filed to: Penn State Nittany Lions