What to Expect: Illinois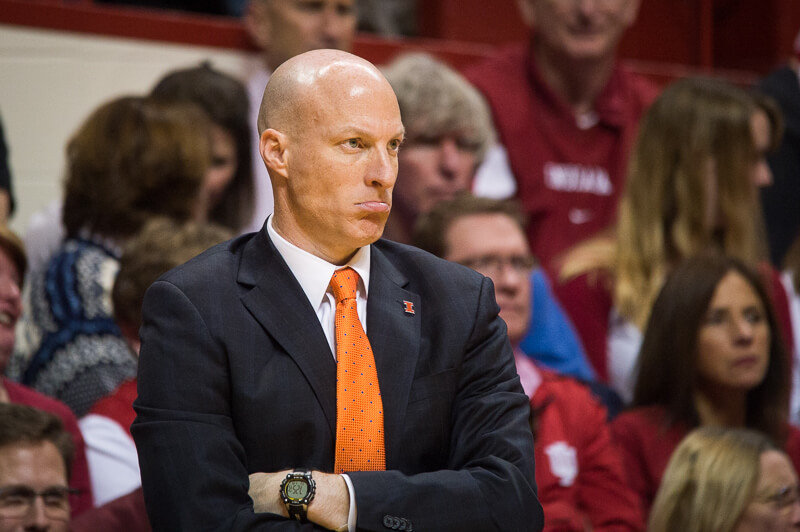 Indiana will attempt to stop a three-game losing streak on Saturday afternoon when it hosts Illinois at Simon Skjodt Assembly Hall. The Fighting Illini are 11-4 overall and 1-1 in the Big Ten.
The game will be broadcast at 5 p.m. ET on ESPNU with Clay Matvick and Sean Harrington on the call:
Indiana, which was once ranked as high as No. 3 in the Associated Press top 25 poll, is on the verge of falling out of the polls altogether on Monday. Regardless of Saturday's outcome against Illinois, the Hoosiers are unlikely to be considered one of the country's 25 best teams come early next week.
It's been a stunning fall for a team that was once considered a Final Four and national title contender. Can Indiana turn things around?
The next stretch of games will answer the question. After Illinois comes to Bloomington, Indiana travels to Maryland, hosts Rutgers, travels to Penn State and hosts Michigan State. Every game is critical the rest of the way and with two homecourt losses in conference play already, the margin for error is gone.
MEET THE ILLINI
Two games into league play, Illinois owns a 25-point loss at Maryland and a narrow win at home over Ohio State. The Illini have won seven of their last eight games, including four over teams currently ranked in the top 100 of KenPom.
Game planning for the Illini begins with containing Malcolm Hill, one of the league's most complete offensive players. The 6-foot-6 senior is averaging 18.5 points and 6.3 rebounds per game. Hill is hitting 42.3 of his 3s and is great at getting to the foul line. His free throw rate (FTA/FGA) is 56.6 percent and he's converting at 78.6 percent from the line.
Joining Hill in the starting lineup are sixth-year senior point guard Tracy Abrams and sophomore Jalen Coleman-Lands. Abrams is second on the team in scoring at 11.5 points per game and is shooting 45.6 percent on 3s against Division I teams.
Coleman-Lands, an Indianapolis native, looked like a potential Big Ten breakout candidate in the preseason. That hasn't materialized so far as his shooting percentages are down across the board and his turnovers are up. Coleman-Lands is shooting just 35.7 percent from the field overall.
Senior Jaylon Tate is averaging a team-high 3.5 assists off the bench, but struggles to score. Sophomore wings D.J. Williams and sophomore guard Aaron Jordan could also see time, but both have horrible efficiency numbers.
The frontcourt situation has some depth with sophomore Leron Black, redshirt senior Mike Thorne, sophomore Michael Finke and senior Maverick Morgan.
Black is the team's third leading scorer at 10.5 points per game and the Illini's leading rebounder at 7.2 per game. Black is excellent on the defensive glass with a defensive rebounding percentage of 26.4 (37th nationally). He's a very good free throw shooter (81.6 percent) and a decent finisher at 51.9 percent on 2s against Division I competition.
Thorne is a plodder, but is finishing close to 63 percent of his 2s. He's seventh on the team in scoring at 6.2 points per game. Finke is a good offensive rebounder (11.1 OR%) and can knock down the 3 if given space (34.8 percent). Morgan is the team's fourth leading scorer at 8.9 points per game and is shooting 58.2 percent from the field.
TEMPO-FREE PREVIEW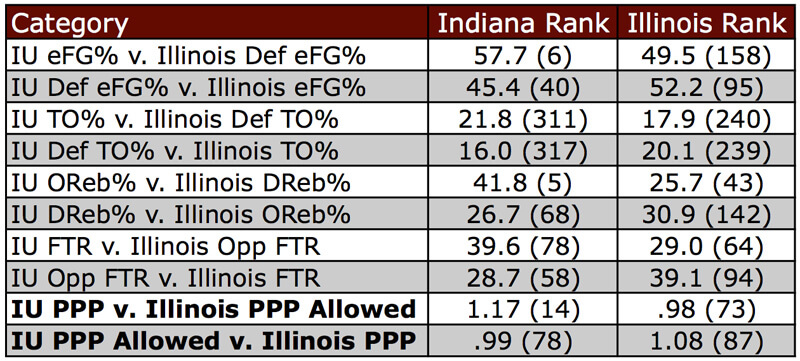 There are several reasons this is a favorable matchup for Indiana. First, Illinois is even worse than the Hoosiers at transition defense, which should allow Indiana to generate more offense there than the past few games. Illinois enters as the Big Ten's worst transition defense at 1.07 points per possession allowed, per Synergy Sports.
Illinois also struggles to take care of the ball, so the likelihood of a huge discrepancy in points off of turnovers isn't as high against the Illini.
The Illini also like to play a slower pace, which might not be a bad thing for the Hoosiers. Indiana was, for the most part, much better offensively against Wisconsin in the halfcourt and was far less turnover prone when it wasn't pushing the pace.
The Hoosiers should run when it's there and makes sense, but limiting unforced turnovers is crucial. Illinois doesn't block many shots and doesn't get steals, either, so failing to finish at the rim or coughing up the ball should, in theory, be less prevalent in this one.
WHAT IT COMES DOWN TO
Indiana enters a must-win game as a 10-point favorite on KenPom and a 10.5-point favorite, according to Sagarin. The Vegas line, which is usually out sometime in the early afternoon, wasn't available at time of publication.
This one goes in the must-win category because of the two home losses already on the books in league play. After Saturday, nine of Indiana's remaining conference games will be on the road. Lose to Illinois and the Hoosiers would need three Big Ten road wins just to scratch out a .500 record in league play.
Despite the three straight losses, Indiana played relatively well against Wisconsin after an awful start. The Hoosiers are due to play better and talent is obviously there to stabilize things beginning Saturday. For that to happen, Indiana has to get back to the basics defensively and do a better job taking care of the ball. If that doesn't happen – as we saw against Nebraska – anything can happen with this Indiana team.
Filed to: Illinois Fighting Illini