Five takeaways from Indiana's loss to Wisconsin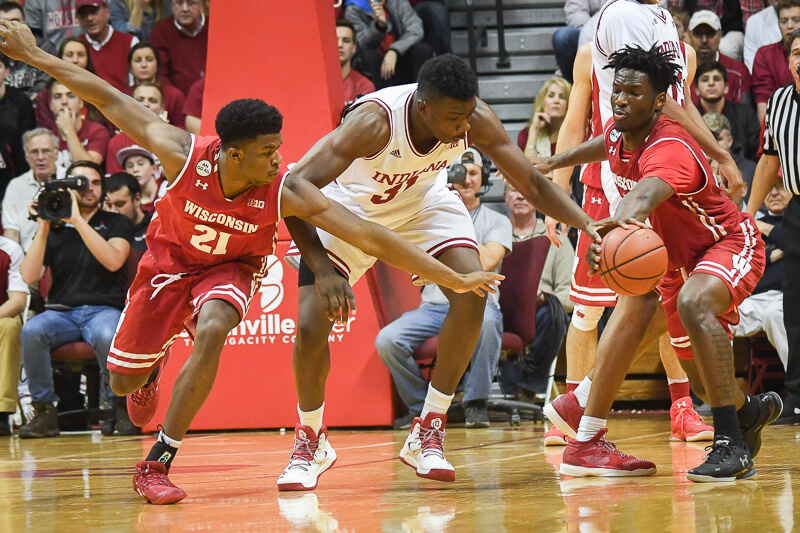 Indiana's free fall continued on Tuesday night as the Hoosiers fell 75-68 to Wisconsin at Simon Skjodt Assembly Hall. The loss was Indiana's third straight and fourth in six games.
Here's a look at five takeaways from the loss to the Badgers:
· A puzzling start: Coming off two straight losses to Nebraska and Louisville, this was a contest in which Indiana needed to set the tone early. A strong start to knock Wisconsin on its heels and engage the crowd, which was without students, was important for the Hoosiers to have.
Instead, Indiana came out lethargic. And Wisconsin, a veteran team with guys who have played for a national championship, executed flawlessly. By the time Indiana realized the game had begun, Wisconsin led 16-2.
Postgame, both Tom Crean and the IU players struggled to explain the slow start. Juwan Morgan said IU "didn't come out ready" and Crean said "I don't even know what to tell you about the start of the game."
15 games into the season, the lack of answers is alarming.
· Defense falters again: For the third straight game, an opponent had its way with Indiana's defense. After allowing Nebraska to hit 9-of-18 3s in Bloomington to open league play, Wisconsin marched into Bloomington and knocked down 10-of-20.
Indiana's 2-point defense also faltered again as the Badgers shot 50 percent inside the arc. Saturday's opponent, Louisville, shot 59.4 percent on 2s.
In two conference games, Indiana is allowing 1.22 points per possession. Last year's team allowed a point per possession in conference games, which was third best and a major reason the Hoosiers won the league.
Indiana has now played six major conference teams and held just one of them (North Carolina) under a point per possession.
· Lineups late make little sense: With the game in the balance tied at 56 with 8:50 to play, Crean made the decision to remove De'Ron Davis and bring Freddie McSwain into the game.
Two other substitutions were made, too, as James Blackmon Jr. and Thomas Bryant replaced Robert Johnson and Juwan Morgan. Less than two minutes later, with 7:06 to play, Curtis Jones replaced Zach McRoberts. At that point, Indiana was up one.
That next stretch of 2:36 is where the game was lost. In the sequence, IU's three offensive possessions were a McSwain turnover, an Anunoby dunk and a missed 3-pointer by Blackmon Jr. Wisconsin, meanwhile, scored on all of its possessions and built a seven-point lead at 66-59.
With Davis on the bench, Indiana went away from what made it successful offensively in the second half. And defensively, the Hoosiers couldn't stop Wisconsin with a lineup that featured several below-average defenders. Momentum disappeared in that decisive stretch and as a result, so did Indiana's chances to win.
· Davis again makes case for more minutes: While Bryant continues to struggle with taking care of the ball and finishing in the post, Davis is emerging as Indiana's best post threat offensively.
Wisconsin had no answer for Davis when the Hoosiers were able to find him in the post. In 18 minutes, he finished with 12 points on 5-of-7 shooting from the field and 2-of-4 from the line.
Moving forward, will Indiana extend the minutes for Davis? After missing the summer while finishing up academic obligations in Colorado, Davis has yet to play 20 minutes in a game this season.
· Disappointing performances by several players: To beat the best teams in the country, your best players have to play well. That didn't happen for Indiana on Tuesday night.
OG Anunoby made all four of his shots from the field, but had four turnovers. Anunoby's turnover rate this season is at 20 percent.
Bryant continues to struggle in the post against length and only grabbed three rebounds in 21 minutes. Wisconsin's Ethan Happ, meanwhile, went for 19 points and six rebounds.
James Blackmon Jr. didn't have a single rebound and after scoring 10 points in the first half, only took two shots and went scoreless in the second half.
And Josh Newkirk, who again started and played 17 first half minutes, finished 1-of-7 from the field.
Filed to: Wisconsin Badgers