The Minute After: Wisconsin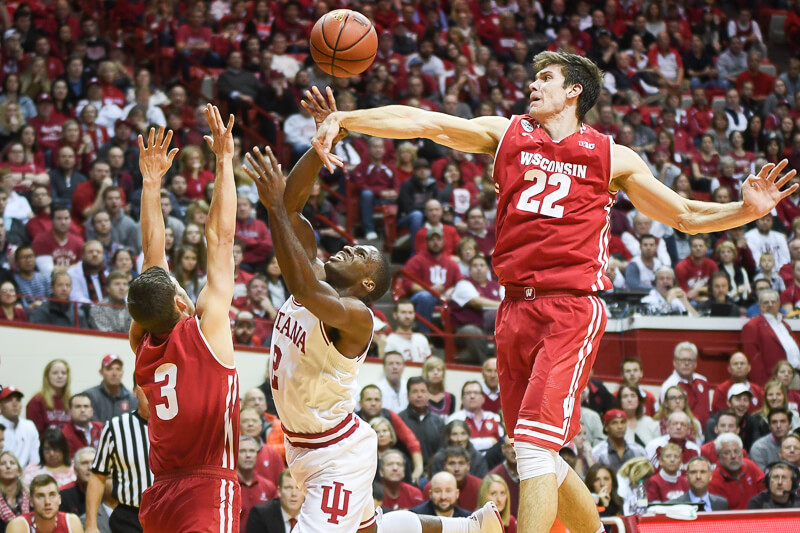 Thoughts on a 75-68 loss to the Badgers:
Another loss, Indiana's third straight for this first time since March 2015, and the sky grows darker over Simon Skjodt Assembly Hall.
Does Indiana still possess talent? Yes. Were there some positives in this game? Sure. Is the season over? No. It's just Jan. 3. The Hoosiers were in worse shape last season and turned things around.
Still, with so much mediocre play from the Hoosiers of late, it's hard to see the way out of this right now. Indiana continues to do itself no favors. It continues to make things harder than they need to be. Tonight's start was another clunker, the team's worst of the season. Indiana turned it over four times in the first three minutes of the contest, and Wisconsin took advantage in a big way as it raced out to a 16-2 advantage at the 16:09 mark thanks to the Hoosiers over-helping and leaving shooters open.
"We didn't start on time for some reason," Tom Crean told ESPN's Allison Williams at halftime.
Despite a horrific start, Indiana cleaned things up and made a game of it, trailing by just one (38-37) at the break. And when Indiana found an advantage on offense by continually feeding freshman De'Ron Davis in the post, things were looking up. The Hoosiers clinged to a couple leads early in the second half and were up one (57-56) with 7:06 remaining in the contest. But with Davis on the bench and a lineup that featured Freddie McSwain and Josh McRoberts — two players with little to no threat to score — the Hoosiers coughed up the lead. McSwain had one foul and one turnover in eight minutes of action. McRoberts had one assist and one rebound in 13 minutes. He was 0-of-2 from the floor, but did play some solid defense at times on Koenig.
A one-point lead extended out to seven in two and half minutes of game time. It was a curious management of personnel by Crean with the game hanging in the balance. Yes, he eventually called timeout to get Juwan Morgan, Josh Newkirk and Davis back in the game, but the damage had already been done. Indiana got it to within three with 2:47 to go, but it was as close as the Hoosiers would get.
They got a few stops to start the final stretch of the game, but Wisconsin, a veteran team with clearly defined roles and personnel, executed better down the stretch to hang on for the victory. Ethan Happ lead all scorers with 19 points on 8-of-11 shooting despite four fouls. Happ's footwork, ball skills and speed are impressive for a player his size and he was too much for the Hoosiers to handle.
"We knew what he wanted to do, and he did it," Morgan said after the game.
Bronson Koenig got himself in a bit of foul trouble as well, but was red hot from 3-point distance (5-of-5) and ended the game with 17 points. Nigel Hayes had a bit of an off night compared to his last couple outings and what he's done to IU in the past, but still managed 10 points (4-of-10) and had a couple of key buckets.
Indiana's turnover percentage (21.4 percent) and defense (1.23 points per possession) were bad again tonight. The Hoosiers' battle will continue to be waged uphill this season if these two trends continue.
The Illini come to Bloomington on Saturday for what would have seemed like an easy victory just one week ago. But with three straight losses, it's anyone's guess at this point what the final outcome will be.
Filed to: Wisconsin Badgers