Notebook: Crean struggles to find answers as Hoosiers continue sliding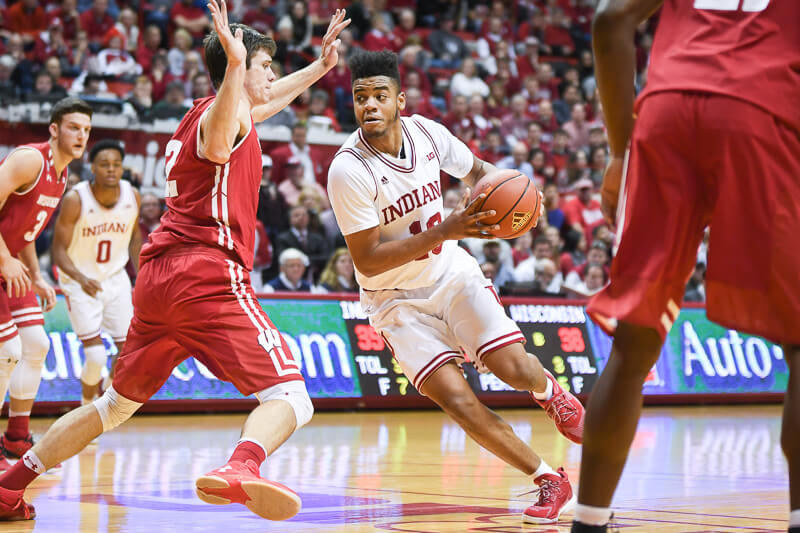 Nearly an hour after the final buzzer sounded inside Simon Skjodt Assembly Hall after Indiana's third consecutive defeat, Tom Crean sat in the press room, giving his opening statement.
"I don't even know what to tell you about the start," Crean said of the opening three minutes, where the Hoosiers committed three turnovers and allowed the Badgers to score the first 13 points of the game. "It absolutely made no sense to me that we were giving them as much space as we gave them."
Indiana was able to overcome the abysmal beginning to make the game a contest, but the veteran Badgers never faltered, coming away with a 75-68 victory and improving to 2-0 in the conference play, while the Hoosiers dropped to 0-2.
When the game slowed down late, Indiana's offense failed to penetrate the post, passing around the perimeter as the shot clock ticked down.
A perturbed Crean rehashed the same issues with the media that have plagued his team for weeks — overhelping on defense, careless turnovers and lethargic starts to games.
"We've got to fix … those things," Crean said, more than two minutes into his opening statement. "I've said it over the last couple of days (to the team). It comes down to a matter of inches. Today we were a little bit too far off. The game seemed like we were yards off."
"Ummm…"
Crean tried and failed to find the words that would come next. For nearly nine seconds before he opened up the press conference to questions, all he could do was twiddle his index fingers on the mic stand and offer a few stray umms and buts.
There were no answers, at least not now. Everything that needed to be said already had.
For the third consecutive game, Indiana allowed their opponent to shoot over 48 percent from the floor, failing to come up with stops when they needed them most.
"You've just gotta go out there and guard your man, right?" Crean asked the media rhetorically. "And it's not that complicated: early help; get your feet right; get your hands ready; heads on a swivel – things we do constantly."
But even seemingly simple concepts have become a challenge for the personnel Crean has at his disposal.
Time and again, the Badgers were either left wide open on the perimeter or were able to cut to the basket without any resistance.
Wisconsin big man Ethan Happ had a field day inside the paint, bullying Bryant in the post on his way to hitting eight of 11 shots.
"We just weren't taking away what we had to (from Happ)," said Juwan Morgan. "We knew what he wanted to do, and he did it."
Wisconsin also took advantage of Indiana's inability to value the basketball, turning 13 Indiana turnovers into 23 points. That was more than enough to counter Indiana's 32-25 edge on the glass.
Indiana now sits at 0-2 in the conference, and a second consecutive regular season conference crown is now just a pipe dream.
Davis growing
Freshman De'Ron Davis was one of the lone bright spots for the Hoosiers, scoring 12 points on 5-of-7 shooting and grabbing two offensive boards in 17 minutes.
"We told him two months ago, by January, you're going to be a different player," Crean said. "He's starting."
Davis was so effective inside that, late in the second half, Wisconsin had to resort to double-teaming him.
Not bad for a freshman that was a late arrival in Bloomington.
Filed to: Deron Davis, Ethan Happ, Tom Crean, Wisconsin Badgers