Five takeaways from Indiana's loss to Louisville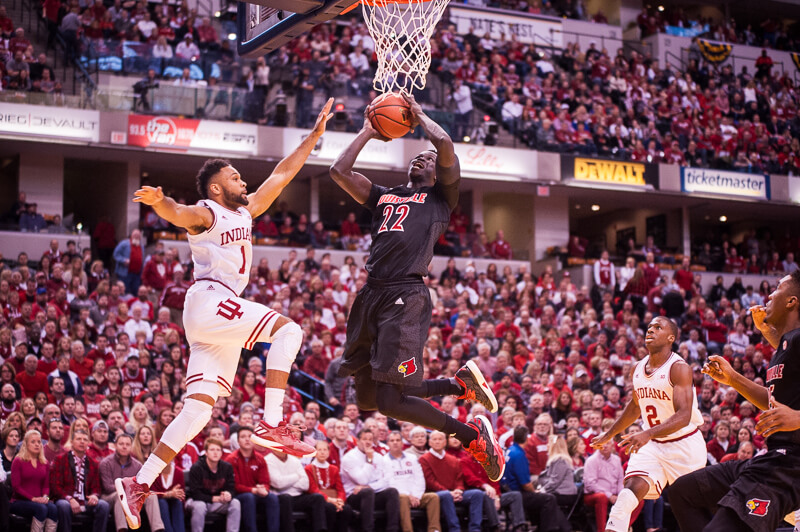 INDIANAPOLIS – Indiana never found its footing offensively and again struggled to defend on Saturday as the Hoosiers lost their second straight game, 77-62 to Louisville. It was the third straight loss for Indiana at Bankers Life Fieldhouse.
Here's a look at five takeaways from the loss to the Cardinals:
· Another clunker on defense: Louisville, a good but not great offense, had no trouble scoring against Indiana. The Cardinals scored 1.17 points per possession against the Hoosiers, their sixth best offensive performance of the season.
There's an alarming trend with Indiana's defense if you look at how the Hoosiers have performed against high major teams versus low majors:

The sample size of high major opponents is still relatively small (five games), but Indiana's overall numbers have clearly been artificially inflated by playing nine small conference teams. Eight of those teams are currently ranked 231st or lower in Ken Pomeroy's ratings.
· Indiana's point guard problem is real: This is not an indictment of Josh Newkirk. The Pittsburgh transfer has played well at times and has shown himself to be a capable shooter and defender at times.
But Indiana's point guard play from last season was incredible with Yogi Ferrell, who played at an All-American level. This year, the Hoosiers are getting average play at point guard. In bigger games, it's been a major problem.
The loss to Louisville was a perfect example. Newkirk got loose late for a few layups, but the game had already been decided. When then game was on the line, Newkirk made countless drives into the lane with nowhere to go. Those are plays that, last season, Ferrell was finishing with either assists or pull-up jump shots of his own.
So, what's the solution? There might not be one. Tom Crean put the ball in the hands of Juwan Morgan for a good part of the second half. Ultimately, Indiana might be best going with Robert Johnson and a bigger lineup more regularly. You can also argue that Indiana should have recruited an elite point guard to replace Ferrell, but that didn't happen as several attempts to land a replacement didn't materialize.
· Offense stagnates against Louisville pressure: Indiana had its second worst offensive output of the season. Some of it was just missed shots, as Crean and the IU players explained postgame.
But some of it was Indiana failing to make adjustments until it was too late. When Indiana drove the ball smart and went into the lane with the intent of finishing plays at the rim, the Hoosiers found some success. That's how Indiana got the game to within six midway through the second half.
That run, which proved to be Indiana's last shot at staying in the game, was quickly ended with a turnover. The turnovers, of which Indiana had 10 in the first half, continue as a major problem. Crean called them "ridiculous." The question is: what can be done to fix the turnover problem with this team?
· Offensive rebounding kept Indiana competitive: When shots aren't falling, Indiana has one strength that should be able to keep it in any game: offensive rebounding.
The Hoosiers grabbed 46.3 percent of their missed shots against the Cardinals and scored 21 second chance points. It's a strength that Indiana needs to continue developing as the season rolls along.
Through 14 games, Indiana ranks second nationally in offensive rebounding percentage at 42.2.
· Perimeter defense underwhelming against elite teams: Besides the North Carolina game, Indiana has done little to stop the opponent's best perimeter player.
Frank Mason of Kansas dropped 30 points, which is tied for his season-high. Butler's Kelan Martin had 28 against Indiana, his second best scoring output of the season. Nebraska's Glynn Watson had 26 against IU, his second best scoring game of the season. And Louisville's Donovan Mitchell had 25 against the Hoosiers, a career-high. Deng Adel's 17 points were his second highest of the season.
It's a trend that Indiana can't afford to let continue with Bronson Koenig coming to Bloomington on Tuesday evening.
Filed to: Louisville Cardinals